CNS Parrots MRC's Transphobic Hyping Of School Assault
Topic: CNSNews.com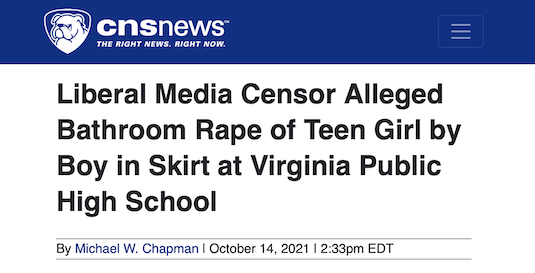 Just as CNSNews.com took marching orders from its Media Research Center parent in hyping false right-wing attacks claiming that school offricials and the Department of Justice want to brand all parents who merely speak out at school board meetings while whipped up over conservative narratives about critical race theory and other subjects as domestic terrorists, it also promoted another related MRC narrative regarding a sexual assault that occurred in a Virginia school. Managing editor Michael W. Chapoman dutifully wrote in an Oct. 14 article:
In May, the 14-year-old daughter of plumber Scott Smith reportedly was raped in the girls' bathroom at a Loudoun County, Va., public school by a boy wearing a skirt. The boy subsequently was transferred to another Virginia school where he reportedly attacked another female teen last week. All the while, the Loudoun County School Board was pushing a transgender bathroom policy, which it approved in August and has begun implementing.

Yet the major news outlets – ABC, CBS, NBC, CNN, MSNBC – aren't covering the story, so far. The alleged rapist reportedly is a "gender-fluid individual," according to Fox News.

[...]

As all this was occurring, the school board was enthusiastically supporting making accommodations for transgender students. Finally, in August, despite numerous parents' objections, the board approved (7-2) a transgender rights policy, which requires teachers to call students by their preferred pronouns. It also mandates renovating the bathrooms in Loudoun County public schools to allow for "gender-inclusive" and "single-user restrooms."
Chapman also not-so-helpfully added a stock photo of someone in a colorful skirt to illustrate his article, creepily suggesting this was the skirt the assailant wore during the attack. But he censored the fact that -- as even the MRC had to admit -- the alleged assault happened before the school board started discussing transgender rights. And as a loyal MRC employee, he made sure to add that his boss, Brent Bozell, went on Fox Business to whine that a local story wasn't getting national coverage, though he apparently never explained why this story deserved it -- although the unspoken reason was to push culture-war buttons to get a Republican, Glenn Youngkin, elected Virginia governor.
(CNS also devoted a separate article to Bozell's rantings. He's the boss, after all.)
Chapman also censored the full story of the assault: The boy and girl had previously had consensual sex, and the encounter in question began as consensual, with both agreeing to meet in the bathroom for sex, until the girl withdrew consent. It's no less of an assault, but it's much more complicated than Chapman's simplistic, transphobic narrative of "a boy wearing a skirt" randomly assaulting a female student.
Nevertheless, Chapman followed up in an Oct. 26 article:
Given that parents in Loudoun County, Va., were not informed about an alleged sexual assault of a ninth-grade girl in a public school bathroom by a boy wearing a skirt, five former state attorneys general have questioned the inaction of Virginia AG Mark Herring and "called for him to immediately open an investigation."

"The Loudoun County School Superintendent and the School Board chose not to report two sexual assaults to parents," the former attorneys general wrote. "With this failure, the school system places other girls at risk in Loudoun County and broke reporting regulations."

[...]

As the battle between parents and the school board carried on, a 14-year-old girl reportedly was raped in the girls bathroom of Stone Bridge High School in Ashburn, Va., on May 28 by a male teen wearing a skirt. The teen was later arrested on July 8 and charged with two counts of forcible sodomy.
Again, Chapman refused to tell readers the full truth about the assault and the history behind it.
Meanwhile, Hans Bader tried to inflame things again in his Nov. 8 column in order to peddle hate over transgender rights as expressed through a "wear a skirt to school day":
A skirt-wearing boy in Loudoun County, Va. was recently found guilty of sexual assault in juvenile court for anally raping a girl in a school restroom. Prior to the school board's passage of a transgender bathroom policy, the school superintendent falsely claimed there was no record of sexual assaults in school bathrooms. The superintendent had inaccurately stated, "We don't have any record of assaults occurring in our restrooms." But the sexual assault by the skirt-wearing boy had already occurred.
Like Chapman, Bader censored the full story of the assault.
CNS is being less and less like a "news" organization and more and more like a dishonest, partisan right-wing advocacy group. If there ever was a line between CNS and the MRC, it has largely disappeared.
Posted by Terry K. at 12:16 AM EST
Updated: Thursday, December 2, 2021 11:22 PM EST