MRC Loses It Over Being Names To 'Toxic Ten' List Of Climate Misinformers
Topic: Media Research Center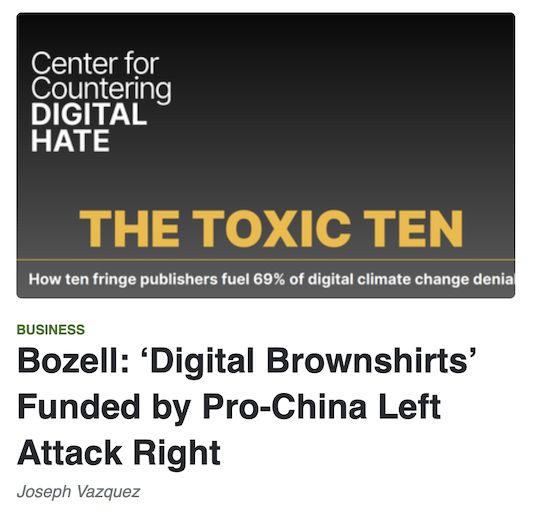 The Media Research Center can't handle criticism of its own work. So when the Center for Countering Digital Hate listed the MRC and NewsBusters on its list of the "Toxic Ten" right-wing purveyors of misinformation and denial about climate change, the MRC unsurprisingly went ballistic. Joseph Vazquez used a Nov. 2 post to lash out at the group and tout his boss, Brent Bozell, going full Godwin over the report:
The U.K.-based Center for Countering Digital Hate wants to censor organizations that disagree with it on climate policy. It released an absurd report attacking the Media Research Center and eight other conservative organizations in an attempt to shut them down online.

The leftist group behind the attack is led by a socialist who co-authored a book about "how to defeat" conservative ideas. The group promotes leftist eco-extremism, but behind all that are its deep ties to Communist China. The CCDH is funded by a leftist eco-group that financed a "greening" scheme for Communist China's Belt and Road Initiative.

The propaganda report headlined "THE TOXIC TEN: How ten fringe publishers fuel 69% of digital climate change denial" includes three recommendations to censor the organizations the group doesn't agree with. These include: "Stop monetizing" their content; stop allowing them to buy ads and it even wants social media firms to "comprehensively label" what it calls "climate denial."

MRC founder and President L. Brent Bozell slammed the attack. "Digital brownshirts are attacking conservative organizations for daring to have an honest debate on climate policy. These anti-free speech bigots want to shut down anyone who dares to disagree with them. Calling for more biased fact-checks as a way of silencing scientific debate is insane. This is another typical left wing cancel culture attempt borne out of anti-conservative bigotry. Stop Big Tech Cancel Culture!"
Vazquez not only did not rebut anything in the report, he didn't even provide a link to it so his readers could judge for themselves.
Later that day, MRC executive Tim Graham rushed out a column attacking the report, dismissing the CCDH as a "British socialist group," smearing the group's leader Imran Ahmed as an "ayatollah" and complaining that it wants encourage advertisers from patronizing these operations: "Once again, the Left wants to win debates by stopping any debate from happening." Graham seems to hvae forgotten that the MRC has an entire operation dedicated to letting its followers attack advertisers who support non-right-wing outlets - and, thus ,stopping debate.
Like Vazquez, Graham refused to link to the report to readers could judge for themselves. He didn't address the report, but he did complain about MRC-related images in it:
My column on Climate Depot founder Marc Morano's book Green Fraud was pictured under the Daily Wire section of the report. The MRC section is illustrated with a Joseph Vazquez article on NewsBusters about...Marc Morano. He's apparently Digital Hater Number One.

In my Morano column, I noted that the Climate Panic lobby is never held accountable for failed predictions of doom from decades ago. In one PBS series called Race to Save the Planet, Meryl Streep claimed "By the year 2000 -- that's less than 10 years away -- the earth's climate will be warmer than it's been in over 100,000 years. If we don't do something, there'll be enormous calamities in a very short time."

In 2021, that can be defined as climate misinformation.
Graham didn't mention that Morano -- a former co-worker of Graham's at the MRC's "news" division, CNSNews.com -- is not mentioned in the report at all outside of those screenshots, which puts the lie to his claim that the report portrays Morano as "Digital Hater Number One." He also didn't mention that Morano is not a climatologist or has any other related scientific background; his Climate Depot has received funding from fossil-fuel interests and, thus, can't be taken seriously as an independent, legitimate view of climate change, since his paycheck depends on his denying it. Graham's column touting Morano's book uncritically repeats his arguments and doesn't challenge them at all, and Vazquez's NewsBusters post was another hagiography, touting a fawning interivew with him about "An Inconvenient Truth after its 15th anniversary."
Graham railed against the report for purportedly trying to censor opposing views -- but views that oppose the right-wing climate-denial narrative are never allowed to stand un-attacked at the MRC. Who's the real censor here?
The MRC found a friendly Republican congressman to parrot its attacks on the CCDH, as described in a Nov. 4 post by Alexander Hall:
Congressman Greg Steube (R-FL) raked the U.K.-based Center for Countering Digital Hate over the coals for its call to silence conservative organizations.

Representative Steube slammed the "CCP-sympathizing socialists" of the Center for Countering Digital Hate (CCDH), who he summarized "have made it their mission to suppress the facts and silence conservative organizations," in a Nov. 3 tweet. The CCDH called to censor organizations that disagree with its radical leftist agenda on climate policy. CCDH listed the Media Research Center, along with eight other conservative outlets, among the so-called "toxic ten" sources condemned for not kowtowing to leftist politics. Steube proclaimed: "It's past time for them to be held accountable for the left-wing front groups that they are. We cannot stand for this."

Steube tweeted a blog from NewsBusters featuring Media Research Center Founder and President Brent Bozell who torched the study's creators as "Digital brownshirts" who are "attacking conservative organizations for daring to have an honest debate on climate policy."

Surprisingly, Hall did link to the CCDH report, but he failed to refute any of its contents.
Posted by Terry K. at 8:38 PM EST
Updated: Thursday, December 9, 2021 9:18 AM EST