CNS Is So Pro-Trump, It Won't Even Bash His Pro-Gay Leanings
Topic: CNSNews.com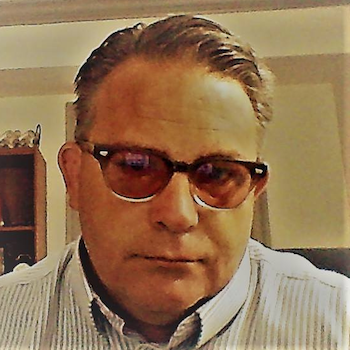 How extreme is the pro-Trump bias at CNSNews.com? Its resident gay-hater can't even be bothered to criticize a Trump endorsement from a gay politician.
Managing editor Michael W. Chapman is virulently anti-LGBT, to the point that until now, his pro-Trump agenda stopped only when Trump didn't hate gays to his satisfaction. But the current CNS policy is publish no negative Trump coverage whatsoever, so when former German ambassador and former acting director of national intelligence Richard Grenell -- who, when he was appointed to the DNI position earlier this year, CNS made sure (via anonymously written articles) grumbled that he was "a gay man with a same-sex partner" and that he claimed "you can be gay and be a Christian" -- issued a full-throated endorsement of Trump last month, Chapman didn't seem to know what to make of it and, surprisingly, just repeated what Grenell said (presumably through clenched teeth):
In a video distributed by the Log Cabin Republicans, former Acting Director of National Intelligence Richard Grenell states that Trump is the "most pro-gay president in American history." In a Twitter response to the video, Trump declared, "My great honor!!!"

Grenell, who is gay, served as the U.S. ambassador to Germany (2018-20) and as Acting Director of National Intelligence (2/20/20 - 5/26/20) under President Trump. The Log Cabin Republicans "is the nation's largest Republican organization dedicated to representing LGBT conservatives and allies," according to its website.

[...]

"I know firsthand that President Trump is the strongest ally that gay Americans have ever had in the White House. Donald Trump is the first president in American history to be pro-gay marriage from his first day in office. ..."

In response to the video in an Aug. 20 re-tweet, President Trump said, "My great honor!!!"
It's telling that Chapman spends about half this article bashing and lecturing Joe Biden -- and not Trump -- over his evolving stance on gay rights. He fleshed out Grenell's statement that "Joe Biden said gay people couldn't receive security clearances because we would be a security risk" by admitting Biden said it in 1973 -- nearly 50 years ago, though it's likely that Trump had that same stance at that time -- then huffed that Biden's views have "evolved" and that he now "supports the LGBT agenda and even officiated at a gay 'wedding' at his home in August 2016," adding that "Biden's support (and votes) for homosexual behavior and so-called gay marriage are in direct conflict with the teachings of the Catholic Church, of which he is a member."
But a week later, when the National LGBT Chamber of Commerce endorsed Biden, Chapman was back to his usual gay-bashing ways, devoting three paragraphs to complaining that "Biden would mandate that biological males who identify as females would be allowed to compete in real women's sports and use facilities created for real females." And he complained again that "Biden, a pro-LGBT Catholic, officiated a gay 'marriage' at his home in 2016." Chapman did not mention Trump at all in this article, let alone Grenell's endorsement of Trump.
The same day, CNS published an anonymously written article uncritically touting how "President Donald Trump's reelection campaign has posted a background paper arguing that Joe Biden's record on LGBT issues is 'nothing to be proud of' because Biden, in the past, was often not an aggressive champion of the LBGT cause."
That's the power of CNS' pro-Trump stenography right now.
Posted by Terry K. at 11:28 AM EDT
Updated: Sunday, September 27, 2020 11:33 AM EDT