MRC Complains About Facebook's VIP Policies -- But Censors How Trump Benefited From Them
Topic: Media Research Center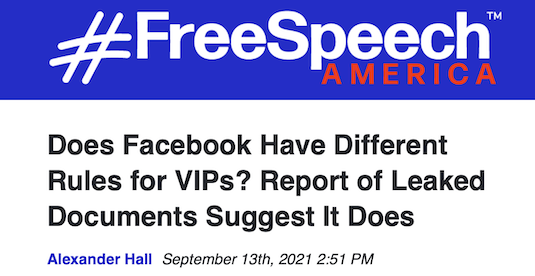 The Media Research Center's Alexander Hall huffed in a Sept. 13 post under the similarly huffy headline "Does Facebook Have Different Rules for VIPs? Report of Leaked Documents Suggest It Does":
Facebook reportedly has a specific set of elite users who don't have to follow the same censorship rules applied to average users.

There's a club of elites who don't have to follow the same rules, and Facebook has reportedly hidden it until now. "A program known as XCheck has given millions of celebrities, politicians and other high-profile users special treatment, a privilege many abuse" reported The Wall Street Journal on Monday. The Journal suggested that XCheck "was initially intended as a quality-control measure for actions taken against high-profile accounts, including celebrities, politicians and journalists." In practice, however, it reportedly "shields millions of VIP users from the company's normal enforcement process."

The report described some users as being "whitelisted" or "rendered immune from enforcement actions—while others are allowed to post rule-violating material pending Facebook employee reviews that often never come."
Hall's alarmist take might be justified -- if he hadn't censored the fact that Journal made a big point of noting that among the major XCheck beneficiaries has been Donald Trump:
In practice, Facebook appeared more concerned with avoiding gaffes than mitigating high-profile abuse. One Facebook review in 2019 of major XCheck errors showed that of 18 incidents investigated, 16 involved instances where the company erred in actions taken against prominent users.

Four of the 18 touched on inadvertent enforcement actions against content from Mr. Trump and his son, Donald Trump Jr.

[...]

In June 2020, a Trump post came up during a discussion about XCheck's hidden rules that took place on the company's internal communications platform, called Facebook Workplace. The previous month, Mr. Trump said in a post: "When the looting starts, the shooting starts."

A Facebook manager noted that an automated system, designed by the company to detect whether a post violates its rules, had scored Mr. Trump's post 90 out of 100, indicating a high likelihood it violated the platform's rules.

For a normal user post, such a score would result in the content being removed as soon as a single person reported it to Facebook. Instead, as Mr. Zuckerberg publicly acknowledged last year, he personally made the call to leave the post up. "Making a manual decision like this seems less defensible than algorithmic scoring and actioning," the manager wrote.

Mr. Trump's account was covered by XCheck before his two-year suspension from Facebook in June. So too are those belonging to members of his family, Congress and the European Union Parliament, along with mayors, civic activists and dissidents.
That interferes with the MRC's narrative that Trump was a victim of "censorship" by Facebook -- it rturns out he was given a pass to regularly violate the platform's rules.
Because Hall knows that, he made sure to get back on his narrative, huffing further that "Big Tech censorship has disproportionately aided the left in recent years" and citing the Hunter Biden case as an example -- never mind that the Journal article offers no evidence there is any ideological bias in Facebook's XCheck issues, or that it appears the issues actually benefited conservatives like Trump.
Hall's censorship of facts inconvenient to his narrative is much closer to actual censorship than many of the claims the MRC has made about purported "censorship" of social media posts, in which it has portrayed a flag about content or demonitization of a post -- but the original posts could still be read -- as "censorship.' And he's definitely not going to tell you that it's attacking Facebook's purported "censorship" while the MRC is bragging about how well its content does on Facebook.
Posted by Terry K. at 9:05 PM EDT