Terry Jeffrey Trump Deficit Blame Avoidance Watch
Topic: CNSNews.com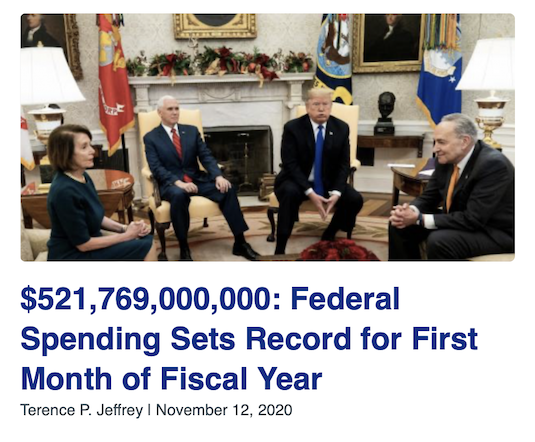 Has CNSNews.com editor in chief Terry Jeffrey continued to complain about the federal deficit while refusing to call out his fellow Republicans for their key role in running it up? Of course he has. From a Nov. 12 article:
The federal government set an all-time record for the amount of money it spent in the first month of a fiscal year, when it spent $521,769,000,000 in October, the first month of fiscal 2021, according to the Monthly Treasury Statement released today.

Before this year, the most the federal government had ever spent in the first month of a fiscal year was in October 2009, when it spent $483,357,690,000 in constant October 2020 dollars.

This October's record of $521,769,000,000 was $38,411,310,000—or 8 percent—more than that.

[...]

That is the second largest deficit the federal government has ever recorded in the first month of a fiscal year. The largest-ever deficit in the first month of a fiscal year came in October 2008, when the deficit hit $285,160,410,000 in constant October 2020 dollars.
As per his pattern, the words "Trump" and "Republican" are nowhere to be found, despite the fact that Republicans control the presidency and the Senate and, thus, are in control of federal spending. He also omitted context: Not only did Jeffrey not mention the coronavirus pandemic as the key reason federal spending exploded this year, he didn't mention that a major recession was the reason for increased deficit spending in 2008 and 2009.
And, as usual, Jeffrey's choice of a file photo -- featuring Trump, Mike Pence, Nancy Pelosi and Chuck Schumer -- falsely implies equal blame for the deficit when Trump is the president and has the ultimate veto power over the budget.
Again, a blurb at the end notes that "The business and economic reporting of CNSNews.com is funded in part with a gift made in memory of Dr. Keith C. Wold." Somehow, we doubt Wold's memory is being well served by such shoddy reporting, especially as done by a man who's the head of the "news" operation that's getting the money.
Posted by Terry K. at 12:25 AM EST
Updated: Friday, December 4, 2020 12:27 AM EST