MRC's Double Standard On Sexism
Topic: Media Research Center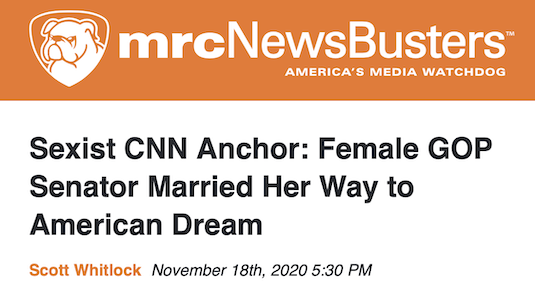 The Media Research Center's Scott Whitlock ranted in a Nov. 18 post:
It must be nice to live in the hypocritical world of CNN hacks. After all, you can spew vile sexism and you don't have to feel bad about it. That's what Bill Weir did on Wednesday as he went after incumbent Republican Senator Kelly Loeffler.

The Georgia senator tweeted this: "I've lived the American dream. I went from the farm to the Fortune 500. I want Georgians to have the same freedom & opportunities I had. And it won't be possible if we go down the road to socialism. We must hold the line and protect the American Dream."

Spewing misogyny, Weir slimed, "Good news, Georgia! If you live on a farm, you now qualify to marry the Chairman of the New York Stock Exchange!" This was an attack on Loeffler for her 2004 marriage to Intercontinental Exchange founder and CEO Jeffrey Sprecher. He's also the Chairman of the New York Stock Exchange.
Whitlock seems to have forgotten that a few months ago, his employer engaged in misogyinistic slut-shaming by working to justify smearing Vice President-elect Kamala Harris as a "hoe" because she once had an affair with a prominent politician that allegedly boosted her own political career.
Whitlock didn't explain why Weir's pointing out that Loeffler married into wealth is so much worse or more "sexist" then endorsing a claim that Harris slept her way to the top.
Whitlock concluded by huffing, "Remember, at CNN you can say anything about someone, so long as they are a conservative or a Republican." He didn't that his employer allows you to say anything about someone as long as they are a Democrat or liberal. Talk about a double standard.
Posted by Terry K. at 10:15 PM EST