CNS' Jeffrey Is Obsessively Counting Obama's Words Again
Topic: CNSNews.com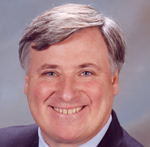 CNSNews.com editor in chief Terry Jeffrey really did devote an entire July 11 article to this piece of worthless trivia:
Not counting instances when he quoted a letter from a citizen or cited dialogue from a movie, President Barack Obama used the first person singular--including the pronouns "I" and "me" and the adjective "my"--199 times in a speech he delivered Thursday vowing to use unilateral executive action to achieve his policy goals that Congress would not enact through the normal, constitutional legislative process.
Jeffrey is bizarrely upset that Obama's speech does not favorably compare to the Gettysburg address:
The White House presented Obama's speech, which the president delivered at Austin's Paramount Theatre, as "Remarks by the President on the Economy." The remarks, the White House reports, ran 40 minutes, and the full transcript (including annotations for "laughter" and "applause") is more than 5,500 words.
By contrast, President Abraham Lincoln's Gettyburg Address was only 272 words--and did not include any form of the first person singular.

In President Obama's speech, he used a first person singular, on average, every 12 seconds. At that rate, had Obama spoken for just 15 more minutes, he would have used the first person singular more than 272 times in one speech—exceeding all the words in the Gettysburg Address.

In one 68-word passage--in which he vowed to act unilaterally if Congress did not enact legislation he liked--Obama used the first person singular five more times than the zero times Lincoln used it in his 272 words at Gettysburg.
Jeffrey and CNS have a weird fixation on the words Obama uses -- Jeffrey even devoted a column to Obama's supposedly excessive use of the first person back in 2009. This ignores the fact that one analysis found "Obama has distinguished himself as the lowest I-word user of any of the modern presidents."
Posted by Terry K. at 1:49 PM EDT