WND's Unruh Hides Latest Offense By Supposedly Wronged Marine
Topic: WorldNetDaily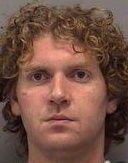 WorldNetDaily's Bob Unruh has long done the bidding of the right-wing Rutherford Institute in promoting the case of former Marine Brandon Raub, portraying him as an innocent victim of overzealous officials while hiding the violent, threatening nature of the Internet posts that got him in trouble in the first place.
Unruh does Rutherford's biddingh yet again in an Aug. 26 article in which he highlights how Rutherford is "asking an appeals court to reinstate his lawsuit for damages." As expected, Unruh presents only the view of Raub's attorneys at Rutherford, playing up how "a psychotherapist hired by the local county said he believed the military man might be a danger – even though the two never had met and never had even talked on the telephone" while vaguely writing of Raub's writing:
The officers had contacted Raub mostly because of song lyrics he had posted on social media sites expressing distrust of the federal government and calling for the jailing of, for example, former Presidents George H.W. Bush and George W. Bush.
As we detailed, one of those "song lyrics" stated "Sharpen my axe; I'm here to sever heads," from a song by the obscure Canadian hip-hop group Swollen Members. Raub also penned a rant in which he rails against the Federal Reserve and the income tax and invoked 9/11 trutherism, concluding, "WE MUST TAKE OUR REPUBLIC BACK."
Unruh is also silent about the latest spot of trouble Raub has found himself in, which suggests he might not be the saint Unruh and Rutherford portray him to be. In July, Raub was arrested on charges of indecent liberties with a child, and contributing to the delinquency of a minor. Investigators said Raub and his brother, Brently, gave alcohol to two teenage girls. Later, Raub is accused of exposing himself to one of them and attempting to have her touch him inappropriately.

Those charges were dropped earlier this month after it was ruled that Raub was not in a "custodial or supervisory relationship" at the time one of the teenage girls performed oral sex on him. Raub's brother, meanwhile, pleaded no contest to two misdemeanor counts of contributing to the delinquency of one of the girls, who was 13, and was sentenced to six months in jail.
A real reporter would have told the full truth about Raub. But we're all too aware that's not what Unruh is.
Posted by Terry K. at 5:22 PM EDT