CNS Still Considers Spending On LGBT Issues To Be A Waste of Money
Topic: CNSNews.com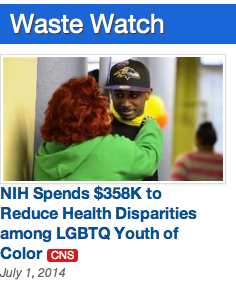 Last year, we documented how CNSNews.com's "Waste Watch" list disproportionately portrayed LGBT-related issues as evidence of wasteful federal spending. It's still doing it.
The latest "Waste Watch" item appears as a July 1 article by Melanie Hunter:
The National Institutes of Health has awarded $357,783 to the Fenway Community Health Center in Boston, Mass., to reduce health disparities in LGBTQ youth of color.

The purpose of the grant is described as "to establish a sustainable community-based participatory research process to reduce health disparities among lesbian, gay, bisexual, transgender and queer youth of color."

According to the grant, LGBTQ (lesbian, gay, bisexual, transgender, queer) youth of color abuse alcohol, tobacco, and drugs, engage in risky sexual behaviors, and attempt suicide "in high rates that are disproportionate to those of both white LGBTQ youth and heterosexual youth of color."
Hunter didn't explain why she considers improving the health of gay youth to be a waste of money.
Posted by Terry K. at 9:58 AM EDT