Morgan Brittany Becomes WND Columnist, Spews Obama Derangement
Topic: WorldNetDaily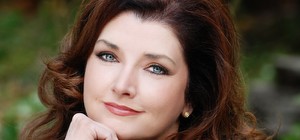 It was only a week ago that fading actress Morgan Brittany joined WorldNetDaily as a columnist -- her only apparent qualifications for doing so are being a friend of WND columnist Gina Loudon and claiming that "her greatest passion is speaking on behalf of the greatness of America" -- and she's already spouting Obama conspiracy theories.
Brittany rants in her July 7 column:
Back on March 16, 2012, Barack Obama signed an executive order that went virtually unnoticed by the mainstream media and a majority of the America public. It was titled the National Defense Resources Preparedness Executive Order, and it completely erased any judicial oversight or due process for any action by the government deemed in the interest of national security.
Actually, even conservatives have pointed out that this executive order merely updates an executive order first issued in 1994 and amended several times since, and it adds no new powers to the executive branch.
But as with many of her fellow WND writers, the facts simply don't matter to Brittany, and she launches into a major fit of Obama derangement:
Ever since the executive order of March 2012 took effect there have been massive changes in many government departments. For instance, the Department of Homeland Security has stockpiled more than 1.6 billion rounds of hollow-point ammunition, 7,000 fully automatic 5.56×45 mm NATO personal defense weapons, plus a huge amount of 30-round high-capacity magazines. Enough to fight a major war, don't you think? As if that weren't enough, the DHS recently purchased and retrofitted over 2,799 Mine Resistant Armored Protection vehicles from the U.S. Army. Other departments have been stockpiling as well. The Social Security Administration and Immigration and Customs Enforcement (ICE) are just two others.

So when you put the pieces of this puzzle together and you see what is happening on our border, am I crazy to think that this was all a plan that has been put in motion to overwhelm the system and create anger and chaos among the American people?

[...]

It is classic Cloward-Piven. Overwhelm the system, anger the populace, create chaos, and then, martial law takes over. Through his executive orders, the president gave himself the authority to use the military as he sees fit. We saw just a taste of it after the Boston Marathon bombing when there was a huge over-reaction by closing down the city, storming homes and property and keeping people prisoners in their own homes. That was just a test to see how compliant people would become.

If Obama gets his way and the system collapses through illegal immigration or financial means, if he succeeds in confiscating our guns and ammo so that no one but the government has them, then we the people will be at their mercy, and the sad thing is that many people will welcome their control. At that point the American people will be helpless against a totalitarian state, and they will have succeeded in the full transformation of this country.
Perhaps Brittany has proven herself to be a WND columnist after all.
Posted by Terry K. at 12:10 AM EDT