WND Tries, Fails To Defend Todd Akin's 'Legitimate Rape' Remarks
Topic: WorldNetDaily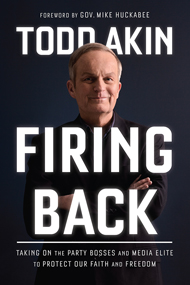 WorldNetDaily is publishing a book by Todd Akin, the former Missouri congressman who Senate bid imploded after he claimed that if a woman suffered a "legitimate rape," her body has ways to "shut that whole thing down." And how is WND promoting the book? By relitigating Akin's remarks and insisting they were accurate.
In a June 10 column, WND editor Joseph Farah insisted that "the anti-Akin hysteria was a completely manufactured smear":
It was the phrase "legitimate rape" that captured the attention of his opponents and the media. Why? I suppose some would like to pretend that all rape allegations are legitimate. Of course, that kind of thinking can lead to some great injustices, as we saw in the Duke lacrosse team witch hunt. Of even more significance, given the Akin controversy had to do with his explanation of why aborting an innocent unborn baby is not an appropriate response to rape, Norma McCorvey, the "Roe" in the famous Roe v. Wade case that resulted in the Supreme Court's decision to strike down laws restricting abortion across the U.S., had claimed she was raped. Only later did she admit that was a completely contrived claim.

So there are rape claims that are not legitimate. That was Akin's only point.
Curiously, Farah did not disclose in his column that he was publishing a book by Akin.
Farah defended Akin again in a June 16 column:
Was he in any way making light of rape, as his accusers claimed?

No, in fact, "legitimate rape" is a legal term of art in Missouri state law. Not every person who cries rape does so with cause. Therefore, the first issue is always the determination of whether rape actually occurred. If so, then you have a "legitimate rape." Apparently, most Democrats discounted Juanita Broaddrick's claim without any curiosity whatsoever.

Was he dead wrong about the impact of stress on infertility?

No, in fact there is a library of research on the subject, which, anyone who cares to Google the phrase "stress and fertility" can review firsthand. Scientific studies show that both the male and female are affected by stress during the sexual act, making pregnancy less likely during a traumatic experience like rape.
Curiously, Farah did link to any of that research, even though there is a "library of research" available.Again, Farah failed to disclose he's publishing a book by Akin, though he includes a link to it at the end of his column.
That supposed proof finally showed in an unbylined June 25 WND article promoting Akin's book:
While two new fertility studies showing stress in males and females inhibits pregnancy have received worldwide attention, no one has linked them with the biggest U.S. political controversy of 2012 – Rep. Todd Akin's suggestion that pregnancy as a result of rape is relatively infrequent.

That's about to change as the unsuccessful Missouri Republican Senate candidate hits the media circuit in July for the first time since the 2012 election with the release of a new book, "Firing Back: Taking on the Party Bosses and Media Elite to Protect Our Faith and Freedom."

[...]

Akin's statement was criticized on two premises:

The use of the term "legitimate rape," with some suggesting Akin was attempting to delegitimize the crime of rape;
His suggestion that it is unusual for rape victims to become pregnant.


Akin takes on the first point in "Firing Back": "When a woman claims to have been raped, the police determine if the evidence supports the legal definition of 'rape.' Is it a legitimate claim of rape or an excuse to avoid an unwanted pregnancy? Are the police warranted to take action against a crime or not? In short, the word 'legitimate' modifies the claim and not the action. There have been women who have lied about being raped, as Norma McCorvey did before the U.S. Supreme Court. The infamous Roe v. Wade decision of 1973 was based on a lie."

On the second point, Akin writes: "My comment about a woman's body shutting the pregnancy down was directed to the impact of stress on fertilization. This is something fertility doctors debate and discuss. Doubt me? Google 'stress and fertilization,' and you will find a library of research on the subject. The research is not conclusive, but there is considerable evidence that stress makes conception more difficult. And what could be more stressful than a rape?"
So Farah's "library of research" line is an unacknowledged direct quote of Akin. Some people would call that plagiarism.
First, as Slate's Amanda Marcotte points out, false rape reports are rare, and women falsely accusing men they consented to have sex with after the fact is especially rare.
Second, the studies the anonymous WND writer cites in support of Akin's idea that stress decreases fertility focuses on long-term stress factors, not a single traumatic event like a rape. In fact-checking Akin's claim, PolitiFact reported:
The Chicago Tribune, citing a Mayo Clinic publication about infertility, reported in August that mental stress can temporarily alter an area of the brain that controls the hormones that regulate a woman's menstrual cycle. The Tribune article reported that it is a chronic kind of situation that occurs over months or years, not the acute trauma of a rape.
WND is promoting Akin's book by trying to claim he was right about something no legitimate medical authority has proven. Perhaps WND needs to rethink its marketing strategy.
Posted by Terry K. at 9:43 PM EDT
Updated: Friday, July 11, 2014 10:33 AM EDT