MRC's Double Standard on Disclosure
Topic: Media Research Center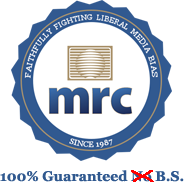 Sean Long rants in a July 9 Media Research Center item:
The liberal media love to hate the Koch Brothers but are far less enthusiastic about connecting George Soros' billions to liberal policies.

On July 6, Coral Davenport of The New York Times revealed that the Environmental Protection Agency's (EPA) new regulations on power plant emissions were largely inspired by the work of environmental activists at the Natural Resources Defense Council (NRDC). The broadcast networks have not mentioned the NRDC connection to the new regulations, and even the Times ignored that liberal mega-donor Soros has bankrolled the NRDC.

The Times called the EPA regulations "a remarkable victory for the National Resources Defense Council" for developing the "novel" framework that the EPA would adopt, but they also failed to mention the more than $1.7 million in Soros-funding the group received since 2004 ($1,771,893).
This is from the same MRC that defended Richard Mellon Scaife without disclosing that he donated more than $3 million to the MRC.
Apparently, the MRC's disclosure requirement applies to everyone else but the MRC.
Posted by Terry K. at 3:58 PM EDT