Nobody Believes WND, Jerome Corsi Chart-Reading Edition
Topic: WorldNetDaily
Leave it to Jerome Corsi to be unable to read a simple chart.
Corsi writes in a July 3 WorldNetDaily article:
Anticipating the mid-term 2014 elections in November, the Obama administration appears to be manipulating unemployment numbers to mask an economy about to slip back into recession.

The Bureau of Labor Force announcement that unemployment dropped from 6.3 percent in March to 6.1 percent in April was partly attributable to the more than 92 million Americans classified as out of the labor force, reducing the labor participation rate to 62.8 percent, a historic low dropout rate that has remained the same since April.

Adjusting the BLS unemployment number to report what is known as "U-6" – a measure that includes total unemployed, all persons marginally attached to the labor force and the total part-time employed for economic reasons – unemployment in April was 14.6 percent.
Actually, the person manipulating unemployment numbers is Corsi. Here's the BLS chart to which Corsi links to back up his claim -- the bottom row is the U-6 rate: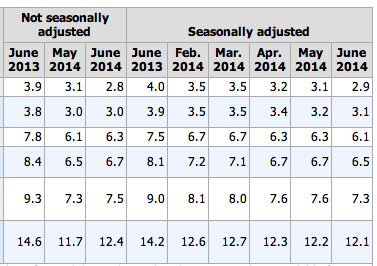 The 14.6 percent rate Corsi cites is, in fact, an unadjusted rate from June 2013. The adjusted U-6 rate for April -- we have no idea why he's writing about April if the most recent numbers are from June -- is 12.3 percent. And the rate for June is 12.1 percent.
Despite his massive factual error, Corsi goes on to quote some guy who makes up his own unemployment rates attacking the BLS numbers as "virtually 'meaningless.'"
Here's a screenshot of Corsi's false claim, in case he and WND try to change it without telling readers:
Corsi is providing even more reasons why
nobody believes WND
.
Posted by Terry K. at 12:05 AM EDT