Joel Gilbert Buys Positive WND Coverage Of His New Film By Putting Corsi In It
Topic: WorldNetDaily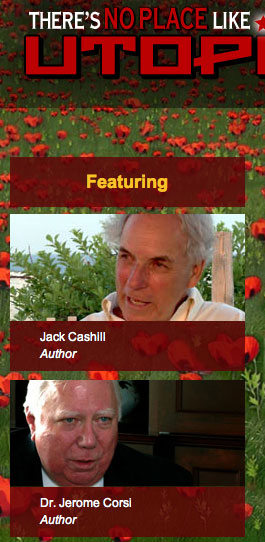 Joel Gilbert may be an utterly discredited filmmaker, but he knows one of the oldest tricks around that: Put a reporter in your next film, and make sure they are lacking in scruples and ethics so they will mindlessly generate positive press coverage.
Gilbert found his stooge -- er, reporter in WorldNetDaily's Jerome Corsi, who's one of the featured performers in his latest factually challenged anti-Obama smear piece, "There's No Place Like Utopia." A screenshot from Gilbert's website is to the right. (For good measure, he stuck WND conspiracy-monger Jack Cashill in it too.)
Corsi, meanwhile, is upholding his end of the bargain by fawning over the film. We've already noted back in May how Corsi gushed over the film despite not only Gilbert's record of lies but Corsi himself getting suckered by a fraudulent claim about Barack Obama's wedding ring that his fellow birthers felt compelled to debunk.
Gilbert clearly knows Corsi has his back -- there was no mention of Gilbert's history of mendacity, let alone a correction of the fraudulent ring claim Corsi gullibly swallowed.
Corsi devoted another fawning WND article to the film on July 14. While Corsi admits he's in the film, he's also delivering the rah-rah coverage Gilbert knew he could count on. Corsi talked only to Gilbert and the film's distributor, again making sure he adequately repaid Gilbert for the screen time by pretending his substantial history of fraud doesn't exist.
WND is complicit in the cheerleading -- what self-respecting news organization would let a so-called reporter present as a "news" article gushing PR pieces on a film he appears in?
Of course, it's not as if anyone expects ethical, accurate journalism from anyone at WND, especially Corsi. This is just another reason why nobody believes WND.
Posted by Terry K. at 12:59 AM EDT
Updated: Saturday, July 19, 2014 1:13 AM EDT