WND's 'Pink Slip' Money-Making Scheme Is Back
Topic: WorldNetDaily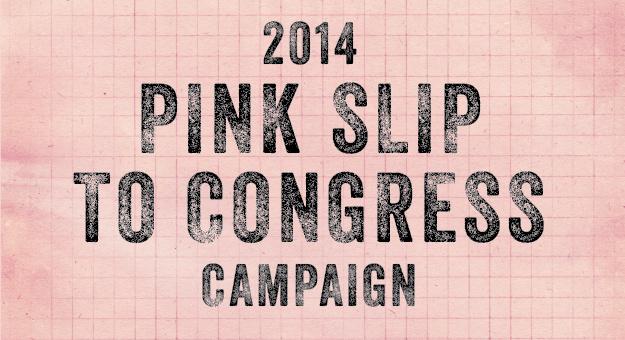 Back in 2009, WorldNetDaily ran a campaign of sending "pink slips" to all members of Congress threatening them by claiming that if they don't support WND's right-wing agenda, they would face unspecified consequences. WND charged its readers $29.95 for the privilege of sending those "pink slips." We calculated that this venture was quite profitable for WND.
WND must be needing the money, because it's running the campaign again. It touted the return in an article last month:
What happens when more than 9 million messages warning Congress to shape up or ship out?

The only time it ever happened was 2009. That's when WND launched the "Send Congress a Pink Slip" campaign resulting in an avalanche of imminent firing notices that were carefully and successfully delivered to every member of Congress over a period of several months.

The warnings were delivered on pink paper – depleting all supplies of pink paper in North America. Piled on top of one another, they would tower above the tallest building in the Capitol, the Washington Monument – eventually even the tallest building in the world. Some members extolled the campaign against overspending and irresponsible behavior, while others whispered and murmured about it behind closed doors.

Ultimately the pink slip campaign presaged the tea party movement and one of the biggest voter revolts in American history in 2010.

And that's why WND is bringing it back – updated, rejuvenated and refined – in 2014.
Needless to say, WND is overstating the impact of its campaign. Divide those 9 million "pink slips" WND claims to have sent (offering no documentation that this in fact happened) by the 535 members of Congress they were sent to, and you get approximately 16,822 people who sent WND $29.95. The more impressive number is that WND raked in more than $500,000 through this scheme, and you know it didn't cost anywhere near that much for WND to print and send those slips, especially since, according to the pictures accompanying the article, WND sent those slips out in large boxes and not individual envelopes.
WND goes on to inform us that it's charging the same this time around:
For just $29.95 you can send an individualized notice to every member of Congress in the form of a "pink slip." It will bear your name and your address and be sent and delivered to every member of the House and Senate, giving them plenty to think about before the November election.

Are you ready for another revolution in 2014? Only you can make it happen.
Are you ready to make WND some easy money to take its mind off the fact that it has forefited all credibility? Only you can make it happen.
Posted by Terry K. at 12:10 AM EDT