CNS' Jeffrey Touts Pat Buchanan's Whitewashing Of Southern Strategy
Topic: CNSNews.com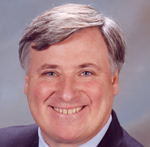 CNSNews.com editor in chief Terry Jeffrey spends his July 9 column slobbering over Pat Buchanan's new book on his work for the Nixon presidential campaign:
Wherever Nixon's merits and demerits place him among American presidents, Buchanan's first-person chronicle of how Nixon climbed back from a humiliating defeat in the 1962 California gubernatorial election to win the presidency in 1968 is not just a unique and enduring look at one of this nation's most interesting political campaigns but at a decade that changed America forever.

[...]

Buchanan's book is a great story told by a great storyteller. Along the way are first-person anecdotes that not only reveal how Buchanan's boss plotted and executed what may indeed have been the greatest comeback in American political history, but also how he prepared himself to use the presidency he won to deal with great international problems, including the Vietnam War and U.S. relations with the Soviet Union and China.
Jeffrey goes on to highlight one piece of Buchanan's work:
Buchanan anchored the right flank of Nixon's immediate staff, and part of his job was to help keep the conservative movement — which had backed Goldwater in 1964 — in Nixon's camp for 1968.
Beyond that was a longer-term political vision. "The crucial elements of the new majority I had in mind," writes Buchanan, "were the solid centrist GOP base that had stood by Nixon in 1960, the rising conservative movement, to which I belonged, the 'northern Catholic ethnics' of German, Irish, Italian, Polish and other East European descent, and the Southern Protestants, who saw themselves as abandoned by a Democratic Party moving leftward."
Jeffrey won't tell you, but Buchanan's plan is better known as the Southern Strategy -- which in large part sought to recruit racist whites unnerved by blacks' voting rights being protected.That was one of several racially divisive strategies Buchanan sought to implement on Nixon's behalf.
But Jeffrey doesn't want you to know that. After all, CNS also published Buchanan's column touting his whitewash.
Posted by Terry K. at 3:30 PM EDT