Tim Graham's Week-Long Transgender Freakout
Topic: Media Research Center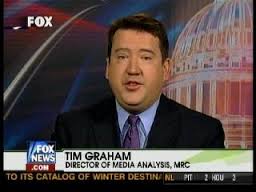 Media Research Center director of media analysis Tim Graham has had an extended transgender freakout over the past week:
In a July 18 NewsBusters post, Graham fretted that a "trans woman" who "worked for the John Kerry for President campaign in Florida in 2004" was running a a Republican to become Nevada's "first gender-confused state legislator."
The same day, Graham huffed that "National Public Radio's Diane Rehm Show devoted a unanimous hour on Monday to the transgender 'struggle for civil rights.'" He further huffed: "See how the media agenda and the transgender agenda are exaclty the same: build maximum 'visibility' toward a 'tipping point,' and exclude any and all opponents unless they neatly fit a convenient narrative of hate and bullying."
And that's different from how right-wingers create Obama "scandals" ... how?
But Graham wasn't done venting about the existence of transgenders. On July 23, he targeted NPR once again, grousing that "NPR's nationally distributed Fresh Air talk show devoted 43 minutes to 'the growing number of people who identify as transgender.'" He added, "Naturally, religion and the idea of nature and natural law only came up as something triumphantly overcome."
Graham is grandiously insistent on expressing his revulsion for transgenders every opportunity he can. That is his employer's agenda, after all.
Posted by Terry K. at 5:20 PM EDT