The MRC's Dirty War Against George Soros: 2023 Edition
The Media Research Center spent a lot of time complaining that Soros spends money supporting the causes he likes -- you know, just like every other billionaire does (like the ones who prop up the MRC).
By Terry Krepel
Posted 8/18/2023
---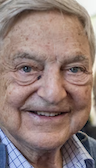 George Soros
When the Media Research Center wasn't busy trying to tie George Soros to the district attorney prosecuting Donald Trump for financial crimes (and loudly denying it was leaning into anti-Semitic tropes by doing so), the Media Research Center was attacking Soros in all the usual ways. Here's what the MRC has done in the field of Soros-bashing in the first few months of 2023:

It wouldn't be the MRC if there wasn't at least one wacky attack on Soros, and Gabriela Pariseau obliged in a Feb. 17 post accusing Soros of hypocrisy for pointing out Donald Trump's narcissism:
Leftist billionaire George Soros railed against former President Donald Trump and called him a narcissist. Yes, America's most notorious self-absorbed billionaire is whining about "narcissism."

Soros delivered a climate alarmist speech at the Technical University of Munich where he took time to lambast Trump as "a deeply flawed character, a confidence fixer whose narcissism grew into a disease." Soros admitted that his "hope for 2024" is that the Republican vote would be split between DeSantis and Trump as a third party presidential candidate resulting in an overhaul of the Republican Party. "That would lead to a Democratic landslide and force the Republican party to reform itself. But perhaps I may be just a little bit biased." More than a little biased indeed. This is the same Soros who once claimed he saw himself as "some kind of god," made it his goal to "become the conscience of the world," and told The New York Times in 2019 that he was working to "bend" the "arc of history" in the "right direction." Soros is "narcissism" personified.

MRC Business previously reported in its recent three-part series on Soros that the conceited billionaire even admitted that he "always harbored" an "exaggerated view" of his "self-importance," in his magnum opus The Alchemy of Finance (1995).

Soros is certainly vying to be the "conscience of the world," and he's bought himself influential access to nearly every sphere of the political scene imaginable.
Note that Pariseau did not dispute anything Soros said about Trump -- she simply attacked Soros for saying it. She also seemed not to realize that Soros admitting to his narcissism shows he has a more healthy and realistic view of himself than Trump, who is far too narcissistic to ever admit such a thing. Pariseau instead endeavored to find more alleged Soros crimes:
In Soros' latest speech, he targeted Trump's encouragement that states pass stronger election integrity legislation and accused the former president of trying to "ensure that his party will remain in power indefinitely." His disdain for election integrity is unsurprising considering Soros was part of a $59 million effort to boost the dubious practice of mass mail-in voting prior to the 2020 election. He later coordinated with fellow leftist billionaire and eBay founder Pierre Omidyar to weaponize millions in cash through the leftist group Way-to-Win 's donor collaborative, Valiente Fund, in a campaign to recruit Latino voters "for victory in the November [2022] midterms."
In fact, "election integrity" is little more than a right-wing narrative to make voting more restrictive in an claimed attempt to stop purported election fraud that really doesn't exist to any significant extent -- indeed, Trump has been pushing that narrative to advance his false claims that the 2020 presidential election was "stolen" from him. And calling mail-in voting "dubious" is also a right-wing narrative (also lacking factual justification) with a goal of restricting the practice because more Democrats than Republicans make use of it. Finally, get-out-the-vote efforts are not against the law, they're not evil, and Republicans do the same thing.
Pariseau concluded by huffing: "Soros is in no position to be complaining about 'narcissism.'" If she can't or won't admit Trump's narcissism, she's in no position to criticize Soros.
Complaining that Soros supports causes
Another part of the MRC's recent round of attacks on George Soros has been a series of so-called studies that boil down to complaining that Soros funds things like any billionaire does. This was kicked off in an Dec. 6 post by the MRC's point man on hating Soros, Joseph Vazquez, and Dan Schneider who runs the MRC's Free Speech America program:
Leftist billionaire George Soros used his charities to build ties with hundreds of media organizations around the world involved in news and activist media. The journalism and activist media groups Soros supports mold public opinion on practically every continent and in many languages. They also insulate him from inquiry because reporters see him as an ally, not a target for investigation.

The 92-year-old philanthropist's multimillion-dollar efforts promoting his bizarre "open society" agenda encompass some of the most radical leftist ideas on abortion, Marxist economics, anti-Americanism, defunding the police, environmental extremism and LGBT fanaticism.

His global media clout is massive. An extensive analysis by MRC Business discovered at least 253 news and activist media organizations across the world financed by Soros' philanthropic organizations. These groups wield massive power over information in international politics.

This report is the first in a three-part series that reveals the extent of the reach Soros wields over international media to influence the world population. Soros once told The New York Times that he was working to "bend" the arc of history "in the right direction." He means it.
Which makes Soros no different than the right-wing billionaires that fund the paychecks of Vazquez and Schneider, such as the Mercers.
This particular segment complained about a website called Project Syndicate that Vazquez and Schneider hyperbolically describe as "A Global Soros-Funded Behemoth" and a "Global Propaganda Operation" despite few in the U.S. even being aware of it. They also laughably called the Poynter Institute "A Global Soros-Backed Ministry of Truth" mainly because it fact-checks right-wing falsehoods and misinformation, and bashed the group Free Press as "anti-American" despite quoting co-founder Robert McChesney saying that that group engage in things like "democracy, social justice, and, dare we say it, socialism," none of which sound particularly anti-American. They went on to apply more overheated language to the Media Democracy Fund, declaring it "A Soros-Funded Gargantuan Dedicated to Woke 'Social Justice'" and "a Money-Spewing Cog in Soros' Sphere of Influence," then describe National Public Radio as "Soros and State Media" and "Soros' Taxpayer-Funded Radio Propaganda Mill."
Language like this makes Vazquez sound like they're cranking out a partisan hack job, not engaging in sober or legitimate "media research." But that is the tone they use throughout. Because this is, in fact, a partisan hack job, exposure in the right-wing media bubble is the coin of the realm, not reasoned debate -- so MRC chief Brent Bozell ran to Fox News to promote it and spew hate at Soros: "He hates the Judeo-Christian tradition. He is out to destroy the underpinnings of Western civilization and he's using $36 billion that he is spending on it. ...This is a dangerous man." Keeping the promotion in-house, Tim Graham parroted the study on his Dec. 7 podcast, and Vazquez plugged it on Paiten Iselin's Dec. 9 "CensorTrack" podcast. Even the MRC's "news" division, CNSNews, performed an act of whoredom and reprinted Vazquez's hit job.
Vazquez took a break from hyping his own work to note a complementary finding in a Dec. 8 post:
Liberal billionaire George Soros is upping his accolade as the "largest donor" for the 2022 midterm elections to the next level by reportedly signaling that he's ready to buy the 2024 presidential election.

Politico revealed Dec. 7 that Soros pumped a whopping $50 million into his leftist super PAC — Democracy PAC — "building on an already large investment in Democratic groups and candidates for the 2024 election cycle and beyond." This is on top of the $128 million he spent during the 2022 midterm elections. Politico noted that it's "the latest sign that Soros will continue to play an enormous role in the Democratic campaign finance ecosystem, particularly ahead of the next presidential election." The talking heads at the ABC, CBS and NBC evening news shows predictably ignored the report during their Dec. 7 broadcasts.

[...]

It looks like he's not done yet as he bids to buy the presidency in 2024.
Vazquez failed to mention the right-wing billionaires who are similarly trying to "buy the presidency in 2024."
Vazquez had another Soros donation spree to complain about in a Dec. 22 post:
Leftist billionaire George Soros apparently kept himself very busy last year by funneling millions into groups and causes spreading anti-police hatred across the country.

Fox News Digital reporter Joe Schoffstall reported Dec. 21 that Soros' Open Society Foundations "dropped at least $35 million into anti-police groups and initiatives in 2021," according to reviewed tax forms.

Overhauling the American criminal justice system is a "high priority" for Soros, wrote Schoffstall. Soros' millions went toward "groups that back defunding police, hubs used by progressive activists aiming to dismantle law enforcement, and even funding databases to track donations to police department foundations and unions." Schoffstall also mentioned Soros' record of financially backing "dozens of far-left prosecutor candidates as part of the efforts."

Open Society-U.S. co-director Laleh Ispahani apparently didn't mind using Schoffstall's discovery to smear police officers across the country and push defunding police departments in comments to Fox News.

"The level of police violence, particularly impacting communities of color, has spurred reform efforts across the country," Ispahani reportedly said. "Open Society supports the exploration and development of policies that actually work to reduce crime and defers to communities regarding what alternatives make sense to them. Whether that includes shifting funding currently allocated to policing into services that actually work to address crime and improve public safety is up to them." [Emphasis added.]
As Ispahani's statement made clear, Open Society favors more effective policing and not defunding -- which would seem to be the opposite of the "anti-police" pejorative Vazquez and Schofstall are trying to hang on the group -- and Vazquez did not explain how seeking more effective policing equates to "smearing police officers." But for these two, clinging to this right-wing narrative -- no matter how it's been debunked -- is more important than reporting facts.
(Vazquez also didn't disclose that Schoffstall is a former MRC employee who, like so many others, have entered the pipeline to work for Fox News.)
Vazquez kept up the narrative into the new year in a Jan. 4 post:
Leftist billionaire George Soros was apparently more heavily involved in the 2022 electoral cycle than previously thought.

CNBC reported that Soros' Open Society Policy Center "quietly" spewed $140 million "to advocacy organizations and ballot initiatives in 2021," which is in addition to the over $170 million he "personally" spent to bolster Democratic candidates and campaigns in the 2022 midterm elections. It gets worse.

CNBC noted that the new numbers bring Soros' multimillion-dollar agenda to buy up elections and political influence to roughly $500 million since January 2020.

[...]

Soros once stated that his goal was "to become the conscience of the world," according to late New York Times reporter Michael T. Kaufman's 2002 book Soros: The Life and Times of a Messianic Billionaire. He clearly wasn't kidding.
In this regard, Soros is no different from other billionaires, including the right-wing ones who help fund Vazquez's paycheck -- that that Vazquez will tell you that, of course, and he would never accuse, say, the Mercers of having "spewed" donations to the MRC.
This was followed by the MRC's own work the next day, as compiled by Vazquez and Dan Schneider:
Leftist billionaire George Soros has been using his enormous fortune to buy influence around the world through news and activist media organizations for decades.

A new MRC Business analysis revealed that Soros specifically funneled at least $131,111,250 between 2016 and 2020 into 253 journalism and activist media groups worldwide to spread his radical leftist ideas on abortion, Marxist economics, anti-Americanism, defunding the police, environmental extremism and LGBT fanaticism. Soros pumped a whopping $103,236,632 into media groups that circulated his extreme views throughout the U.S. and abroad between 2000 and 2014. Fast forward to the period between 2016-2020, and Soros blew past the $100 million global media funding milestone again in just a four-year timespan.
Vazquez and Schneider offered nothing but cherry-picked examples that are really no worse than the anti-abortion extremism pushed by their employer. Still, the point of all this was to get a TV hit out of it, and as it was going live, MRC chief Brent Bozell ran to Fox Business, where he knew he could spout his talking points at Stuart Varney without challenge:
One-hundred and thirty-one million dollars is "far more than any entity, any foundation, anyone else probably in the world investing in [media]," Bozell noted. "This is a man who wants to fundamentally change the world." Bozell also rebuked the media, remarking that it's the "tip of the spear for the left and it's George Soros who's funding it."
The MRC's anti-Soros activism got even more attention in the right-wing media bubble, and Vazquez dutifully transcribed in in a Jan. 6 post:
Conservative radio host Mark Levin has apparently had it with leftist billionaire George Soros wielding colossal influence over American politics and society.

Levin tweeted on Jan. 5 that "Soros has spent decades using enormous sums of money to overthrow our society." He then called on the "[t]he GOP [to] look at what [Soros'] massive network of anti-American groups are doing." MRC Business can help with that. Levin's tweet came just before MRC Business released its second report in its three-part research series on Soros' enormous ties to the global media.
Vazquez hyped the work of other fellow Soros-haters in a Jan. 11 post:
New research has put a dollar amount on the ungodly amount of cash leftist billionaire George Soros has poured into global politics in the past 23 years, and it's in the billions.

The Capital Research Center (CRC) reported Jan. 4 that new filings reveal that Soros' "nonprofit empire has poured out nearly $21 billion since 2000, making him perhaps the biggest ATM for leftist political causes in the world."

To put that into perspective, The University of California Berkeley projected that if one were to save money at a rate of $100 per day, it would take 27,397 years to save $1 billion. That means it would take a person saving $100 per day roughly 575,342 years to save up to the $21 billion Soros unleashed since 2000 in an effort to secure the leftist political outcomes he desired in the U.S. and around the globe.
Vazquez seems jealous that Soros has that kind of money to spend. He also didn't mention that the CRC has a history of shoddy "research" that, when ConWebWatch exposed it, caused it to accuse us of inciting civil unrest for doing so.
Vazquez found another bubble person to spew anti-Soros hate from the MRC's favorite misinforming podcaster in a Jan. 13 post:
Podcast host Joe Rogan was blunt in calling leftist billionaire George Soros's vast political power in global politics "terrifying" and equated him to a Batman villain.

Soros is like "an evil person in a Batman movie,"Rogan quipped during the Jan. 12 edition of The Joe Rogan Experience with guest and former CIA covert operations officer Mike Baker. Rogan referenced Soros' gambit to spend millions of dollars to elect leftist extremist district attorneys and politicians in order to advance his radical agenda.

"It's fucking terrifying," Rogan said. "He donates money to a very progressive, very leftist — whether it's a DA or whatever politician — and then funds someone that's even further left than them to go against them."

According to Rogan, "[H]e's playing like a global game and then he enjoys doing it." Recent research suggests Soros has spent $21 billion on global politics since 2000 to move the societal needle towards his dystopian worldview.
Vazquez and Schneider served up the final part of their anti-Soros screed in a Jan. 17 post:
The over $32 billion that leftist billionaire George Soros poured into his organizations to spread his radical "open society" agenda on abortion, Marxist economics, anti-Americanism, defunding the police, environmental extremism and LGBT fanaticism around the globe has paid dividends.

In fact, his funding has helped him establish ties with some of the biggest name media personalities in the United States and abroad which help indoctrinate millions with his views on a day-to-day basis. MRC Business found at least 54 prominent media figures (e.g. reporters, anchors, columnists, editors, news executives and journalists) who are tied to Soros through their connections to organizations that he funds. These include personalities like NBC Nightly News anchor Lester Holt and The Washington Post executive editor Sally Buzbee.

[...]

Soros' $131 million in media spending has virtually insulated him from any serious investigations by journalists. If anything, media figures tied to Soros tend to smear anyone who criticizes him as being anti-Semitic. CNN Chief International Anchor Christiane Amanpour harassed Hungarian Minister of Foreign Affairs and Trade Péter Szijjártó and accused his boss, Hungary Prime Minister Viktor Orbán, of "stoking anti-Semitism" because he opposes Soros' radical open border agenda. NBC Nightly News anchor Lester Holt exploited a violent attack on Soros' home to take a generalized swipe at his critics by painting Soros as a "target of conspiracy theories."
Related articles on ConWebWatch:
Vazquez made sure not to mention that his employer has a history of using anti-Semitic tropes like "puppetmaster" to attack Soros, and his uncritically repeated the false conspiracy theory that a young Soros was a Nazi collaborator during World War II. There was also no mention of the fact that the MRC operates its own propaganda operation masquerading as a "news" outlet, CNSNews.com.

But, again, the point is to get a TV hit out of this, not fess up to double standards. So Bozell ran to Fox News the next day to serve up more manufactured outrage:
Soros "understands the importance of media and the power of media," Bozell told Fox News anchor Trace Gallagher. Bozell also took time to slap down a common leftist deflection whenever a conservative criticizes the enormous influence of George Soros. "Remember David Koch and the Koch Brothers? Remember the Mercer family," asked Bozell. "What they've given is a spit in the bucket compared to George Soros. All the hundreds of stories on [the Kochs and the Mercers] and this 'right wing conspiracy,' nothing on George Soros."
Needless to say, Bozell didn't disclose that his MRC has received large amounts of Mercer money.
Vazquez touted more complementary attacks in a Jan. 23 post:
Bongino Report Content Manager Matt Palumbo peeled back "the layers" of leftist billionaire George Soros' global political and media influence during a recent interview with The Epoch Times.

Palumbo noted that his book — The Man Behind the Curtain: Inside The Secret Network of George Soros — includes a "list of publications that are linked to Soros."

Palumbo told The Epoch Times that Soros' well funded media empire gives him connections with some of the biggest names in journalism, which in turn allows him to be shielded him from serious journalistic scrutiny. In addition, Soros' influence encourages media figures to call anyone who dares criticize him "anti-Semites."

"Just go on any of the publications that are Soros-linked: ABC, CBS, CNN, Washington Post, New York Times — the list, it's a very long list — type in Soros' name, and look at how they cover him," Palumbo said.
Vazquez smugly added. "MRC Business' research directly corroborates Palumbo's analysis." And neither he nor Palumbo seem particularly curious about the shady, opaque funding behind the Epoch Times; then again, it's in the right-wing media bubble with them, so there will be nothing but softball direct the Epoch Times' way.
Vazquez and Schneider wrapped things up with a Jan. 31 summary post in which they unironically demand even more investigations of Soros. They will not be turning a similarly close eye to, say, the Mercers anytime soon -- don't want to bite the hand that feeds you, right?
Soros-hating, Musk-fluffing merge
Media Research Center writer Joseph Vazquez brought his George Soros obsession into his employer's Musk-fluffing, lashing out in a Feb. 6 post at a Soros-funded group that called out Elon Musk for interacting with right-wingers on Twitter:
A George Soros-funded group targeted Twitter owner Elon Musk for daring to interact with "right-wing accounts" following acquisition of the platform.

The leftist Institute for Strategic Dialogue spewed nonsensical agitprop in a Jan. 31 blog. ISD railed against Musk's exchanges with "right-wing Twitter users" and claimed that his interactions with these accounts increased a so-called "staggering 1,690 percent after October 27, from 1.1 percent of his total interactions to nearly 20 percent."

The "right-wing" accounts that ISD blacklisted included satire site The Babylon Bee, Psychologist Jordan Peterson, Judicial Watch President Tom Fitton, and social media influencer Ian Miles Cheong. ISD even attempted to label noted left-wing Glenn Greenwald as a "right-wing account."

ISD whined that Musk was supposedly "signaling to his followers and other Twitter users that these ideas are acceptable on the platform, likely inviting more hate on Twitter, and creating space for actors to spread disinformation and harmful ideologies."
Not only did Vazquez fail to justify tagging ISD as "leftist" beyond receiving Soros-related money, he didn't explain why those right-wingers shouldn't be accurately identified as such, let alone why they are not right-wing. In fact, Greenwald has been shifting rightward for some time now -- why else would he go on Fox News so much?
Vazquez went on to tout Musk siding with the standard "they're just posting videos" defense of Libs of TikTok:
The Soros-funded group even labeled Libs of TikTok, which simply finds left-wing extremists' videos and reshares them to its various pages, a "prolific spreader of hate."

The organization attempted to justify its arbitrary claim by slamming Musk for liking one of Libs of TikTok's tweets. "Posting publicly available videos isn't harmful, hateful or dangerous," the tweet read. "You know what is harmful though? Confusing kids about their identity, stealing childhood innocence, exposing kids to adult sexual entertainment, giving kids porn in school, and sterilizing and mutilating kids."

Apparently, per ISD's logic, Libs of TikTok's rebuke of the sexual exploitation of children is an example of "hate."
In real life, however, Libs of TikTok purveyor Chaya Raichik has amply demonstrated herself to be a vicious homophobe, and her videos have inspired violent threats that she has never disavowed, which tells us that she has a bigger agenda than "just posting videos."
Vazquez went on to whine that "The organization also smeared Ian Miles Cheong and Townhall writer Scott Morefield as 'two conservative journalists' that are supposedly 'known to spread disinformation and amplify hateful right-wing talking points,'" but again, he offered no evidence to disprove that description. He then went into the usual MRC whataboutism:
ISD's feigned outrage against so-called "hate" and "disinformation" on Twitter is laughably disingenuous. The organization said nothing about the anti-Semitic Ayatollah Khamenei or Chinese Communist Party-affiliated accounts which have been allowed to spread their respective bile for years under Twitter's old regime. A 2010 tweet by Khamenei, for example, raged that "Israel Is A Hideous Entity In the Middle East Which Will Undoubtedly Be Annihilated." Would ISD be suffering the same conniption if Musk was interacting with those accounts instead? The CCP in particular is currently conducting religious- and ethnic-based genocide against the Uyghur Muslims, is running an authoritarian surveillance state and was starving its own people under "zero-Covid" policies. But how dare Musk associate with "right-wing" accounts, eh ISD?
Yet all of these Twitter accounts are apparently still active, and Musk has done nothing to remove them. Shouldn't Vazquez be criticizing Musk instead? Also, his feigned outrage over right-wingers being accurately identified as such is even more laughably disingenuous.
Vazquez concluded by grousing that "The group continued ranting against Musk interacting with those so-called "prominent superspreaders of election disinformation" like Tim Pool and Dinesh D'Souza." Again, he offered no evidence to counter that accurate assessment.
The latest from