CNS Hides Scammy History Of Eric Trump's Charity
Topic: CNSNews.com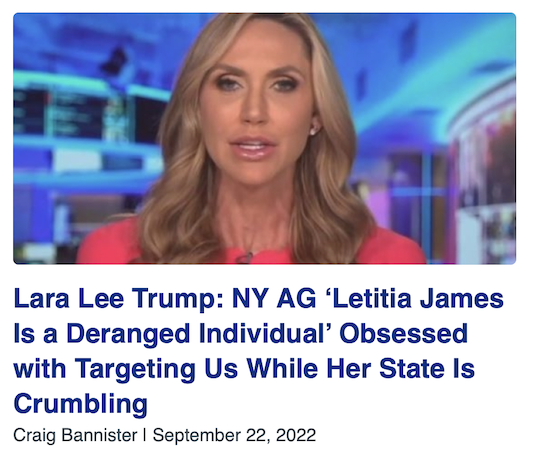 Craig Bannister studiously repeated a Trump in-law's Fox News rant in a Sept. 22 CNSNews.com article:
New York Attorney General Letitia James doesn't care about the safety of the people of her state, but only about her vendetta against anyone with the last name Trump, former President Donald Trump's daughter-in-law said Thursday.

Appearing on Fox & Friends to react to AG James' announcement Wednesday that she had filed a lawsuit seeking $250 million in damages from Donald Trump and members of his family, including her husband, Lara Lea Trump noted that James ran for office by promising, not to make New York safer, but to prosecute Donald Trump.

[...]

AG James even went after her husband when he was 22 years old and started a charity that raised $30 million for the kids at Saint Jude Children's Hospital, Mrs. Trump explained:

"My husband started a charity to raise money for kids at Saint Jude Children's Hospital when he was 22 years old. He raised $30 million for the kids at Saint Jude - and Letitia James has such vitriol and hatred for anyone with the last name Trump that she decided to investigate my husband's charity, despite the fact that it had one of the lowest expense ratios of any private charity in America.

"And, unfortunately, guess who was hurt by that? It wasn't my husband. It was the kids of Saint Jude's.

"Who knows how many kids have died unnecessarily thanks to her investigation and just vitriol and hatred of anyone with the last name Trump?"
Because Bannister is a stenographer, not a reporter, he's not about to remind his readers that Eric Yrump's charity was a scam. As Wonkette explained:
The scammy nature of the Trump charities is well-known, so much so that NY AG James did in fact shut down the Trump Foundation slush fund for criming and other slushes too. Then there was the Eric Trump Foundation, which seemed to be the only one of them that actually tried to do any good, but as time went on it also became apparent that young Eric's foundation was getting really good at funneling money toward Daddy's businesses. Lara Trump talks about how Eric's charity had such a low expense ratio, but if you read the big Forbes expose from 2017, you'll see how that low expense ratio was kind of fake. Donors were told their money was all going to kids with cancer, and that Daddy Trump was donating his golf courses and other things free of charge. But it turned out the Trump Organization was in actuality charging the Eric Trump Foundation a premium for its services. And why? Because Donald Trump lost his shit when he found out kids with cancer might be getting some of the money he felt entitled to.

Yay! Laundering charitable donations between family members is fun and easy! Anyway, Tish James didn't even shut down Eric Trump's foundation, she just started asking questions and he stopped the whole thing.

And as ProPublica has reported, St. Jude's has billions of dollars in reserves, so whatever money Eric Trump's little foundation was actually getting to the hospital isn't exactly being missed, and absolutely no kids died because of that.
Bannister, meanwhile, doesn't think you should know anything about that.
Posted by Terry K. at 12:32 AM EDT