MRC Keeps Up The Musk-Fluffing, Embrances Anti-Twitter Whistleblower
Topic: Media Research Center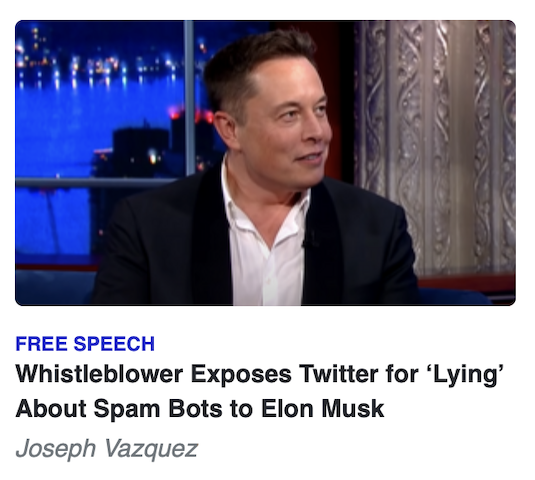 The last time we checked in on the Media Research Center's hero worship of Elon Musk for trying to buy Twitter, it was getting over its disappointment over Musk pulling out of the Twitter deal and parroting his narrative that Twitter is lying about the number of bot accounts it has. But it has sinced found a new ally to champion in the form of a former Twitter employee. Joseph Vazquez gushed in an Aug. 23 post:
A former Twitter executive just blew the whistle against the Big Tech platform for allegedly ignoring serious cybersecurity problems and apparently misleading prospective owner Elon Musk on spam bots.

Both CNN and The Washington Post released stories documenting explosive allegations by former Twitter head of security Peiter "Mudge" Zatko.

Zatko's whistleblower complaint, which both outlets reported was sent to Congress and other federal agencies, warned about "'extreme, egregious deficiencies' in its defenses against hackers, as well as its meager efforts to fight spam," The Post summarized.

The complaint itself alleges that Twitter was "Lying about Bots to Elon Musk." The Tesla CEO has been in a back-and-forth legal battle with Twitter over his announced intent to abandon his $44 billion acquisition bid after claiming the platform misled him about the amount of spam bots on the platform.
Unusually for the MRC, Vazquez did surprisingly report both sides of the story:
A Twitter spokesperson lashed back at Zatko in comments to CNN, in an apparent attempt to cover the company by painting him as an incompetent employee. "'Mr. Zatko was fired from his senior executive role at Twitter for poor performance and ineffective leadership over six months ago," the spokesperson said.

The company also added Zatko's complaint was part of a "'false narrative'" and was "'riddled with inconsistencies and inaccuracies, and lacks important context.'"
The same day, a post by Jeffrey Clark cheered that "Tesla CEO Elon Musk subpoenaed former Twitter CEO Jack Dorsey, intensifying his ongoing legal battle with the social media giant over his intent to bail on his initial $44 billion acquisition offer," touting the whistleblower as"another possible boon for Musk's case against Twitter" and gushing that "Musk seemingly referencedthe whistleblower news with a photo of Disney character Jiminy Cricket whistling: 'Give a Little Whistle.'"
Clark returned for an Aug. 26 item complaining that CNBC wasn't taking Zatko seriouesly enough for purposes of Musk and its own right-wing anti-"big tech" narratives:
Just one day after whistleblower Peiter "Mudge" Zatko made bombshell claims that Twitter has been "lying" about its security practices, CNBC appeared to downplay Zatko's complaint in an interview. The outlet gave a platform to a law professor who absurdly claimed Zatko "basically" agreed with Twitter on how it counts users.

Squawk Box co-anchor Andrew Sorkin framed Zatko's Twitter bashing as an inflated crisis: "This, in some ways, seemed like a bombshell," Sorkin hedged. "Do we need to look at the bots the way Elon Musk is asking, or don't we?"

Sorkin editorialized despite Zatko making several apparent revelations earlier this week about how Twitter calculates the percentage of spam accounts versus regular accounts on its platform. Zatko directly stated in a letter to Congress that Twitter was "Lying about Bots to Elon Musk."

Sorkin's guest, Tulane law professor Ann Lipton, argued on the Aug. 24 Squawk Box that Zatko's Twitter bashing was actually "good for Twitter."

Lipton seems to have cherry-picked a single phrase from Zatko's redacted whistleblower complaint: "Twitter is already doing a decent job excluding spam bots and other worthless accounts from its calculation of mDAU." But Lipton omitted the fact that Twitter's mDAU calculation is designed to exclude spam bots.
Then it was time for more hero worship; an Aug. 29 post by Clark drooled over how Musk "called for more oil and gas production in order to maintain stability around the world as Europe and the United States suffer through the worst energy crisis in years" and how they "buck an ongoing liberal media obsession over climate change and Biden's war against fossil fuels."
An Aug. 30 post by Autumn Johnson hyped that Musk "sent yet another letter giving Twitter notice that he intends to cancel the deal," adding that "Musk has long questioned the accuracy of the number of 'bot' accounts disclosed by Twitter."
A Sept. 13 post by Brian Bradley hyped Zatko's "BOMBSHELL Testimony!" befor a Senate committee, in which he alleged that "Twitter may have employed at least three foreign intelligence agents and kept Chinese Communist Party-linked advertising accounts on the platform despite employee objections." Bradley also made sure to note that "The whistleblower hearing comes amid increased outside scrutiny over the percentage of bots on the platform, as Tesla CEO Elon Musk has moved to exit a planned $44 billion acquisition of the company."
Johnson took Musk's side yet again in a Sept. 14 post on Twitter shareholders approving the deal whether Musk wants to or not:
Despite contentious legal battles, Twitter's shareholders approved Elon Musk's deal to purchase the platform for $44 billion.

The Verge reported Tuesday that the company confirmed it has enough votes to approve the purchase. Musk, however, shows no signs of backing down amid a protracted legal battle with Twitter.

NewsBusters reported in August that the Tesla CEO said the deal will go through if Twitter provides proof that its reported numbers of "real" accounts on the platform are accurate.

"If Twitter simply provides their method of sampling 100 accounts and how they're confirmed to be real, the deal should proceed on original terms," Musk tweeted. "However, if it turns out that their SEC filings are materially false, then it should not."
The next day, Vazquez cheered a right-wing author who praised Musk:
Woke Inc. author Vivek Ramaswamy didn't mince words about the impact the world's richest man had in giving shareholders a voice to fight the censors at Twitter.

The Strive Asset Management executive chairman joined the Sept. 14 edition of Fox News's America's Newsroom and said that even if Tesla CEO Elon Musk's $44 billion acquisition of Twitter doesn't go through, his bid opened new ground for Americans to fight back against Big Tech censorship.

"He has paved the way for shareholders exercising their voice in the boardrooms of these companies," Ramswamy told Fox News anchor Bill Hemmer.

"Most of the owners of these public companies, including Twitter, are the everyday citizens of this country through other funds managed by [left-wing hedge funds] BlackRock and State Street and Vanguard that together, historically, have exercised the vote."
Johnson returend for a Sept. 20 post on Dorsey's deposition, calling it "the latest news in the contentious legal battle that will determine whether the Tesla CEO will be forced to go through with the original $44 billion deal." She then rehashed a lot of anti-Twitter content the MRC has previously published.
Posted by Terry K. at 10:22 PM EDT
Updated: Tuesday, September 27, 2022 10:24 PM EDT