Newsmax Censors Trump's Humiliation Of Vance In Ohio Rally Coverage
Topic: Newsmax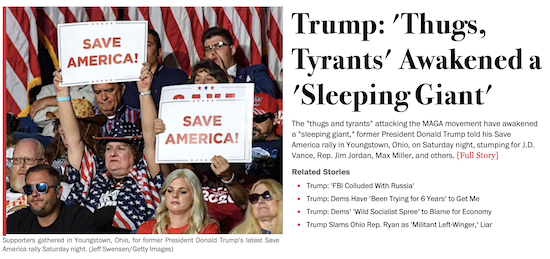 Like the pro-Trump sycophants they are, Newsmax is continuing to air Donald Trump's weekend rallies -- but has a habit of declining to report on happenings at those rallies in which he undermines himself or the candidate he's ostenibly rallying for. Luca Cacciatore teased one rally in a Sept. 16 article:
Former President Donald Trump is flying to Ohio this weekend in support of his endorsed Republican nominee in the U.S. Senate race, J.D. Vance, The Hill reported.

Vance, a venture capitalist and the author of "Hillbilly Elegy," is currently leading Democrat Rep. Tim Ryan in a RealClearPolitics average of the polls conducted thus far by a margin of 2.7 points.
Cacciatore surprisingly didn't plug his employer and tell readers that Newsmax was airing the rally.
After the rally -- which, yes, aired on Newsmax -- the website was hit with the usual post-rally Trump stenography, all by Sandy Fitzgerald:
Now how few of those articles are focused on what the rally is supposed the about and are instead focused on Trump's personal grievances. And Fitzgerald, loyal pro-Trump stenographer that she is, is certainly not going to write anything bad -- even though there were bad things that happened.
First, the rally was scheduled against a Ohio State football game, a no-no in a state like Ohio where college football is religion. Second, Trump ended up embarassing Vance by bragging that Vance "is kissing my ass, he wants my support" -- not exactly a ringing endorsement of Vance as a strong candidate, unless what you want is a Trump sycophant.
That, of course, came back to haunt Vance in an Oct. 10 debate, where Ryan roasted Vance over Trump's boast and declared that "Ohio needs an ass-kicker, not an ass-kisser." Newsmax didn't report that either, of course; instead, days later, it gave Vance a TV slot to rage about purported "racial" attacks on his biracial family.
Posted by Terry K. at 1:46 PM EDT
Updated: Tuesday, October 25, 2022 5:15 PM EDT