Yes, MRC, Kanye's Presidential Campaign Is A GOP Trick
Topic: Media Research Center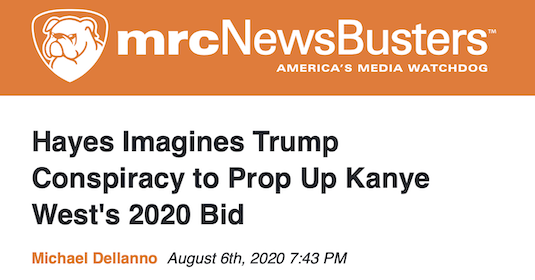 Michael Dellano wrote in a Aug. 6 Media Research Center post:
The Biden-backing media have been dumbfounded for weeks with the presidential campaign of rap star Kayne West, and by their twisted logic, the rational move was to blame it on Republicans. On Wednesday night's All In, MSNBC host Chris Hayes, alongside other leftist hacks, accused Republicans of propping up West's campaign.

Hayes used the topic as a cover for all of his other absurd theories about Trump's 2020 campaign:

Republicans are obviously pinning their hopes on Kanye West to siphon off enough votes to squeeze Donald Trump through. But that's just one part of the strategy, right, that alone is not enough. You also needed to make it hard for people to vote, to suppress the votes of Democratic voters, which the Republican Party is aggressively trying to do. And then they also have to hope in the next few months, say, Russia delivers, or some other foreign adversary.

It doesn't matter whether or not Hayes has any evidence for his wild claims, he was just using it as a way to delegitimize the results of the 2020 election in case Trump wins. Hayes just wanted to fantasize that West's presidential bid was another way for the election to be "hacked" by the GOP.

West has been talking about running for president as far back as 2015, saying he wanted to run in 2020, then changed his mind to 2024 after sitting down with President-elect Trump. So the entire narrative that West's vanity project is some sort of "dirty trick" by Republicans has no basis in fact.
Except, you know, for all the evidence to the contrary:
Efforts to get West on the ballot in at least five states are being led by Republicans.
Another group gathering signatures in Wyoming to put West on the ballot there made a point of telling would-be signatories that putting west on the ballot would "take votes" from Joe Biden. As Newsmax noted: "The tactic appeared to work, as the journalists witnessed several people sign the document. One woman expressed her excitement at helping Trump win another term in office."
West met with Trump's son-in-law, Jared Kushner, a few weeks ago.
The MRC would rather that you forget how much it used to hate Kanye West until he started sucking up to Trump.
And don't expect the MRC to issue a correction -- it doesn't do so when that would interfere with its anti-media agenda.
Posted by Terry K. at 5:29 PM EDT