MRC Still PR Agent For Trump's Social Media Site -- And Censoring Its Growing Problems
Topic: Media Research Center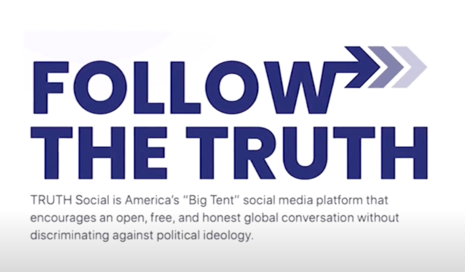 Truth Social, the social media operation to which Donald Trump has lent his alleged prestige and encouraged his cult following to join, has been making news lately -- but for the wrong reasons:
It has reportedly been banning users who posted about the House hearings on the Capitol riot -- so much for it being the "free speech" platform conservatives say they want to to counter the likes of Twitter.
A man who tried to attack an FBI field office and then led police on a chase and was subsequently killed in a shootout was a prolific user of Truth Social, where he avdiy posted about his desire to kill FBI agents with no apparent intervention from content moderators.
Truth Social is falling behind on its bills and its stock price is plunging -- in no small part because it's so inextricably tied to a mentally unstable former president -- the board of directors can't get enough votes to secure an extension to merge the company into a shell company, and the shell company has changed its mailing address to a box at a UPS Store.
But the Media Research Center doesn't want to talk about that. It's a Trump shill, which means it's also been an even bigger shill for Truth Social. It will only act as a PR agent, not be an honest reporter of facts. Autumn Johnson was in full press-release mode in an Aug. 23 post touting a new partnership:
On Tuesday, the Donald Trump-backed site Truth Social made a big splash when they announced that they will Rumble's first publisher.

The video streaming platform released a statement detailing the partnership as the first of its kind.

"We are excited to have Truth Social as our very first publisher on the Rumble Ad platform," said Rumble CEO Chris Pavlovski. "A significant part of the internet is now served through the Rumble ecosystem, which gives advertisers a new place to target customers aligned with our mission to fight back against cancel culture. We look forward to proving the incredible size and performance of this market."

Trump Media and Technology Group CEO Devin Nunes said with the partnership, both companies are "poised" to beat out major Big Tech platforms as a leading venue to interact with millions of people.
No bad news here, just a barely disguised press release.
Since the MRC loves it when its fellow right-wingers can play victim, Gabriela Pariseau afforded Truth Social that opportunity in an Aug. 30 post:
Google is barring Truth Social from the Google Play Store, meaning a reported 44 percent of Americans can't access the pro-free speech application.

"Google is canceling conservatives ahead of an election. They're not even hiding their efforts to sway elections anymore," Media Research Center President Brent Bozell.

Axios reported that Google has not yet approved Truth Social's Android app for distribution on the Google Play Store. CEO of Truth Social Devin Nunes said "when" former President Donald Trump's social media app will be available on Android is "up to the Google Play Store."

When reached for comment, a Google spokesperson told MRC Free Speech America:
On August 19 we notified Truth Social of several violations of standard policies in their current app submission and reiterated that having effective systems for moderating user-generated content is a condition of our terms of service for any app to go live on Google Play. Last week Truth Social wrote back acknowledging our feedback and saying that they are working on addressing these issues.
You will not be surprised to learn that Pariseau did not mention the incident with the wannabe FBI murder that perfectly illustrates Truth Social's issues with content moderation. She also provided no evidence to back up her boss' claim that the rejection of the app is all about "canceling conservatives" -- which means that this post is a complete partisan fraud. Indeed, Pariseau spent the rest of the post attacking Google for purportedly "censoring information that goes against the left's narrative on a wide array of topics" -- an allegation for which she also doesn't provide evidence.
The MRC will not tell you the truth about Truth Social -- it's too invested in the right-wing narratives it feels it must perpetuate.
Posted by Terry K. at 10:04 PM EDT
Updated: Wednesday, October 5, 2022 10:08 PM EDT