CNS Shares MRC's Hypocrisy In Complaining About Dems Meddling In GOP Primaries
Topic: CNSNews.com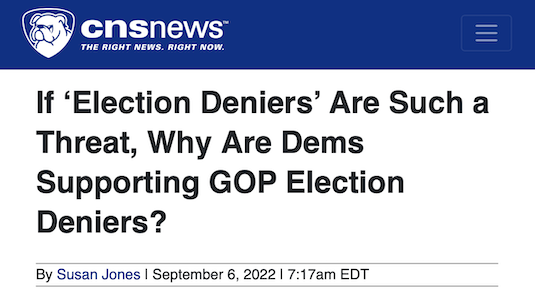 There's basically no wall between the activist Media Resarch Center and its "news" division CNSNews.com anyone -- which a real, credible "news" organization would have -- so what one side of the operation does, the other side likely will as well. So the MRC's hypocritical obsession with Democrats supporting extremist Republicans to win their GOP primaries so Democrats could beat them more easily in the general election unsurprisingly spread to CNS. Susan Jones wrote in an Aug. 23 article:
Rep. Sean Patrick Maloney (D-N.Y.), head of the Democrat Congressional Campaign Committee, told NBC's "Meet the Press" on Sunday that his job is "to win elections for the Democrats," even if that means supporting pro-Trump Republican candidates perceived to be weak opponents for Democrat candidates.

"The moral imperative is keeping the gavel out of the hands of Kevin McCarthy," Maloney told Chuck Todd.

But a number of Democrats oppose what the DCCC did in Michigan -- running ads to promote Trump-endorsed John Gibbs over Republican incumbent Peter Meijer, who voted to impeach Trump. Gibbs won the Republican primary.

Rep. Ro Khanna (D-Calif.) is among the Democrats who oppose the DCCC's attempt to advantage Democrats by boosting Republicans perceived to be the weakest opponents.
Jones complained further in a Sept. 6 article:
As President Joe Biden slams "MAGA Republicans" and Donald Trump as "election deniers" who threaten democracy, the Democrat Party [sic] is spending millions of dollars to boost the campaigns of so-called Republican election-deniers ahead of the midterm election.

Their goal is to have Democrats in New Hampshire and other states run against Republican candidates viewed as weak.

As CNSNews.com has reported, not all Democrats approve of the strategy. But two Democrats on Sunday gave it a pass.

[...]

Maryland Gov. Larry Hogan, a Republican, has criticized the Democrat hypocrisy. He tweeted last week: "If President Biden is truly serious about threats to democracy, then he would condemn the tens of millions Democratic groups have spent promoting extremists threatening democracy. The fact that he won't do so shows this is more posturing from a failed administration."
But Jones didn't report her employer's own hypocrisy on the issue: Like its parent, CNS approvingly promoted Rush Limbaugh's "Operation Chaos," his plan to encourage Republican voters to vote in the 2008 Democratic primaries to needlessly prolong the race between Hillary Clinton and Barack Obama. Jones herself lovingly wrote about Limbaugh's plan in a July 2008 article:
Conservative radio host Rush Limbaugh says the ultimate goal of his Operation Chaos is "Democrats losing in November."

To get to that point, he's issued "orders" to loyal listeners of his radio program, telling them in recent weeks to switch sides, if possible, and cast ballots for Sen. Hillary Clinton in various primaries -- just to keep Clinton in the bruising Democratic race.

The point of Operation Chaos is not to support Clinton, but to undermine Obama, Limbaugh says. On Thursday, he told Fox News that Clinton should stay in the race and insist that delegates from Florida and Michigan be counted.

[...]

By pressing Clinton to scream "disenfranchisement," Limbaugh is staying true to his "chaos" theme.

Limbaugh noted on Thursday that he told everyone in advance what he intended to do with Operation Chaos -- and how they could stop it.

"I advised the Obama campaign, look, if you guys want to shut this down, all you have to do is acknowledge it -- and simply say that a number of Mrs. Clinton's votes are tainted because they come from people who actually have no intention of voting for her in November."

[...]

Limbaugh says he hatched the plan because Republican presidential candidate John McCain -- and the Republican Party -- were so reluctant to criticize Obama, who was being treated like a "messiah." Limbaugh decided there was only one person who could beat up Obama politically -- and that was Sen. Clinton.

"Operation Chaos thus was born to keep Mrs. Clinton in the race, and it worked. Obama has been bloodied," Limbaugh said Wednesday on his radio program.

Limbaugh has now urged Democrat superdelegates to side with Obama -- because "he will lose" the general election. At the same time, he's urging Sen. Clinton not to drop out of the race -- "because the chaos...is not over."

"The chaos will continue," Limbaugh promised on Wednesday. "We have been successful beyond our wildest dreams. We have created a bloodied Obama via our vessel of the Clinton campaign because the McCain campaign and the Republican Party refuse to do so. Obama is no longer the messiah," he said.

And the Democratic Party is in disarray.
Jones did not include any criticism of Limbaugh's plan in her article. That, apparently, was offloaded to a separate article the same day by Fred Lucas:
Rush Limbaugh's "Operation Chaos" -- a tactic that calls on Republicans to vote for Hillary Clinton in the Democratic primaries to keep her in the race where she will "bloody" Barack Obama and cause primary mayhem in general -- is apparently working, according to the Obama campaign. The campaign said that the tactic helped Clinton win the Indiana primary on Tuesday.

During a "State of the Campaign" teleconference Wednesday, Obama's >campaign manager, David Plouffe, and several high-profile supporters talked to reporters about Obama's (D-Ill.) double-digit primary win over Clinton (D-N.Y.) in North Carolina and narrow two-point loss in Indiana.

"If it was not for Republicans taking Democratic ballots, he would have won (Indiana). Rush Limbaugh was tampering with the primary," said Sen. John Kerry (D-Mass.), the party's 2004 presidential nominee and an Obama supporter. "The GOP has clearly decided they want Hillary as the candidate."

[...]

Limbaugh has said that he thinks Obama will be the Democratic presidential nominee. But he has been encouraging his audience of about 14 million listeners to vote for Clinton.

Speaking about "Operation Chaos" on his talk-radio show Tuesday, Limbaugh said it has not only caused chaos in the Democratic Party, but also in the "drive-by media."

[...]

Limbaugh had said on Tuesday that he was not tampering with the election.

"I don't think there's anything untoward going on with Operation Chaos," Limbaugh said in response to a caller. "Operation Chaos is balance to all of the fraud that is being committed throughout our electoral process. George Soros is tampering with our electoral process with a huge multibillion-dollar fortune. MoveOn.org is tampering with vast fundraising tentacles. The unions -- I mean, who doesn't 'tamper' with elections, if you want to get right down to it? Everybody tampers with elections because they're trying to influence the outcome. But I'm not a tamperer. I'm an untamperer. I'm trying to level the playing field here somewhat."
Given its support of election meddling when Republicans do it to affect Democratic primaries, CNS has no real moral basis to complain when Democrats return the favor.
Posted by Terry K. at 12:41 AM EDT
Updated: Tuesday, October 18, 2022 9:08 AM EDT