MRC Still Defending Herschel Walker Over Things They Attack Democrats For
Topic: Media Research Center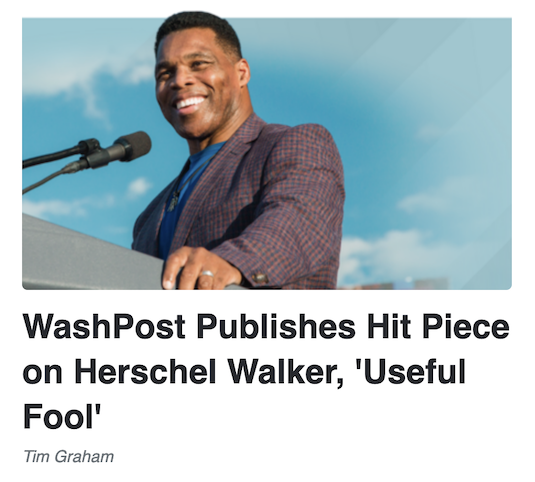 Media Research Center sports blogger Jay Maxson stood by carpetbagging Georgia Senate candidate Herschel Walker when he was credibly accused of domestic abuse, insisting that it can't be true because charges were never filed. As Walker continues to show how poor a candiate he is who is merely coasting on his fame as a football player, the defense has switched to the MRc's resident New York Times-hater, Clay Waters.
Waters spent an April 19 post whining that thew Times devoted an article to the unsavory backgrounds (and current behavior) of certain prominent GOP candidates. When the article turned to Walker, he retorted with whataboutism:
[Reporter Jonathan] Weisman poked through old domestic abuse accusations against Herschel Walker, football star turned Republican candidate for Senate in his home state of Georgia. That's funny! Walker is running against Sen. Raphael Warnock, and they were too busy promoting the Democrat to discuss his ex-wife's allegations that he ran over her foot. (Warnock had "fact checkers" fight for him.)
Waters didn't explain why false claims should not have been fact-checked.
The whataboutism continued with Waters bringing up a politician who hasn't held pollitical office in more than 20 years:
The name "Bill Clinton" somehow was unmentioned, a Democrat president who notoriously escaped allegations of sexual harassment and rape thanks to a compliant press that willingly smeared and disappeared his accusers.

[...]

Again, Bill Clinton was credibly accused of rape by Juanita Broaddrick, and of sexual harassment by Paula Jones and Kathleen Willey.
it's not a smear to point out the fact that Broaddrick has lied under oath -- either to deny a sexual assault by Clinton or to claim one happened -- and that she does, in fact, have credibility problems.
Waters played Warnock whataboutism again in a May 22 post complaining about a "hostile" Times profile of Walker:
Walker is a flawed candidate, prone to exaggeration, as the Times has consistently documented this year, while mostly avoiding Democrat Warnock's own flaws. Weisman (a white reporter, noted only because race is so important to Weisman here) still managed to be unfair to the black Republican.

He made no mention, not even a condescending one, of how eager supposedly racist Republicans are (as the paper feverishly claimed after the Buffalo massacre) to vote for a black candidate or the historic nature of a black Democrat against a black Republican competing for a U.S. Senate seat in Georgia.

[...]

After noting "the football star's history of domestic violence, his admitted struggles with mental illness," the reporter predicted Walker's message would fail because of black resentment of the infamous police killing that happened two years ago in Minneapolis.

[...]

Meanwhile, Warnock's gross accusations of a "Jim Crow" assault on voting rights didn't garner any objections from the Times.
Waters isn't the only MRC employee stuck having to defend Walker. Tim Graham used a May 8 post to grumble about a Washington Post "hit piece" on Walker declaring that "you could tell it would accentuate the negative" just from the headline.He continuyed grumbling that "The quotes [the reporter] uses are overwhelmingly negative, from furious liberals and from local Republican skeptics." Graham was particularly upset that reporter "highlights how Walker isn't always up to speed on policy or politics, such as referring to late congressman John Lewis as a Senator," furiously spinning in response: "Walker's not always wrong, but the liberals pretend he is."
At no point did Graham identify any factual inaccuracy in the article. instead, he handwaved Walker's worst behavior with, you guessed it, Warnock whataboutism:
Rosengren dove deeply into Walker's memoir where he talked of playing Russian roulette and thought about shooting a man who was late in delivering a car he ordered, as well as how officials granted a restraining order after his ex-wife said he threatened to kill her. That's some serious stuff. But you can be sure the Post wasn't digging into allegations from his opponent Sen. Raphael Warnock's ex-wife who claimed he ran over her foot.
Graham wants you to think that what Warnock is alleged to have done (of which there is no police evidence) is just as bad as what Walker has done. It's not, and Graham is being dishonest by claiming moral equivalence.
Meanwhile, the bad news for Walker keeps piling up. Illegitimate children keep coming out of the woodwork, and he said there are 52 states. The MRC has been silent so far, because it's OK if you're a Republican.
Posted by Terry K. at 9:50 AM EDT