MRC's Graham Still Can't Stop His Cynical Hypocrisy Over Election Meddling
Topic: Media Research Center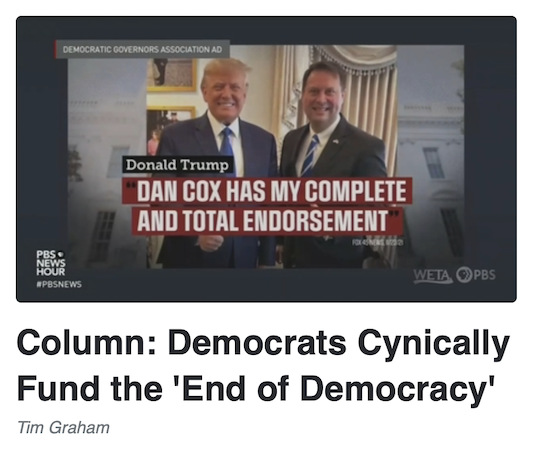 The Media Research Center (and its "news" division CNSNews.com) have been wildly hypocritical about Democrats meddlling in Republican primaries, given that they had no problem with Republicans meddling in Democcratic primaries via Rush Limbaugh's "Operation Chaos." Chief hypocrite Tim Graham had even more to say on the subject in his Sept. 16 column:
The Democrat-enabling media are currently highlighting a Republican tactical rift on whether or not to support a national ban on abortions in the later stages of pregnancy. They are not spending much time on an obvious tactical rift among Democrats. Should Democrats be boosting "MAGA Republicans" as Biden screams in speeches that they're killing democracy?

On September 12, PBS NewsHour reporter Laura Barron Lopez laid out just how cynical Democrats are in backing these alleged monsters. In New Hampshire's GOP Senate primary, they spent $3.2 million attacking more moderate candidate Chuck Morse as a Mitch McConnell stooge to smooth the path for Trump-loving Don Bolduc to win. Now they think the re-election of Sen. Maggie Hassan is a fait accompli.

This is happening all over the country. In Maryland, Democrats spent $627,000 to elevate "election denier" Dan Cox, so they can finally elect a Democrat governor in a state that Biden won by 33 points.

But the snow-topped summit of cynicism came in Michigan's 3rd congressional district, where Democrats poured $435,000 into promoting "election denier" John Gibbs. Gibbs then beat freshman Congressman Peter Meijer, who boldly voted for the second impeachment of Trump after the Capitol riot.
Um, wouldn't the real "snow-topped summit of cynicism" be Graham continuing to whine about this while staying silent on his employer's enthusiastic support of "Operation Chaos"? You'd think so, but Graham would rather perpetuate the hypocrisy:
Democrats cynically backed candidates that their media buddies can paint as scary "hard-right" kooks while they pose preposterously as the sensible essence of moderation. They are so aerobically cynical that they can align this whole exercise with Joe Biden's "restoring the soul of the nation."

These trashy tacticians should just admit they would do just about anything to win. That's where their moral compass is pointed.
Graham is certainly not about to admit that turnabout is fair play. Otherwise, he's have to concede how hypocritical and cynical he is, and there's no way he'll do that.
Posted by Terry K. at 1:49 PM EDT
Updated: Thursday, October 20, 2022 11:21 PM EDT