MRC Cheers DeSantis Immigration Stunt
Topic: Media Research Center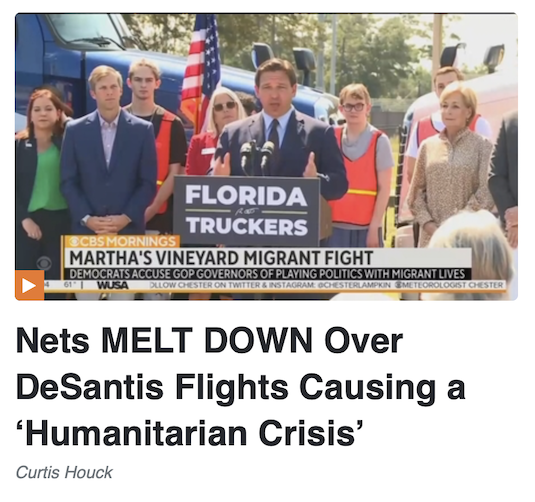 Because the Media Research Center is all about owning the libs and hating the immigrants (despite none ofthat being "media research") and absolutely loves right-wing Florida Gov. Ron DeSantis, it was totally jazzed about DeSantis' stunt of spending state money to fly undocumented immigrants from Texas to Martha's Vineyard. Curtis Houck gushed over the owning-the-libs and abusing-immigrants-for-partisan-purposes angles, along with parroting DeSantis' PR flacks, in a Sept. 15 post:
On Thursday, CBS Mornings and NBC's Today were nearly apoplectic over Governor Ron DeSantis (R-FL) sending two flights of illegal immigrants Wednesday to the rich, white, and liberal Martha's Vineyard, Massachusetts, calling it "inhumane" behavior "us[ing]" so-called "migrants" to play "politics" and overwhelm such a "great, great place."

"Migrants are flown to Martha's Vineyard not knowing where they are. How they wound up being used for politics," fretted CBS Mornings co-host Nate Burleson.

Socialist and fellow co-host Tony Dokoupil said DeSantis caused "an escalation in the political fight over immigration" by sending "[d]ozens of apparent migrants" to Martha's Vineyard, which he attempted to paint like an East Coast Alcatraz by calling it "a rocky island in the Atlantic."

[...]

For their part, Team DeSantis spokesman Taryn Fenske said the governor wanted to make sure illegal immigrants were sent to places like "Massachusetts, New York, and California" to "better facilitate the care of these individuals who they are invited into our country by incentivizing illegal immigration through their designation as sanctuary states."
Houck didn't explain why he was so offended by calling migrants "migrants" that he employed scare quotes and the "so-called" modifier.He also didn't explain what evidence he had to support his description of Dokoupil as a "socialist" or what relevance doing so had to this discussion.
Nnicholas Fondacaro brought his misogynism to attack the co-hosts of "The View," whining that "the cackling coven of ABC's The View started Thursday's show by raging at Florida Republican Governor Ron DeSantis for sending a load of illegal immigrants to the liberal safe haven of Martha's Vineyard, Massachusetts," going on to snark that "Martha's Vineyard wasn't as happy actually dealing with the illegals."
Kevin Tober cheered DeSantis' stunt as well while complaining it was called the stunt it was:
On Thursday, the three evening news broadcasts continued their meltdowns over Florida Governor Ron DeSantis sending two fights of illegal aliens Wednesday to the ritzy white liberal enclave of Martha's Vineyard, Massachusetts. Despite their calls for diversity, the left threw a temper tantrum over 48 illegal immigrants from Venezuela landing in their overwhelmingly white and rich vacation spot.

"It's a stunt using human beings to score political points. 50 undocumented migrants, including several children, arriving in Martha's Vineyard. Flown in by Florida Republican Governor and presidential hopeful Ron DeSantis. An effort to turn the spotlight to immigration just two months before the midterm elections," ABC's senior White House correspondent Mary Bruce cried during her report on World News Tonight.

Bruce didn't finish her tantrum, she went on to kvetch that "Local officials had no idea the families were coming, but DeSantis made sure cameras were there to capture it all."

[...]

The leftist networks should explain how it is okay for Texas and Arizona border towns to be overrun by illegal immigrants but it's frowned upon when they are inhabiting Martha's Vineyard. Perhaps it's because the elite leftists in the media and politics all vacation at Martha's Vineyard and their lectures about how immigration is virtuous was all a lie.
Despite all his name-calling and whataboutism, Tober didn't dispute the truth of anything Bruce reported.
Tober apparently also believes that criticizing his beloved DeSantis makes one a "leftwing crackpot":
On Thursday night's edition of MSNBC's The 11th Hour, leftwing crackpot and MSNBC political analyst Fernand Amandi had a complete meltdown over Governor Ron DeSantis (R-FL) sending two planes filled with illegal migrants to Martha's Vineyard. Amandi cried that it wasn't a political stunt but was instead "an act of evil being done by evil men">because DeSantis is apparently using the migrants as"political pawns, and political props."

Amandi wanted everyone to know that "this is not a political stunt."Doctor Oz running for the Senate in Pennsylvania when he resides in New Jersey."
Again, Tober didn't dispute the accuracy of ahnything Amandi said.
Alex Christy whined that DeSantis -- along with Texas Gov. Greg Abbott, who his pulled similar stunts of shipping migrants against their will to "liberal" areas outside his state -- were being called out for who they were:
Punchbowl News co-founder Jake Sherman sounded more like a Democratic politician or left-wing activist when he joined Friday's Katy Tur Reports on MSNBC to accuse Governors Ron DeSantis and Greg Abbott of human trafficking for sending 50 migrants to Martha's Vineyard.

Talking about the issue of immigration in more general terms, Tur wondered where Congress is in terms of solutions, "Well, that's what I was going to ask, where's the solution from Congress? They're all, you know, fighting over this and pointing fingers, well the Republicans are pointing fingers saying everything is too loose, well where is the solution? Where is the legislation? Where's the compromise?"

Sherman lamented that, "The solution is nowhere. I mean—it's-- Congress has tried multiple times over the last couple of years, and the last two presidencies, it has not tried in Joe Biden's presidency, I think because of COVID and just the political dynamics in the post-Trump era, but again, this is a very easy problem to solve."

Turning his attention to the governors, Sherman added, "Now, on the Ron DeSantis, Greg Abbott angle, I just got off with a Republican consultant who was on when I was on my way to be on TV with you, who said that the donor class, the far-right conservative donor class, likes this."

Under no credible interpretation of federal law could sending 50 migrants to blue cities be construed as human trafficking, unless Sherman is prepared to accuse Massachusetts of the same thing.
Just because something is legal doesn't make it right, Alex.
Houck got all snarky in a Sept. 16 post:
Friday morning's network news programs featured the third set of newscasts kvetching and screeching about how the liberal elite's beloved Martha's Vineyard, Massachusetts was beset with a "humanitarian crisis" of just under 50 illegal immigrants, who were turned into "pawns" thanks to "an audacious stunt" from Governor Ron DeSantis (R-FL).

Thankfully for them, the brown-skinned individuals were deported from the island by midday Friday, so they won't have to worry about them anymore (and in turn only the ones whom they pay to clean their mansions and mow their lawns).
Of coruse, Houck isn't going to mock DeSantis for getting rid of "brown-skinned people," even though that's the point of his stunt -- instead, he's cheering DeSantis' lack of compassion and abuse of them just to own the libs.
Kathleen Krumhansl read from the right-wing talking points playbook in attack Spanish-language media coverage:
The corporate media went berserk on Thursday calling Florida governor Ron DeSantis "inhumane" for sending undocumented migrants to Martha's Vineyard, but one Telemundo correspondent reported that the label seemingly described residents of the elite playground upset at the arrival of the new visitors.

Watch as Cristina Londoño confirms the double standard of those from the Massachusetts island - a sanctuary state - upset about having a border crisis in their own backyard. But instead of facing the cameras for all to see, those against the presence of the migrants at their exclusive haven chose anonymity rather than "be depicted as inhumane." That was their excuse for turning down an interview with Telemundo.

[...]

What a relief that must have been for the residents of "the rich and powerful seaside resort of Martha's Vineyard" who found themselves, as per Londoño, "in the midst of a border crisis." At the very least, they got a sample of what the Biden Administration border crisis means; about the tolling effects it has on the far-from-rich border towns, not just one day, not with 50 persons, but hundreds, thousands, pouring in daily through the wide open southern border.
Krumhansl did at least refer to them as "undocumented migrants" -- which seems to have gotten past editing, given how the MRC loves to dehumanize them by referring to them as "illegals."
Mark Finkelstein complained that MSNBC's Joe Sacrborough "repeatedly accused Republicans of "grotesque" human trafficking, for their practice of sending migrants to northern locations," sneering that "You'd have thought the migrants were being stranded on a barren rock in the ocean. Willie never mentioned that the island in question is Martha's Vineyard, the tony isle second in elitism only to Scarborough's favored island summering spot: Nantucket."
Tim Graham devoted his Sept. 16 podcast to cheering that DeSantis and Abbott's stunts were working in pushing right-wing narratives and trying to spin away their lack of humanity:
Suddenly, when Gov. Ron DeSantis sends about 50 illegal immigrants to Martha's Vineyard, the networks discover an "immigration crisis" in America. They denounced this "audacious stunt" -- but they prefer to avoid the border crisis entirely. DeSantis is forcing this into the "news."

The networks are heavily covering this story of DeSantis (as well as Texas Gov. Greg Abbott busing migrants to Kamala Harris's street in DC. This is a victory of sorts. They prefer to bury the border story. MRC Research Director Scott Whitlock found on five different months, the ABC, CBS and NBC evening newscasts managed ten minutes or less of border coverage. In three other months, they allowed no time at all.

Then came the media anguish on Twitter. MSNBC host Chris Hayes said it was "deeply sick and dehumanizing to fling human beings somewhere vindictively." Asawin Subsaeng of the Daily Beast also said DeSantis was "hurling migrants at liberal cities and towns." They weren't launched out of a catapult, they flew on an airplane.
In the podcast itself, Graham gushed at how "conservative Twitter and the conservative media would love" DeSantis' stunt (which they did), adding: "Yes,it's true -- this is a stunt, and it's audacious in getting right in the liberal media's face,"adding that it's "designed to upset people like Gayle King," who "parties with the Obamas as their mansion in Martha's Vineyard." He also insisted that "it's also making a serious point" regarding border states -- though it's telling that "getting right in the liberal media's face" is more important to Graham than any supposedly "serious point" DeSantis was purportedly trying to get across.
Graham also whined that these migrants were geing called "asylum seekers," which he dismissed as a 'term of art" that lets people "pretend that they're all being persecuted in their homeland instead of coming from countries that are just plain poor." Graham didn't explain why "illegals" isn't also a "term of art" designed to help right-wingers like him dehumanize them. Graham then ranted:
But I just take exemption to this whole idea that they're going to say, "well, the immigrants are pawns." OK, maybe they're -- yes, they're bit players in this play. But the reality is they're the ones -- they're aggressors, I'm sorry. They're the ones marching into this country by the thousands, and when they get here, the media treats them like, poof, what do you need? Poof, what do you need? Oh, these people need jobs and these people need food and these people need clothes. Like, they're the most entitled people in America, and they're not even from here! ... What I don't like is this whole idea of, yes, what about people who are, you know, scraping by on low salaries, working two jobs maybe, and then it's like "Excuse me, I'm going to take some of your money and give it to the guy who just walked from Venezuela, and you're not allowed to be upset about that."
All in service of owning the libs, apparently.
Posted by Terry K. at 7:26 PM EDT
Updated: Tuesday, October 18, 2022 9:31 PM EDT