CNS Unemployment Coverage Distortion Watch
Topic: CNSNews.com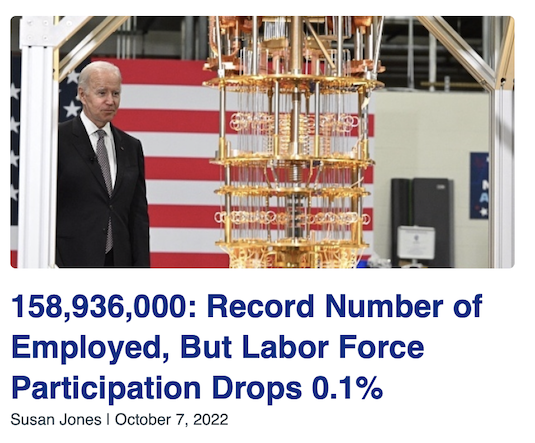 The employment numbers are still too good for CNSNews.com writer Susan Jones to complain about (not that CNS hasn't tried). So her article on September's employment numbers led with future job losses before she got around to the relevant (and actual) numbers, then cherry-picking her favorite number to try and make the overall picture look bad:
Federal Reserve Chairman Jerome Powell warned last month that raising interest rates to cool inflation is likely to dampen economic growth -- "and there will very likely be some softening of labor market conditions," he said.

But there's no significant softening evident in Friday's jobs/employment report.

On Friday, the Labor Department's Bureau of Labor Statistics reported that the number of employed Americans in September rose by 204,000 to 158,936,000, a record high. The previous record, 158,735,000, was set in December 2019 when Donald Trump was president.

But another key indicator of economic health -- the labor force participation rate -- dropped a tenth of a point to 62.3 percent from 62.4 percent in August.

This number reflects the active workforce -- the percentage of civilian, non-institutionalized workers available for the production of goods and services, so the higher, the better.
And it wouldn't be Jones if she wasn't gushing over how much better things were under her favorite president: "The participation rate was 61.4 percent when Joe Biden took office as the pandemic raged. Today's number, 62.3 percent, is still below the Trump-era high of 63.4 percent recorded in February 2020, just before COVID shut things down." She did surprisingly admit, though, that the lower labor force participation rate can't be blamed on a Democratic president, conceding that it "peaked in early 2000 at 67.3 percent and subsequently trended down. In recent years, baby-boom retirements have contributed to the decline in the overall participation rate."
This month also continued CNS' recent trend of Jones' story being the only one, with editor Terry Jeffrey abstaining from his usual sidebar on manufacturing jobs.
Posted by Terry K. at 12:58 AM EDT