WND's Root Takes Credit For DeSantis Stunt, Wants To 'Make It Rain Illegals Wherever Rich Liberals Live'
Topic: WorldNetDaily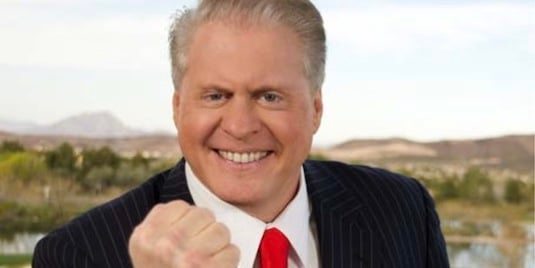 The Media Research Center isn't the only ConWeb division getting off on the own-the-libs stunt of GOP Florida Gov. Ron DeSantis deceiving migrants into flying to Martha's Vineyard. Wayne Allyn Root was way too excited about this stunt -- and is even trying to take credit for it -- in his Sept. 17 WorldNetDaily column:
Most importantly, over a decade ago, I wrote the column urging GOP governors to ship illegal aliens to deep blue Democrat towns. If Democrats love these people so much, let them live with them. Over the years I've repeated this idea hundreds of times on my TV and radio shows.

My idea was to ship illegal aliens by the thousands to exclusive, elitist wealthy towns and neighborhoods filled with rich liberal hypocrites. And to the lawns of Democratic politicians.

Places like Martha's Vineyard.

Finally, someone had the balls and common sense to listen. Florida Gov. Ron DeSantis just did it. DeSantis carried out both ideas. He shipped migrants to fancy Martha's Vineyard and to the lawn of Vice President Kamala Harris' home. Bravo.

And once again, I'm proud to report liberals are melting down.

Why is the left going bonkers over just a few hundred illegal aliens being shipped to their fancy neighborhoods? Because this is a BULL'S-EYE. A grand-slam home run. We've got them on the run.

The left is melting down over 50 illegal aliens shipped to a tony island filled with rich liberal millionaires and billionaires (including former President Barack Obama). At the same time, they've claimed for years President Joe Biden letting in almost 5 million illegals into America is just fine and dandy.

We've exposed liberals for the frauds they are. This is just like John Kerry and Leonardo DiCaprio screaming hysterically about "climate change" being the end of the world, while flying around the world in private jets emitting tons of carbon.

They want open borders. They want to wave millions of illegals into America. But the left doesn't want to live anywhere near them.

[...]

DeSantis has hit a home run. I should know; it's my idea. But now we have to double down. Put it into overdrive. Put the pedal to the metal. Every other GOP governor needs to join the fight. It's time for national expansion.

We have to make it rain illegals wherever rich liberals live.

First, don't stop at Martha's Vineyard. Let's hit all the rich, woke, liberal, spoiled-brat Democrat towns. Send thousands of migrants each week to the Hamptons, Scarsdale and Great Neck, New York; Beverly Hills, Malibu, Palo Alto, La Jolla and Napa Valley, California; Beacon Hill in Boston, the Gold Coast of Chicago, the Upper East Side of Manhattan and Georgetown in Washington, D.C.

Bury all the rich liberal towns with migrants from the border. Make sure elitist, woke, liberal Democrat hypocrites have to step over hordes of these people to get into Starbucks, their hairdresser, nail salon, supermarkets, restaurants and their kids' schools. Make them scream "Uncle."
Of course, Roote cares nothing about the humanity of the migrants he's treating likepolitical pawns -- for the likes of him and DeSantis, it's all about partisanship, not about compassion. Indeed, he concluded by declaring that cynical stunts like this are "how we win a midterm landslide."
Root seems to be counting on most voters to be as cynical and vengeful as he is. Is that any way to live a life?
Posted by Terry K. at 4:58 PM EDT