How Is The MRC Fearmongering About Soros Now?
Topic: Media Research Center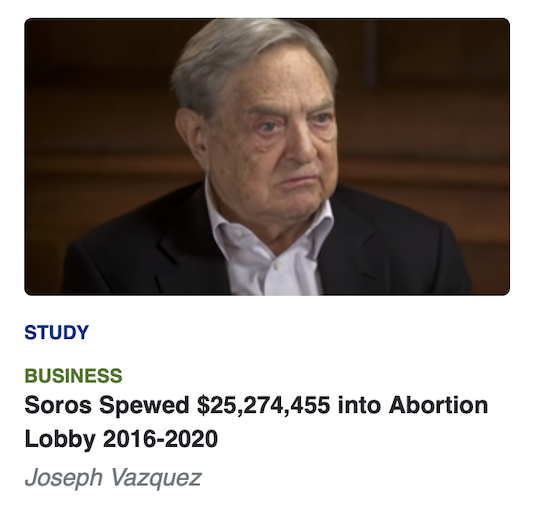 The Media Research Center issues regular attacks on George Soros complaining he's funding various things it doesn't like in order to portray him as a liberal puppetmaster (never mind how anti-Semitic that looks). Let's see how many attacks have piled up since the last time we checked:
We've already noted how the MRC invoked Soros in an attempt to criticize ADL leader Alan Greenblatt for working with Whoopi Goldberg over her incorrect statements about the Holocaust. But the MRC has also dragged its Soros obsession into other narratives it has pushed. As part of its campaign of hate against Supreme Court nominee Ketanji Brown Jackson, Joseph Vazquez huffed in a March 23 post:
A leftist dark money group funded by liberal billionaire George Soros is closely connected to efforts to push for confirmation of President Joe Biden's Supreme Court nominee.

Demand Justice, which has advocated for radical left-wing reforms like packing the Court, has aggressively pushed for the nomination of District of Columbia Circuit Court Judge Ketanji Brown Jackson for at least around two years. Demand Justice's shortlist for Court nominees includes Jackson. The group even included her on a shortlist as far back as September 2020. Soros gave at least $1,337,000 and possibly as much as $3,837,000 to Demand Justice between 2018 and 2020, according to Open Society Foundations and Open Society Policy Center records respectively.

[...]

Soros's Open Society Policy Center (OSPC) directly funded Demand Justice to the tune of $1,337,000 between 2018 and 2020 through the left-wing dark money group Sixteen Thirty Fund, according to Open Society Foundations records. In addition, OSPC records suggest that it may have given another $2.5 million to Demand Justice through the fund between April 1, 2018 and June 30, 2018. The billionaire also spent at least "$29 million in funding" through his "personal network of political action committees (PACs)" to help elect at least 23 leftist district attorneys spread throughout the country. Jackson's confirmation to SCOTUS would fit right in line with the overarching leftist goals of Demand Justice and Soros.

Demand Justice's actions to reshape the Court into a pro-abortion bulwark and its connections to Soros have gone largely ignored by the liberal media. A Nexis search revealed that the group's involvement in Jackson's nomination received no coverage by the ABC, CBS and NBC broadcast networks from her Feb. 25 nomination to March 20.
By contrast, Vazquez has been silent about right-wing dark money influencing the selection of conservative judges and Supreme Court members, or that said dark money funded attacks on Jackson.
The MRC also tried to tie Soros to criticism of Elon Musk's purchase of Twitter, which it heartily supports:
Vazquez groused in an April 15 item that Free Press, "a left-wing outlet funded by liberal billionaire George Soros," had "whined that the world's richest man's plan to purchase Twitter was a threat to democracy."
A May 4 item by Alexander Hall complained that groups "heavily funded by liberal megadonor George Soros" were among organizations arguing that Musk buying Twitter "will further toxify our information ecosystem and be a direct threat to public safety, especially among those already most vulnerable and marginalized."Hall did not dispute the claim; instead, he attacked some of the signatories as purportedly being "pro-censorship."
In a May 24 post laughably headlined "VILLAINS, UNITED?", Jeffrey Clark whined that Soros and Bill Gates "funneled millions into some of the same organizations that attacked Tesla CEO Elon Musk as a threat to democracy. " He unironically added: "Ironically, the same groups dedicated to dismantling free speech in the United States apparently had no qualms accepting money from one of the most influential purveyors of leftist policy in the world, George Soros."
Does Clark not know who funds his paycheck?
Posted by Terry K. at 9:57 PM EDT