CNS Opinion Pieces Joined 'News' Side In Opposing Jackson
Topic: CNSNews.com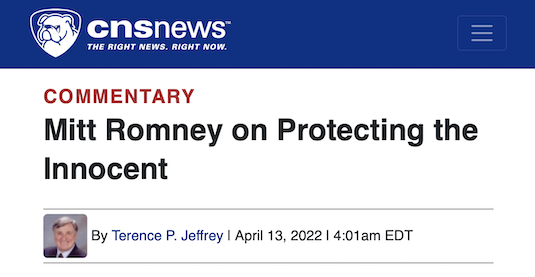 CNSNews.com's coverage of Ketenji Brown Jackson's Supreme Court nomination was just as unfair and unbalanced on its opinion side as it was on the "news" side. We've already noted that editor Terry Jeffrey took a shot at her shortly after her nomination was announced, followed by Hans Bader trying to (badly) play the race card. Other opinion pieces took the same anti-Jackson tack -- not a surprise, since liberal opinions are forbidden at CNS.
In his March 23 column, Jeffrey grumbled:
Had President Joe Biden believed there was any chance Jackson would vote to overturn Roe v. Wade, he would not have nominated her to the Supreme Court.

If the Democrats on the Senate Judiciary Committee believed there was any chance Jackson would vote to overturn Roe v. Wade, they would not be supporting her confirmation.
Jeffrey refused to acknowledge the obvious parallel: If Donald Trump believed there was any chance Brett Kavanaugh and Amy Comey Barrett would not vote to overturn Roe v. Wade, they would not have been nominated, and Republicans (and Jeffrey) would not have supported them.
Tony Perkins used his March 24 column to falsely claim that "Jackson is getting the respect that Kavanaugh and Barrett deserved" in her Senate confirmation hearing -- then showed her disrespect by complaining that "Jackson seemed to be toeing the White House line on everything from life to transgenderism," as if Brett Kavanaugh and Amy Comey Barrett weren't toeing the Trump White House line in their hearings. He then repeated right-wing attacks on her over the definition of a woman.
Speaking of toeing political lines, a commentary the next day by Nicole Russell slavishly repeated Republican attacks on Jackson over the whole define-what-a woman-is thing:
Society has known the definitions of "woman" and "man" for millennia. This was not a trick question, but probably a primer to understanding where Jackson might rule on cases that specifically address issues of gender and sex, cases like Bostock v. Clayton County, which now bars discrimination based on gender identity, just as the law bars discrimination based on sex.

[...]

By refusing to answer the definition of "woman," Jackson leaves the door open to what she thinks about sex, gender, and controversial cases like Bostock v. Clayton County.

If Jackson knows the definition of "woman" but remains afraid to say so, this is certainly a red flag. In a free country, a Supreme Court nominee should be able to speak the truth without fear of repercussion.

If Jackson is unable or unwilling to define what a woman is in a legal sense, this can pose real problems for future cases she may hear as a sitting Supreme Court justice. How can she know what the law says on sex and gender identity if she cannot define sex? How can she rule in cases on women's issues or rights when she isn't sure how to define a woman?
Jeffrey spent his April 6 column repeating an attack on Jackson by CNS' most quotable senator, Ted Cruz:
The Founding Fathers, as noted, said in the Declaration that "all men are created equal" and "endowed by their Creator with certain unalienable Rights" including "Life, Liberty and the pursuit of Happiness."

A set of written questions that Republican Sen. Ted Cruz of Texas (for whom this writer's daughter works) submitted to Jackson during her confirmation hearings asked the following: "Please explain, in your own words, the theory prevalent among members of the Founding Fathers' generation that humans possess natural rights that are inherent or inalienable."

[...]

The very next written question asked Jackson: "Do you hold a position on whether individuals possess natural rights, yes or no?"

Jackson responded: "I do not hold a position on whether individuals possess natural rights."

So, she does not agree with the foundational principle of the Declaration of Independence?
Funny, we don't remember CNS mentioning that its editor's daughter is employed by Cruz in the dozens of stenography articles it has published about Cruz over the past few years. Most normal people would call that failure to disclose a conflict of interest.
Jeffrey then followed up his "news" side's attack on Mitt Romney for voting to confirm Jackson with an April 13 column castigating him some more, complete with irrelevantly noting that Romney was governor of Massachusetts before moving to Utah:
Today, Romney is a senator from Utah — not Massachusetts.

Now, he favors abortions only when the child being killed was conceived through rape or incest or when the abortion is to "protect the life of the mother."

[...]

What this signifies is that through most of his 30-year political career, Romney has failed to take a logical position on the most profound role of government: protecting human life.

It is a biological fact that an unborn child is a human being. A person who deliberately kills an unborn child is deliberately killing a human being.
Given that both articles have the same Massachusetts reference and similar attacks, one must wonder if Jeffrey also wrote the first hit piece on Romney, which was published anonymously. Isn't it dishonest of him to hide his authorship?
Posted by Terry K. at 6:56 PM EDT
Updated: Thursday, May 5, 2022 11:52 AM EDT