The MRC War on Ketanji Brown Jackson, Part 2: The Bogus Attack
The Media Research Center embraced a false attack on the Supreme Court nominee -- and hid from readers the fact that even its fellow right-wingers had discredited it. Plus: The MRC obsesses over Jeffrey Toobin's peener!
By Terry Krepel
Posted 5/18/2022
---
Read Part 1 here.
The Media Research Center spent the days leading up to Ketanji Brown Jackson's confirmation hearing as a Supreme Court justice pushing right-wing narratives about her purported radicalness and false claims about "leniency with pedos."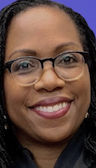 Ketanji Brown Jackson
As the hearings were finally about to begin, Curtis Houck continued that whining, complaining that Jackson's nomination was being described as "historic" and pretended that Republican Sen. Josh Hawley's attacks on sentencing record hadn't been so discredited that even right-wing legal analyst Andrew McCarthy of the conservative National Review denounced it as "meritless to the point of demagoguery":
Monday morning, prior to the start of Senate confirmation hearings for Supreme Court nominee Ketanji Brown Jackson, ABC, CBS, and NBC shoveled White House talking points that reveled over Jackson's "historic nomination" and the "legal and political gauntlet" ahead and fretted Republicans are ready to "attack" with "fireworks" that could trigger "a political bounce" for President Biden.

[...]

On the facts raised by Senator Josh Hawley (R-MO) about her leniency concerning convicted child sex predators, Haake boasted before a clip of Senator Mazie Hirono (D-HI) saying Republicans are incapable of "empathy": "Judge Jackson's allies disputing those claims in what could be a preview of contentious hearing days to come."

[...]

Going lastly to superficial Good Morning America on ABC, co-host T.J. Holmes swooned over "the historic hearings" as well as "a new Monmouth University just out suggest[ing] Americans back her appointment by a two-to-one margin."

Of course, one would wonder what her name ID actually is and if things would change once voters were made more aware of her record besides the president that picked her and her skin color.
Nicholas Fondacaro similarly ignored that Hawley's attack had been discredited as he attacked people on TV who pointed out that inconvenient fact:
Monday was the first day of Judge Ketanji Brown Jackson's Supreme Court confirmation hearings and she's expected to be grilled by Republican lawmakers on her record. With that on their minds, CNN journalists and analysts on At This Hour rushed to defend Jackson from accusations that she's lenient with sex offenders and child porn peddlers given some of her rulings. They even lashed out at Senator Josh Hawley (R-MO), calling his scrutiny on her record "extreme" and "toxic."

"And [Senator] Dick Durbin [D-IL] already alluded to this when he said earlier, 'these baseless charges aren't fair," host Kate Bolduan proclaimed before she even addressed what the charges were. "Durbin's likely specifically talking about some of what's been lined up as a line of attack coming from Republicans like Senator Josh Hawley."

After playing a short clip of Hawley on Fox News speaking about the allegations, Bolduan asserted, without evidence, that "his assessment's been fact-checked, found to lack significant content at the very least."
Fondacaro then unironically quoted Hawley's press secretary defending Hawley, demonstrating how much of a slave he is to echoing right-wing talking points.
Kyle Drennen ranted about "swooning coverage" of Jackson's first day at the hearing and pushed the narrative that TV networks "went to work hailing her performance and preemptively declaring her immune from any Republican criticism." Houck followed up by getting mad that a reporter dared to question Hawley about his smears, which he of course framed as as a victory for Hawley:
Monday afternoon, during a break in the Senate Judiciary Committee confirmation hearings for Supreme Court nominee Ketanji Brown Jackson, ABC congressional correspondent Rachel Scott embarrassed herself in having tried to corner Senator Josh Hawley (R-MO) over concerns with Jackson's light sentencing for child sex predators. Repeatedly, Hawley called her out for "gotcha" questions using "White House talking points," rendering her speechless.

It's doubtful ABC and Scott would air this smackdown in full, so Hawley's staff published audio of the back-and-forth on his Senate Twitter account in a move that harkened back to the Trump White House taping President Trump's 60 Minutes interview with Lesley Stahl.

The recording began with Scott asking Hawley: "You mostly voted for judges that were light on child porn offenders. So isn't that a double standard?"

Hawley snuffed out the trap: "Not for this court I haven't. Not for the U.S. Supreme Court."
Kevin Tober grumbled that "all three networks hyped her qualifications and background, not all gave equal time for Republican criticism," insisting that said criticism was "substantive" but mentioning only Hawley's discredited "pedo" attack. Tober also claimed that "MSNBC's The 11th Hour host Stephanie Ruhle was clearly frustrated by Senator Josh Hawley (R-MO) broadcasting his questions Jackson regarding her history of giving those convicted of viewing or distributing child porn light sentences" and that she called it "dangerous" and "character assassination,"going on to grumble that Ruhle's guest was "proclaiming, without evidence, that Republican objections to Jackson's nomination are 'not about her, it's about this larger, political fight, and I think, the less we play into their narrative, the better it will be.'" Tober provided no evidence that it wasn't.
Alex Christy, meanwhile, had a fit over late-night jokes about GOP treatment of Jackson:
ABC's left-wing late night host and alleged comedian Jimmy Kimmel tried his hand at Supreme Court analysis on his Monday show and failed miserably as he accused Republicans of treating Judge Ketanji Brown Jackson's confirmation hearings as a "subtle racism jamboree." He then declared the prospect of her being approved to the high court by a party-line vote in the Senate to be the GOP's "ultimate nightmare."

[...]

Wrapping up his thoughts on Jackson, Kimmel proclaimed: "She could get confirmed without a single, she doesn't need any Republican votes to get confirmed because the vice president is the tie breaker. Which would be, that would be the GOP's ultimate nightmare having this decided by two black women whose names they can't pronounce."

Somebody certainly seems to be obsessed with race, but it sure isn't Senate Republicans.
Democrats aren't the ones who attacked Biden for simply vowing to appoint a black woman, Alex.
Meanwhile, the MRC continued to push its tired performative outrage that the media won't hate Jackson the way Republicans do:
Related articles on ConWebWatch:
When Jackson testified that she looked at the circumstances of each individual case and took victims into consideration while pointing out that judges are not mandated to impose the greatest possible sentence, Fondacaro somehow interpreted this as her saying she was "loosening the sentences for those with less child porn because there were some with more of it," which he insisted was a "questionable argument" and then complained that the hosts of "The View" called this very normal sentencing review "very normal."

Tober returned to lash out at MSNBC's Joy Reid for criticizing Republicans as harshly as they had been criticizing Jackson:
When the U.S. Senate confirmation hearings for Judge Ketanji Brown's nomination to the Supreme Court wrapped up Tuesday, MSNBC's Joy Reid only had five minutes left of her show, The ReidOut, to squeeze in as much venom and hatred against Republicans as she could. To her credit, she was successful. In the five minutes she had to react to Tuesday's hearings she managed to call Senator Tom Cotton (R-AR) "thuggish" multiple times and accused Senator Ted Cruz (R-TX) of never attending law school classes at Harvard.

[...]

She then turned her rage against Senator Cruz "supposedly, Ted Cruz went to law school, apparently, only Ketanji Brown-Jackson was in class and he was probably skipping classes and sleeping because he doesn't know what critical race theory is."

Reid didn't stop with Cruz. She then melted down over Senator Josh Hawley (R-MO) questioning Jackson over her sympathy for pedophiles, before turning her rage against all the GOP Senators who dared to ask tough questions of Jackson:
When Reid stated that Brett Kavanaugh was "accused, credibly, of rape," Tober raged:
Of course, it's a complete bald-faced lie to say Supreme Court Justice Brett Kavanaugh was credibly accused of rape. Reid was clearly chomping at the bit to get on the air and go ballistic on Republican Senators who wanted to use their constitutional duties to question a Supreme Court nominee. She knows she has no intellectual response to Justice Jackson's comments sympathizing with pedophiles so she had to lash out and lie about Justice Kavanaugh.
Because Tober had no intellectual response to what Jackson actually did and said, he chose to smear her as "sympathizing with pedophiles." At no point did Tober or anyone else at the MRC address how Hawley's "pedo" attack on Jackson had been discredited -- a clear sign of someone who has been merely assigned to spout talking points rather than engage in the "media research" his employer suggests he does.
Jeffrey Toobin's peener added to the mix
The MRC's obsession with the bogus child-porn-leniency talking pint continued, but with a couple of additions.
The MRC has been obsessed with Jeffrey Toobin's peener ever since he got busted pleasuring himself on a Zoom call, referencing the incident at every opportunity, and Fondacaro kept the peener obsession up(!) in a post criticizing Toobin for criticizing Republican questioning of Jackson:
Day two of Judge Ketanji Brown Jackson's Supreme Court confirmation hearings brought direct and pointed questions from Republican Senator Josh Hawley (MO) about her history of going easy on child porn cases. But CNN masturbation expert and chief legal analyst Jeffrey Toobin took strong issue with Hawley's focus on the serious issue many Americans care about.

[...]

"This is about appealing to the QAnon audience, this cult that is a big presence in Republican Party politics now, that is – where Senator Hawley is trying to ingratiate himself with that group and run for president with their support," Toobin asserted.

Adding: "This has very little to do with Judge Jackson who, as has come out throughout the hearing today, is one of many judges who have found the sentencing guidelines in these child porn possession cases excessive."

Perhaps the concerning takeaway is that "many judges" think "the sentencing guidelines" for pedophiles and child porn offenders are "excessive."
Is that more or less concerning than demanding that judges hand out only maximum sentences and not take individual circumstances into consideration?
Houck followed by rehashing right-wing grievances of the treatment of Brett Kavanaugh and Amy Coney Barrett in defending Republican attacks in Jackson:
During an afternoon break Tuesday in Supreme Court nominee Ketanji Brown Jackson's confirmation hearings, CNN Newsroom mocked and dismissed questions from Senator Ted Cruz (R-TX) about critical race theory (CRT) as "below the line" and "reek[ing] of desperation" from "a clown" who "put on a performance" in "the surreal."

To be clear about how CNN views things, it's out of bounds to ask about matters of race and concerning a place where Jackson serves on the school's board, but it was perfectly fine to smear someone's deeply-held personal beliefs and accuse another of being a serial gang rapist who threw ice, didn't deserve due process, and had racist and sexist supporters.
He too embraced the peener obsession and referenced "Chief legal analyst and infamous masturbator Jeff Toobin," then insisted that Cruz was just "asking a Supreme Court nominee about major issues in American society." He didn't mention that the sentencing attacks have been discredited.

Tober lashed out at Joy Reid again:
When the U.S. Senate confirmation hearings for Judge Ketanji Brown's nomination to the Supreme Court wrapped up Tuesday, MSNBC's Joy Reid only had five minutes left of her show,The ReidOut, to squeeze in as much venom and hatred against Republicans as she could. To her credit, she was successful. In the five minutes she had to react to Tuesday's hearings she managed to call Senator Tom Cotton (R-AR) "thuggish" multiple times and accused Senator Ted Cruz (R-TX) of never attending law school classes at Harvard.

How does that compare to the number of times the MRC references masturbation every time it brings up Toobin? Tober didn't say. Instead, he again huffed that "it's a complete bald-faced lie to say Supreme Court Justice Brett Kavanaugh was credibly accused of rape."

Tim Graham, meanwhile, embraced the idea of Republicans trashing Jackson as revenge for how he thinks Kavanaugh was treated -- not to mention indulging in the MRC's 30-year-old bitterness at Anita Hill:
Monday's edition of The NPR Politics Podcast sounded a little bizarre to conservatives. NPR congressional reporter Susan Davis marveled at "just how much bitterness lingers among Republican senators over the nomination process of Brett Kavanaugh." It was mildly comical that their discussion of Kavanaugh didn't describe the actual subject of the bitterness -- unproven allegations of teenage sexual assault. Would NPR reporters be bitter if they were accused of rape?

[...]

Nina Totenberg -- who slimed Clarence Thomas in 1991 with Anita Hill's unproven charges of crude sexual banter -- somehow sounded mournful about the bitter partisan tone, as if she and NPR had nothing to do with it.
Graham rehashed that bitterness again in his March 23 column complaining about how Clarence Thomas was treated:
The liberal media have treated the Supreme Court nomination of Ketanji Brown Jackson as a glorious and historic occasion. Nobody needs to care about where she stands on things, since she and the media share all the "correct opinions."

Associated Press issued a story under this tweet: "For Black girls, the possibility of Ketanji Brown Jackson being the first Black woman on the Supreme Court is a moment of promise, hope and the breaking of yet another barrier."

But on July 1, 1991, when President Bush nominated Clarence Thomas, the networks were horrified. He was a conservative, so he wasn't black. On ABC's World News Tonight, reporter Tim O'Brien said that a "prominent black legal scholar called Thomas's nomination to the Supreme Court insulting." It was Harvard's Derrick Bell, the architect of Critical Race Theory, who angrily claimed "To place a person who looks black, and in conservative terms thinks white, is an insult."

[...]

Journalists tout black "lived experience" for the high court, but they savagely attack minorities who are conservative. Forget their experiences. The outpouring of media hostility felt like what Thomas described as a "high-tech lynching of uppity blacks who in any way deign to think for themselves."
The MRC continued to whine that Republicans' bad-faith attacks were getting called out:
Graham returned to have a meltdown over a Republican senator's attacks on Jackson getting fact-checked:
The Democrat-backing "fact checkers" of PolitiFact jumped to the defense of Ketanji Brown Jackson by slapping conservative Sen. Marsha Blackburn of Tennessee with two negative verdicts on Tuesday:

First, Tom Kertscher rated Blackburn "False" and in a headline said she was "wrong" on Jackson's citation of critical race theory in sentencing.
When PolitiFact pointed out that Jackson was talking about sentencing policy, not critical race theory, Graham huffed: "Huh? Isn't sentencing a crucial part of judges making decisions on the bench? Obviously, Judge Jackson's alleged leniency in sentencing is a vital part of these hearings." Of the other fact-check, Graham complained that Blackburn was called out for cherry-picking Jackson's words but that she "quoted Jackson accurately."
The whining that Republicans were being busted for repeating discredited attacks continued in another post by Houck:
Wednesday's CBS Mornings went above and beyond to prop up Biden Supreme Court nominee Ketanji Brown Jackson with almost 11 minutes of eye-rolling spin, denouncing Republican queries as unrelated to Jackson and instead to please their base, mocked concerns about her history on sentencing child sex predators as having "no there there," and described Republicans as having failed to "strike a match."

Worse yet, one CBS liberal even questioned the need for the confirmation hearings and process because there's so much "grandstanding" (by which they meant Republicans, not Democrats).

[...]

Congressional correspondent Nikole Killion adopted liberal spin, offering zero pushback to insane assertions about GOP questions being beyond the pale: "[T]he White House and Democrats are dismissing some of these questions from Republican senators. They say they cross the line and are even pushing on smears based on conspiracy theories."

Killion hyped that Jackson "addressed the elephant in the room" about sentencing in child sex crimes, "refut[ing] debunked claims by Missouri Republican Senator Josh Hawley that she issued lenient sentences in child pornography cases." In the clip used, Jackson played up the emotional argument that she still views sex crimes as "egregious" and "heinous."
Houck offered no evidence to dispute the fact that the claims have been discredited. But the MRC still wasn't done.
The latest from