As Musk Buys Twitter, MRC Goes Orgasmic Again
Topic: Media Research Center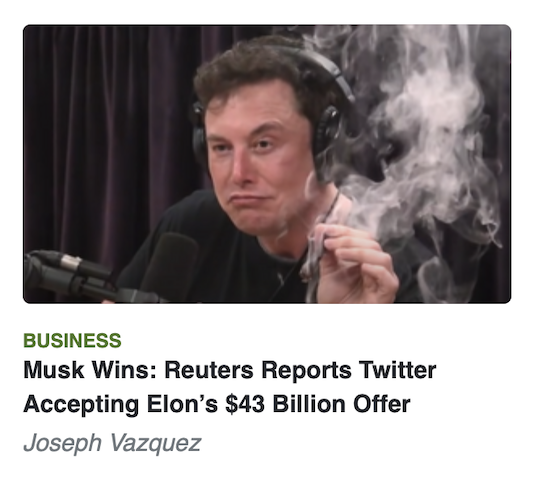 The Media Research Center went from squeeing like a teenage girl when Elon Musk announced he had become the Twitter's largest shareholder to going pretty much orgasmic when Musk launched a hostile takeover bid for the company. After that, the MRC went into defense mode on behalf of Musk.
An April 17 post by Autumn Johnson unuronically quoted the guy who wants to spend billions to gain sole control of Twitter criticizing Mark Zuckerburg for allegedly having too much control over Facebook and its owner Meta. That was followed by various attacks on people criticizing Musk:
That was joined by stenographical cheerleading for Musk and stenograpahical details on his plans:
In an April 20 so-called "study" attacking the Washington Post for covering Musk's attempt to buy Twitter, Joseph Vazquez huffed:
The leftist newspaper owned by the second richest man in the world is obsessed with smearing his main competitor's $43 billion Twitter takeover bid. It was willing to spend over 17,000 words to do it.

An MRC Business study of The Washington Post archives found that the newspaper published at least 15 articles between Tesla CEO Elon Musk's April 14 Twitter announcement and April 17 alone criticizing him over his mission to turn Twitter into a platform that upholds free speech. That's just four days worth of articles making up news items and op-eds.

The articles included made up a whopping 17,046 words, all of which attempted to smear Musk. One columnist claimed that if Musk succeeds, "we're all doomed."
Vazquez offered no evidence that 1) the Post is "leftist, 2) Post owner Jeff Bezos demanded that editors and reporters attack Musk over the purchase, or 3) that Musk genuinely believes in free speech.
Johnson excitedly wrote in an April 24 post that "Twitter is reportedly reconsidering Elon Musk's offer to purchase the platform for $43 billion." The next day, it was time for Joseph Vazquez to go orgasmic after Twitter decided to accept Musk's offer, under the headline "Musk Wins":
The world's richest man is set to complete his hostile takeover of Twitter for $43 billion, according to news reports.

Reuters released an exclusive saying that Twitter is "nearing a deal to sell" itself to Tesla CEO Elon Musk for "$54.20 per share in cash." That was the original price Musk offered when he launched his bid to own the company. Twitter may announce the deal "later on Monday once its board has met to recommend the transaction to Twitter shareholders, the sources said."

[...]

Musk slammed the platform on March 26 for its censorship-heavy environment: "Given that Twitter serves as the de facto public town square, failing to adhere to free speech principles fundamentally undermines his bid was successful.
Then, under the headline "VICTORY!", Alexander Hall cheered that Twitter CEO Parag Agrawal "broke his silence to share the news that free speech advocate and billionaire Elon Musk successfully bought Twitter," going to tout Musk's tweet that "I hope that even my worst critics remain on Twitter, because that is what free speech means." By contrast, the MRC didn't mention how, according to Judd Legum, in real life Musk is all too eager to censor speech by trying to censor critics, firing Tesla workers for union advocacy, and asking the Chinese government (which is communist, as the MRC loves to remind us) to silence Tesla critics in that country.
Then it was defense mode again, as the MRC was offended by the (arguably accurate) suggestion that Musk really doesn't care about free speech and is more interested in self-promotion and creating chaos:
Of course, the MRC continued to act as Musk's PR agent as well. An article by Johnson hyped Twitter Jack Dorsey cheering Musk's purchase, followed by a repurprosed CNSNews.com article noting MRC favorite Mark Levin's return to Twitter because of Musk even though Musk had not actually completed the purchase at this point. Then the boss got his sycophantic say, courtesy of a lovingly transcribed (and anonymously written) Fox Business appearance:
Billionaire Elon Musk's takeover of Twitter was totally about protecting the First Amendment, and had little to do with labor considerations or investing for financial gain. MRC President and founder Brent Bozell made those remarks during an appearance on Fox Business' Varney & Co. on Tuesday.

"Today's a great day for freedom," he said. "This entire debate has been over free speech, with the left saying that this ought not to be allowed. Let's understand this very clearly: This has nothing to do about economics, nothing having to do about work practices. It's all about Elon Musk saying, 'I'm buying this company because we have to have free speech in America to have a functioning democracy.'"

[...]

"This is a totalitarian institution, Silicon Valley, and along comes Elon Musk and he's tipped over the apple cart, just like [Florida Gov. Ron] DeSantis tipped over the applecart with Disney in Florida," Bozell said. "The American people have had enough of this totalitarianism."

Musk said in a statement that he wants to enhance Twitter by launching unnamed new features, open-sourcing algorithms to improve public trust, defeating spam bots, and "authenticating all humans." The last statement was a nod to free speech.

"Free speech is the bedrock of a functioning democracy, and Twitter is the digital town square where matters vital to the future of humanity are debated," Musk stated. "Twitter has tremendous potential – I look forward to working with the company and the community of users to unlock it."
Again: All this overblown MRC praise for Musk's fealty to "free speech" belies his actual record. The MRC doesn't want you to know that, however.
Posted by Terry K. at 9:24 PM EDT
Updated: Monday, May 23, 2022 9:45 PM EDT