CNS Joins MRC Parent In Flip-Flopping On Musk Over Twitter Buy
Topic: CNSNews.com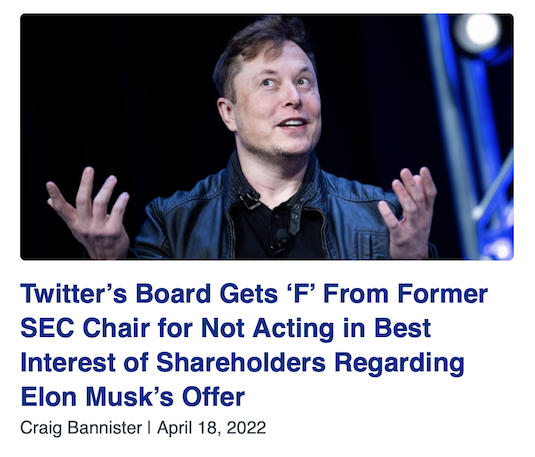 Like the Media Research Center, its "news" division CNSNews.com was critical of Elon Musk -- in particular his ties to Russia and China -- before sharing the big flip-flop with its parent over his plan to buy Twitter. For example, an April 2020 column by Chuck Muth denounced Musk as a "repeated Trump backstabber" who engaged in "political grandstanding" for being named to Trump administration advisory councils then "chose publicly to throw a fit and leave the council by way of a tweet." A June 2020 column by Justin Caruso was headlined "Celebrate the SpaceX Launch, but Don't Pretend Elon Musk Is a Free Market Hero,"noting that Musk's space company "is ultimately looking for big bucks from the government in the form of federal subsidies." A July 2020 article by Craig Bannister seemed to be upset that "Musk said that government should maximize citizens' happiness by giving each one of them money to be spent however he or she sees fit."
Christopher Smithmyer ranted against Musk in a June 2021 column:
No stranger to getting in bed with U.S. geopolitical adversaries, it looks like Musk may have a new controversial partnership in his crosshairs: Russia.

In a recent webinar Q&A for Kremlin students, Musk was asked if he had plans to expand his empire to Russia. The Tesla and SpaceX boss answered in the affirmative, saying that he thinks they are "close" to establishing a presence in the country.

Just how far does Musk have to stray before the U.S. starts to place some sort of legal boundaries on him?
It wasn't long after that that CNS stopped being concerned about putting legal boundaries on Musk. A Dec, 1 article by Bannister touted how Musk said that "People should be taught how to debug their brains and purge mental malware," Bannister followed that with a Dec. 15 article cheering how "After Sen. Elizabeth Warren (D-Mass.) accused Tesla and SpaceX CEO Elon Musk of "freeloading," the billionaire who publicly opposes Democrats' $1.75 trillion "Build Back Better" plan, fired back with a series of barbs and rebuttals," including "liken[ing] Warren to an angry woman who yells at everyone for no reason and applying the pejorative moniker 'Karen' to the senator."
When Musk bought a stake in Twitter in early April, Bannister rushed to approve with an April 7 article featuring fave Republican Rep. Rand Paul claiming that "Musk's impact will be even more beneficial to free speech if liberal outrage over the news prompts Twitter's "left-wing crazies" to abandon the social media platform they currently dominate." Susan Jones whined about criticism of Musk's offer to buy all of Twitter in an April 15 article:
"Morning Joe" anchor Mika Brzezinski on Friday left no doubt about where she stands on speech she doesn't like.

She not only slammed Twitter as "Donald Trump's playground to be...cruel toward people," but she also called Elon Musk's attempted takeover of Twitter a "very dangerous precedent."

To help Brzezinski buttress the Musk-bashing, MSNBC brought on a little-known columnist who slammed Musk as a "petulant billionaire" and -- yes, of course -- a "racist."
Jones buried in a transcript how the "little-known columnist" -- Linette Lopez of Business Insider -- pointed out inconvenient facts such as Tesla being sued for discrimination and needing at "Twitter sitter" because 'He's not allowed to tweet things about Tesla without legal review because he used Twitter to commit fraud" (though Jones did link to outside items proving Lopez correct). Jones never explained why she denigrated Lopez as a "little-known columnist" when she was actually fact-checking and verifying the things Lopez said.
An April 18 article by Bannister promoted former SEC Chairman Harvey Pitt giving Twitter's handling of Musk's bid for purportedly ignoring their responsibility to act in the best interests of the company's shareholders. And managing editor Michael W. Chapman used an April 20 article to detail a non-Twitter-related pontification from Musk: "Although some climate change activists claim overpopulation is a serious problem that contributes to global warming and must be curtailed, investor and business giant Elon Musk said it is a "false impression" that there are too many people in the world, and added that the 'Earth could maintain a population many times the current level.'"
Bannister followd up with an April 22 article forwarding an implied threat to Twitter's board: "A letter sent Friday and signed by a group of 18 House Republicans, headlined by Rep. Jim Jordan (R-Ohio), calls on Twitter's board members to prepare to provide information about their efforts to prevent billionaire entrepreneur Elon Musk from buying the social media platform." Bannister went on to gush that "Musk is seeking to buy the social media giant in order to rid it of its partisan censorship practices," as if any proof existed to back up Musk's words.
When the Twitter board accepted Musk's offer on April 25, the editorial floodgates opened at CNS as if it was working for Musk directly:
CNS' columnists were in a gushing mood as well. Ryan McMaken wrote an April 26 column headlined "Is Musk's Twitter Buyout the First Counteroffensive Against 'Woke CEOs'?" while Ben Shapiro proclaimed that "Musk may be just the man to help restore institutional trust to social media. But that will require him to bulldoze those who helped undermine that trust in the first place."
Needless to say, there was no mention of Musk's real-life record on free-speech issues; as Judd Legum detailed, Musk is all too eager to censor speech by trying to shut down critics, firing Tesla workers for union advocacy, and asking the Chinese governmen to silence Tesla critics in that country.
Posted by Terry K. at 12:44 AM EDT
Updated: Thursday, May 26, 2022 3:39 PM EDT