MRC Psaki-Bashing, Doocy-Fluffing Watch, Hunter Biden Derangement Syndrome Editon
Topic: Media Research Center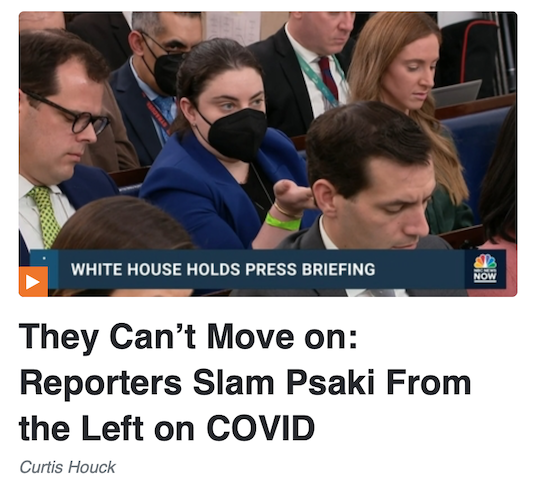 The Media Research Center's Curtis Houck made sure to fold in his employer's Hunter Biden Derangement Syndrome into his near-daily attacks on White House press secretary Jen Psaki as seen through biased right-wing reporters. A summary of the March 17 briefing focused on the former:
After scores of COVID and Ukraine questions at Thursday's White House press briefing, Real Clear Politics's Philip Wegmann and Daily Mail's Rob Crilly finally broke through with one question each about Hunter Biden in light of a New York Times report that all but admitted the New York Post was right in 2020 about his infamous laptop. Unfortunately, Press Secretary Jen Psaki wanted nothing to do with them.

[...]

Of course, Psaki wasn't interested, saying Wegmann should speak "to the Department of Justice and also to Hunter Biden's representatives" because "[h]e doesn't work in the government."

Imagine if/when a Trump press secretary said that about Donald Trump Jr. and Eric Trump amid four years of the liberal media obsessing over their business careers? The horror!
A second report from Houck on that day's briefing mocked reporters for still being concerned about COVID, dismissing it as "fear porn" (as if his employer's obsession with Hunter Biden was not that):
Thursday's Psaki Show reminded viewers of a sad but necessary reminder that too many in the liberal media will never relent on fear porn surrounding the coronavirus and their penchant for restrictions on everyday life. Such was the case with numerous reporters pushing the press secretary from the left to reinstitute them due to a new omicron variant and Second Gentleman Doug Emhoff's positive test.

The AP's Zeke Miller started off the Q&A with a question as to when President Biden was last tested in light of Emhoff's diagnosis and that of the Irish Prime Minister (whom he was supposed to meet with) and, when Psaki said the last test was on Sunday, Miller offered a long-winded commentary masquerading as a question.
As if the right-wing reporters Houck loves don't offer commentaries masquerading as questions. Indeed, for the March 18 briefing, he called such biased questions "hardballs":
Try as she might to ignore them and find favor with liberal reporters who won't join in, Hunter Biden questions aren't stopping anytime soon for White House press secretary Jen Psaki with Friday's Psaki Show being the latest example in the form of a tense back and forth with the New York Post's Steven Nelson.

Friday's exchanged followed two questions the day prior (thanks to Real Clear Politics's Philip Wegmann and the Daily Mail's Rob Crilly) about a New York Times story that all but acknowledged Nelson's Post was correct when it came to emails detailing Hunter's life of corruption on a laptop left at a Delaware repair shop.

Nelson kept his Times-specific question brief: "The New York Times reported this week that the First Son remains under criminal investigation. Does the President still intend to stay out of that case?"

Psaki largely stuck to her line from Thursday: "Yes. It's Department of Justice and I would point you to them."

Nelson then shrewdly approached the issue of Biden family corruption from a different angle, starting with a Senate Republican report (which CNN and the other so-called fact-checkers have denounced as without evidence) that said a company connected "to the First Son received $3.5 million from the richest woman in Russia."
Houck didn't complain that Nelson was straight-up repeating Republican talking points the way he likes to portray non-right-wing reporters for repeating Democratic talking points. He also didn't mention that Psaki served up a detailed rebuttal of Republican Sen. Josh Hawley's false smears of Supreme Court nominee Ketanji Brown Jackson on sentencing child porn offenders.
Psaki then came down with COVID again, and Houck once again lost interest in doing briefings for a while because a non-Psaki (deputy press secretary Chris Meagher) was on the podium in her stead. Houck somehow refrained from mocking Psaki for not being able to "move on" from COVID.
Posted by Terry K. at 7:44 PM EDT