MRC Squees Over Musk Buying Part Of Twitter, Forgets All About His Cozying Up To China
Topic: Media Research Center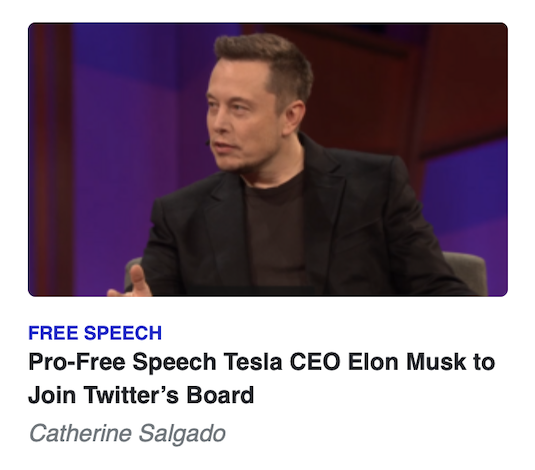 We documented how the Media Research Center was acting like an Elon Musk fanboy for saying right-wing-friendly things -- then abruptly stopped when MRC sports blogger Jay Maxson pointed out how Musk was "sucking up to China." It wasn't even two months before the MRC started praising Musk again; a Feb. 21 post by Joseph Vazuqez gushed how Musk "decimated" David Frum by calling him a "hypocritical megadouche!" for responding to a hit job about him on the highly biased right-wing site the Post Millennial. That was followed by a March 9 post by Jeffrey Clark noting that Musk has called for increased domestic oil producction.
But when Musk turned his focus to Twitter -- against whom the MRC has been fighting a failing war for years -- all that China stuff was apparently forgiven. Autumn Johnson hyped in a March 25 post:
Tesla's Elon Musk tweeted in support of free speech and questioned Twitter's "adherence" to it.

Musk asked his followers to vote "yes" or "no" in a poll that asked users whether the platform supported free speech. "Free speech is essential to a functioning democracy," he tweeted on Friday. "Do you believe Twitter rigorously adheres to this principle?"

Over 1.5 million people had voted in the poll as of Friday evening. Approximately 70 percent of users voted "no" while only 30 percent voted "yes."

Musk added that the tweet's "consequences" would be "important." "The consequences of this poll will be important," he said. "Please vote carefully."
Two days later, Johnson amped Musk's musing that "he is giving "serious thought" to creating a new social media platform to rival Twitter. On April 4, though, Alexander Hall went into full squee mode over the news that Musk bought a chunk of Twitter under the headline "Game Changer!":
A newly released government filing revealed that Tesla CEO and Big Tech censorship critic Elon Musk reportedly became Twitter's biggest shareholder.

Musk put his money where his mouth is after condemning Big Tech censorship. The world's richest man, worth $298 billion, according to Forbes, bought a massive share of Twitter stock. A Securities and Exchange Commission filing dated April 4 revealed that as of March 14, Musk now owns "73,486,938" shares totalling a sizable "9.2%" of Twitter's stock.

[...]

Musk has a history of criticizing Big Tech for its stranglehold on online speech.

Musk famously slammed Twitter for censoring political debate in recent weeks. He also mulled over starting a new tech company altogether. Musk tweeted March 26, "Given that Twitter serves as the de facto public town square, failing to adhere to free speech principles fundamentally undermines democracy."

[...]

Vice President of Free Speech America and Business for the Media Research Center Dan Gainor praised the idea in a tweet: "Please do this, but be prepared for epic opposition from the left/NGOs and government. They fear free speech as we have truly witnessed the last two years especially."
The next few days featuring even more squeeing over the prospect of Musk joining Twitter's board and lashing out at anyone who would dare criticize Musk:
The MRC also didn't like the inconvenient truth that Musk may not be as favorable to free speech as it fervently wants to believe. Joseph Vazquez accused a Bloomberg writer of "two-bit whining" for pointing out Musk "alleged history of firing employees at Tesla, suing whistleblowers and threatening lawsuits against anonymous bloggers" -- none of which Vazquez proved to be wrong -- and going on to rant that Twitter is purportedly "one of the most anti-free speech, censorship-obsessed platforms on the internet."
Johnson similarlly lashed out in an April 10 post: "In an op-ed published Friday in The Washington Post, former Reddit CEO Ellen Pao slammed Tesla CEO Elon Musk's investment in Twitter and, to put it mildly, his support and vision for free speech. Put simply, she called for Democracy Dying in Darkness." Johnson further complained that Pao said Musk "willfully ignores that private companies are free to establish some limits on their platforms"but offered no rebuttal to that argument.
When Musk decided not to join the Twitter board, Vazquez went into squee mode on April 11 over the possibility of Musk staging a hostile takeover:
Tesla CEO Elon Musk declined a seat on Twitter's board of directors after becoming the platform's largest shareholder with a massive 9.2 percent stake. But this move could end up signifying an even greater play by Musk to seize control of the platform, according to CNBC.

Leftist Twitter CEO Parag Agrawal tweeted late April 10 that the world's richest man "decided not to join our board." Agrawal seemed to admit the quiet part out loud when he said that having Musk "as a fiduciary of the company where he, like all board members, has to act in the best interests of the company and all our shareholders, was the best path forward." Musk's appointment was supposed to take effect April 9, "but Elon shared that same morning that he will no longer be joining the [B]oard. I believe this is for the best," Agrawal claimed.

There could be another reason why Musk chose an about-face. He could attempt a hostile takeover of the company.
Vazquez did not explain why he called Agrawal a "leftist." Hall amped up the hostile takeover speculation, and Fondacaro complained that CNN's Brian Stelter also talked about it. Kyle Drennen, meanwhile, got mad that someone on CBS opined that "a lot of people think Elon Musk is sort of like a Bond villain now. That is a very Bond villain move to pull." He didn't prove the assertion wrong, though.
Posted by Terry K. at 10:04 PM EDT
Updated: Tuesday, May 10, 2022 12:02 AM EDT