Psaki-Bashing And Doocy-Fluffing At The MRC, January/February 2022
The Media Research Center's Curtis Houck sent sluggishly into the new year of attacking what he dismissively calls "the Psaki Show," but once he did, he continued to churn out the same old right-wing bias.
By Terry Krepel
Posted 5/5/2022
---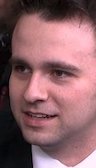 Curtis Houck
The Media Research Center's Curtis Houck began 2022 demonstrating continued apparent boredom with his own project -- last year's near-daily reports attacking White House press secretary and fawning over Fox News' Peter Doocy and other right-wing reporters hurling hostile questions at her -- well into January. So much so, in fact, that the first so-called "Psaki Show" report of 2022, on Jan. 4, was written by Nicholas Fondacaro, who noted Psaki "fielding questions from the liberal press that urged President Biden to do more to pass 'voting rights' legislation and bizarre suggestions that they had never condemned former President Trump."

Houck, it seemed, was not going to write about Psaki again until his beloved Doocy returned to the briefing room after sitting out a case of COVID, so it was not until the Jan. 10 press briefing that he finally served up the Doocy-fluffing and Psaki-hate he's infamous for:
Fox News White House correspondent Peter Doocy returned to the Brady Briefing Room on Monday for the first time in 2022, following a mild case of COVID-19, and promptly threw down with Press Secretary Jen Psaki over "why" was the Biden administration "so unprepared for the need for testing," President Biden's falsehoods about COVID spread, and disinformation from Justice Sonia Sotomayor.

[...]

Psaki initially blamed the shortages on "a massive surge in cases" and "unprecedented demand for tests" in New York and Washington D.C., but then painted a rosy picture of the administration's current testing capacity.

Doocy was unmoved, starting with the fact that the tests currently available "require people to go somewhere and either make an appointment or wait in line" even though "[t]he CDC's guidance is, if you think you have Covid, you're supposed to stay home."

"You guys said you were gonna mail free tests to people that need them. The President's there on television talking about a winter of severe illness and death. While he's saying that publicly, why weren't you guys doing more to prepare for the winter," he added.

Psaki showed her disconnect from reality, insisting "everyone decides where they're going to go get a test, and, uh, we make a range of options available," including the ability to "purchase tests online" and 500 million tests coming (eventually).
For the Jan. 14 briefing, Houck welcomed a new hostile right-wing reporter to the briefing room:
Longtime journalist James Rosen made his White House briefing debut on Thursday as White House correspondent for Newsmax, so it was no surprise he got right to work grilling National Security Adviser Jake Sullivan on foreign policy and Press Secretary Jen Psaki on Biden being responsible for inflation and vaccinations.

And, better yet, he had plenty of help with hardballs from even the Associated Press, Bloomberg, and Time magazine. Not to be left out, Fox's Peter Doocy appeared on Friday's Psaki Show episode and pressured Psaki on what many see as incendiary rhetoric from Biden.
Related articles on ConWebWatch:

Curtis Houck's War On Jen Psaki (And Man-Crush On Peter Doocy), The Series:
Houck didn't mention that Rosen lost his previous job, at Fox News, due to sexual misconduct allegations.

That's only three articles on Psaki briefings for the first three weeks or so of 2022 (only two of which Houck wrote), despite her holding briefings most weekdays. He's slacking off, but then, he's certainly never going to write about Psaki owning conservatives like him, such as the Jan. 12 briefing when she smacked down right-wing critics of Biden's civil rights speech as purportedly too divisive, calling it "hilarious on many levels, given how many people sat silently over the last four years for the former president."

On Jan. 26, Doocy returned to his usual hostile, biased questioning of Psaki after the little kerfuffle over President Biden insulting him (which the MRC denied being triggered by despite cranking out days of content about it), so did Houck:
Aside from a question by the White House Correspondents Association president, it was back to business Tuesday in the White House Briefing Room a day after President Biden called Fox's Peter Doocy "a stupid son of a bitch" and then called him to hash it out. Doocy led the way in shifting focus back to the news, battling Press Secretary Jen Psaki over illegal immigration and the crisis at the Russia-Ukraine border.

Unlike, say, CNN's Jim Acosta or any other liberal journalist, Doocy didn't dwell on what Biden said and went straight to Psaki with the news of exclusive video from his colleague Bill Melugin at the U.S.-Mexico border: "Why is it that large numbers of single adult men are being released into the United States just hours after being apprehended at the southern border?"
Houck then touted Doocy asking Psaki a question that hasn't exactly aged well:
Staying on Ukraine, Doocy wanted to know what the White House made of a BuzzFeed report that, in his words, cited "a source close to the Ukrainian president" "think[s]" Americans who've evacuated Ukraine "are safer" back there "than in Los Angeles."

Psaki ignored the comparison, instead saying the evacuations are part of "always...mak[ing] decisions that are in the security interests of people who are serving as diplomats around the world" and, based on the number of Russian soldiers near the Ukrainian border, it "sounds pretty dangerous to me."
Nope, didn't age well at all.
In a Feb. 11 post, Houck gushed over biased questions from a different Fox employee, Jacqui Heinrich, which also didn't age very well given subsequent events:
During a tense Friday White House press briefing in which National Security Adviser Jake Sullivan warned Americans to leave Ukraine in the next 24 to 48 hours ahead of a likely Russian invasion, Fox's Jacqui Heinrich brought the heat to both Sullivan and Press Secretary Jen Psaki about whether President Biden still believes pre-invasion sanctions are "stupid" and whether a bloody war in Ukraine would put what Heinrich later called "a black mark on this administration."

[...]

She also asked a key question of, "if we don't know if Putin has made up his mind, why are we hearing this warning from Jake Sullivan that Americans should get out ideally in the next 24 to 48 hours," which Psaki conceded as stark but necessary to preemptively get ahead of an invasion as a bloody war featuring airstrikes would make life "very difficult" for Americans.
Houck ridiculously headlined that post "Jacqui Swagger" -- as if "swagger" was a more important attribute for a reporter than, say, asking fair questions that don't push a political agenda. Then again, it probably is for Houck.
On Feb. 15, Houck cheered Heinrich for pushing right-wing narratives about the dubious John Durham filing that the MRC had been obsessed with:
While many of her colleagues and their respective networks have refused to cover the bombshell news in the Durham investigation, Fox's Jacqui Heinrich brought it up during Monday's White House press briefing, repeatedly pressing Principal Deputy Press Secretary and former MSNBCer Karine Jean-Pierre for answers on whether Team Biden supports spying on political opponents.

Of course, Jean-Pierre wanted nothing to do with her queries about a filing from Special Counsel John Durham that an indicted Clinton campaign attorney paid to have a tech company surveil the computers of Trump Tower and the Trump White House during and after the 2016 election.
The next day, Houck did it again:
Two days after Principal Deputy Press Secretary Karine Jean-Pierre ducked questions from Fox's Jacqui Heinrich about the bombshell filing in the John Durham investigation into the origins of the Trump-Russia probe, Heinrich posed the same questions to Press Secretary Jen Psaki on Wednesday and, not surprisingly, she received the same result.

[...]

Psaki stuck to her talking points while acknowledging Heinrich tried to ask Jean-Pierre two days earlier: "Again, I know you asked my colleague a few questions about this the other day, but I would point you — any questions about this to the Department of Justice."

Heinrich aptly tried again with the astute tactic of talking in a broader manner about whether such allegations, if true, are acceptable.
Houck was back to cheering Heinrich for asking more biased, not-aging-well questions on Russia and Ukraine in a Feb. 21 post, upon which Houck stuck the similarly ridiculous headline "Friday Spice":
With no Monday edition of The Psaki Show due to President's Day, we'll look back to Friday and how Fox's Jacqui Heinrich not only hammered Press Secretary Jen Psaki over Team Biden's refusal to sanction Russia ahead of a likely invasion of Ukraine, but drew Psaki's scorn for wondering whether the U.S. is waiting for Ukranians to be slaughtered before financially crippling Russia.

Heinrich has hounded the White House for weeks on this matter, including one instance when Biden said asking about pre-invasion sanctions was "a stupid question." And, as we saw over the weekend, Ukrainian President Zelensky voiced Heinrich's concerns and slammed both the U.S. and NATO allies for thinking the threat of sanctions is a proper use of deterrence.

[...]

Psaki replied with the illogical claim that "sanctions are meant to be a deterrent" and leveling them "now" would actually give the Russians a reason to invade.

Put simply, someone's gaslighting when it comes to the definition of deterrence.
And someone's clearly gaslighting when he portrays Doocy and Heinrich as fair and balanced reporters who aren't pushing partisan agendas.
With things in Russia heating up, however, it was time for Houck to hunker down and parrot Doocy's right-wing talking points. He wasn't fully in the swing of it at first, though; Kevin Tober did the honors for the Feb. 22 briefing:
Tuesday's episode of The Psaki Show featured Fox News's Peter Doocy hammering Press Secretary Jen Psaki over the Biden administration's claim that the biggest threat America is facing is climate change, as well as a pointed question by Doocy over an old Biden tweet.

Once called on, Doocy wasted no time getting to the point, asking Psaki about a hyperbolic claim by the Biden Pentagon that the "greatest threat facing America is global warming." He asked Psaki if that was still the administration's assessment despite the fact that we are "facing down a potential cyberwar with Russia."

Of course, Psaki tried running out the clock by telling Doocy that the U.S. "is always prepared for any threat any outside entity or country poses." Psaki then claimed that since the global warming threat comments were from the Pentagon, he would have to ask them.

[...]

Later on in the briefing, Doocy's wife and Fox Business Network correspondent Hillary Vaughn had two questions for Psaki. The first was "if Nord Stream 2 going online was such a threat, why in May did the President waive sanctions on the company and the chief executive behind it?"

Before letting Psaki answer both, Vaughn laid down the marker with her other question: "Is there a concern that Nord Stream 2 if Russia were to make concessions or retreat in some way that that might open up the door to Nord Stream 2 going back online, or is it your understanding that it is dead no matter what Russia does?"

In response, Psaki said that Biden "has never been a supporter of Nord Stream 2" and that "Nord Stream 2 is not moving forward" nor has it "been operational anyway."
Houck finally showed up to do the job he created the next day, attacking Biden for purportedly not doing enough to stop Putin from invading Ukraine (while never explaining exactly what would have deterred Putin from doing so) and to obsess about a longtime right-wing narrative:
Ahead of a likely Russian invasion of Ukraine, State Department spokesman Ned Price and White House Press Secretary Jen Psaki spent Wednesday afternoon under fire from establishment media reporters and, of course, Fox's Peter Doocy over the administration's flip-flop on the Nord Stream 2 pipeline, the failure to deter Russian President Vladimir Putin, and the impact the war could have on the U.S. economy.

Price went first and, from the get-go, the always-tough and persistent Matt Lee of the Associated Press went right to the news that Germany had suspended Nord Stream 2 from Russia and the U.S. would sanction the company (after having opposed doing so for a year).

[...]

Going over to The Psaki Show, Doocy Time commenced with the Fox reporter picking up from his questions on Tuesday concerning gas prices: "[A] lot of focus on the economic pain in Russia...but what about the economic pain here? The Russians are saying they think gas prices in Europe are going to double. How high could they get here."

Psaki argued the pain Americans feel will, in part, be based upon "what President Putin does" even though Biden will "tak[e] every step [he] can...to minimize the impact[.]"
Houck omitted the part where Price got Lee to admit his harping about the Nord Stream 2 pipeline was pointless; Price pointed out that there was no guarantee that U.S. sanctions would have stopped it from being completed.
Because Houck's only metric is how many hostile questions Psaki faces -- remember, he did not approve of tough questions being asked of his beloved Kayleigh McEnany -- Houck spent his Feb. 24 briefing summary in full own-the-libs mode, cheering that everyone seemed to be questioning Psaki:
Wednesday's White House press briefing wasn't smooth sailing for Press Secretary Jen Psaki and deputy national security adviser Daleep Singh with tough questions ahead of Russia's invasion of Ukraine. So it was only natural they came back Thursday and faced hardballs on Biden's messaging flip-flop on use of sanctions and the refusal to apply them at all to the Russian energy industry (perhaps its number one asset).

Just as she did hours earlier with President Biden, ABC's Cecilia Vega chose to actually hold the administration's feet to the fire, first asking Singh: "If Putin takes Kyiv, does that trigger additional sanctions, specifically that scenario?"

[...]

Skipping ahead to Psaki's portion, Fox's Peter Doocy also pressed on energy, wondering whether Biden would alter his energy policies to allow for greater domestic production and if the President "would...ever consider ordering U.S. companies to stop importing Russian oil."
Nicholas Fondacaro took over for the Feb. 25 briefing, making sure to up the Doocy-fluffing content:
With invading Russian forces bearing down on Kyiv and the Ukrainian forces holding out very stoutly against them, Friday's Psaki Show featured Press Secretary Jen Psaki getting pressed on what the United States was doing to help the situation. Doocy Time really led the way on this front by grilling Psaki on why the U.S. was still open to allying with Russia on other pet projects of liberal politics. Then there was the pressing of President Biden again leaving Americans in a warzone.

Fox News's Peter Doocy noted that the Biden State Department had said "there are still some areas in which the fulfillment of our national security priorities and imperatives require us to engage and coexist" with Russia.

Asking the important question many Americans watching the invasion and hearing of the reported atrocities had, Doocy wondered: "How is it that we are still engaging and coexisting with the Russians?"

[...]

At his Thursday press conference, Biden said he may wait 30 days for some of the latest sanctions to take effect. Addressing that ridiculous timeline, Doocy wanted to know: "Do you guys think the people in Ukraine have about a month?"

"Well, Peter," Psaki indignantly said like an angry parent, "let me take a step back and explain to everyone how diplomacy works and how our approach from the United States has worked."
Fondacaro did not explain how he was able to read Psaki's mind to determine how she was feeling when she answered Doocy's question.
The latest from