WND Promotes Editor's New Book Without Telling Readers He Works For WND
Topic: WorldNetDaily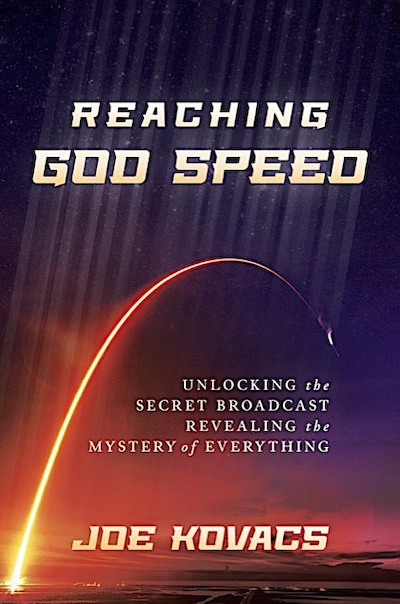 An anonymously written Jan. 2 WorldNetDaily article gushed:
A month before its official release, an exciting new book revealing hundreds of mysteries from the Bible and your personal life soared this week to the top position in more than one best-seller category on Amazon.com, ahead of books by Joel Osteen, Barack Obama and Bruce Springsteen.

Scheduled for release Jan. 25, "Reaching God Speed: Unlocking the Secret Broadcast Revealing the Mystery of Everything" by Joe Kovacs hit the top spot in "Musical Philosophy & Social Aspects" as well as #1 and #2 (Kindle edition) in Spiritual Self-Help, and #5 and #11 in Christian Personal Growth.

"I am so inspired and humbled to see that despite all the turmoil in our present world, many people have a strong desire to learn hidden truths about God and their own glorious future," said Kovacs, known for his best-selling "Shocked by the Bible" series.

"Perhaps the exponential spread of evil and persecution we're seeing are actually awakening ordinary folks to find truthful answers that have not been forthcoming from the dark powers that be. This book has the answers that people today are hungering for."
This article makes one curious omission: At no point does it tell readers that Kovacs is WND's executive news editor. In other words, this article is essentially an ad for a book written by a WND employee. The book isn't published by WND -- its book division shut down a few years ago in the wake of WND's financial problems and the Paul Nehlen debacle -- but by Fidelis, an imprint of Simon & Schuster that publishes right-wing authors. And, weirdly, Kovacs' bio on the website promoting the book (presumably set up by Kovacs himself) also downplays his WND connection. It starts off by touting Kovacs as "an award-winning American journalist and broadcaster who's run newsrooms in television, radio, and online for more than 30 years" and lists places where he worked -- but not WND. It's not until the second section of the bio that WND gets a mention, despite the fact that he was worked their for many years and is his current gig:
Does he have the 'write' stuff?

On a daily basis, Joe's work appears on the internet news powerhouse WND, known as "A Free Press for a Free People," a pioneer of online journalism since the 1990s. He has become well-known in his career for publishing thousands of compelling news stories with dazzling headlines and photos.
We, on the other hand, are more familiar with Kovacs being a liar and pushing anti-Obama conspiracy theories. Apparently, being "compelling" and "dazzling" is more important to Kovacs than being fact-based.
Every few days after that (as well as a few days before), WND published more articles promoting the book and the concepts therein, again hiding the fact that the author is a WND employee:
We can probably assume that Kovacs wrote all these promos masquerading as "news" articles under the "WND Staff" byline -- remember, WND's ongoing financial crisis means it has very little staff to speak of -- meaning that he's putting being "compelling" and "dazzling" ahead of journalistic ethics.
There's also a Jan. 24 article that touts "sparkling acclaim" for Kovacs' book that is pulled from the promotional website. Of the four people listed as supplying blurbs, two -- Joseph Farah and David Kupelian -- are his bosses (undisclosed, of course). A third, Chuck Norris, is a WND columnist. The fourth, Bob Barney, is Kovacs' brother-in-law. That's a very small world, even for blurbs.
Kovacs' book may not actually be a WND-published title, but it sure feels like one.
Posted by Terry K. at 5:16 PM EST