WND Twists Obama's Words To Portray COVID Vaccines As A Failure
Topic: WorldNetDaily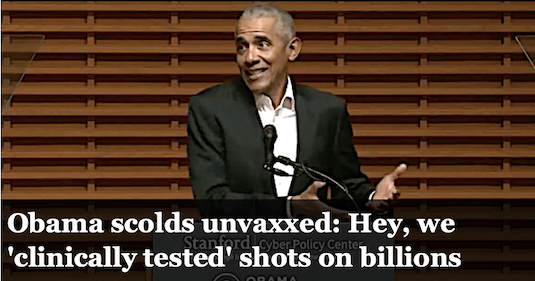 Barack Obama hasn't been president for years, but there's still a raging case of Obama Derangement Syndrome at WorldNetDaily. Read how Art Moore twists Obama's words to conform to WND's COVID vaccine conspiracy theories in an April 21 article:
In a direct appeal to the Silicon Valley tech giants to censor "misinformation" on social media, former President Obama on Thursday unwittingly affirmed the contention of critics of the COVID-19 vaccines that the fact that clinical trials have not been completed makes the people who have received the shots part of an experiment.

"Despite the fact that we have now essentially clinically tested the vaccine on billions of people worldwide, around one in five Americans is still willing to put themselves at risk, and put their families at risk, rather than get vaccinated," he said in a speech at Stanford University.

"People are dying because of misinformation."

The former president's remarks illustrate the danger of censoring "misinformation," if only because one person's misinformation might well be another person's evidence-based opinion or eventually become common knowledge.

Twitter, YouTube, Facebook and other social media platforms notoriously have censored the voices of some of the world's most highly qualified medical scientists because their views don't align with the ever-evolving government and establishment media position on the pandemic and related issues.

President Biden and CDC Director Rochelle Walensky, for example, assured Americans when the vaccines were rolled out that if you get vaccinated – for a disease that the CDC says has a survival rate of nearly 100% for people without chronic comorbidities – you won't get infected and you won't transmit the virus.

That hasn't turned out to be true, confirming the censored warnings of scientists such as Dr. Robert Malone and Dr. Peter McCullough, who in January observed the "crumbling" establishment narrative that included "false statements regarding asymptomatic spread, reliance on lockdown and masks – which obviously didn't work – the suppression of early treatment, the mass promotion of vaccines that failed."
Both Malone and McCullough are COVID misinformers who have been repeatedly proven wrong, so maybe they're not the best example Moore could be citing. It's also a lie to portray the COVID vaccines as still experimental -- but the Pfizer and Moderna vaccines have been fully approved by the FDA -- as a "failure" because they weren't 100% effective in preventing COVID infection with zero side effects -- no vaccine meets that extremely high bar.In fact, the vacciners have been credited with preventing millions of deaths and hospitalizations.
The rest of the article is largely a rehash of dubious claims aout the vaccine WND has previously published. WND has a
bad
habit
of publishing false and misleading claims about the vaccines.
Posted by Terry K. at 6:36 PM EDT
Updated: Tuesday, May 24, 2022 7:06 PM EDT