The MRC's 'Free Speech' Authoritarians
Media Research Center writers are having a love affair with some of the world's most censorship-loving right-wing leaders -- because they spout the MRC's anti-"Big Tech" narrative.
By Terry Krepel
Posted 11/18/2021
---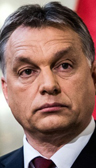 Viktor Orban
The Media Research Center has spent the past year in a bizarre contradiction: praising authoritarian right-wing foreign leaders as champions of "free speech" for spouting the MRC's dubious victimhood narrative about conservatives supposedly being "censored" by "big tech" -- even though those very same leaders enthusiastically suppress dissent in their own countries. This pattern reflects the MRC's attempts to mainstream far-right activists into its victimhood narrative.

In a December 2020 post, Kayla Sargent touted how "one nation is looking to change the way Big Tech can censor speech." by citing how Poland "announced a legal initiative on Thursday [Dec. 10] aimed at enabling internet users to file complaints against the removal of online posts as well as the creation of a special court for freedom of speech," adding that "Not only will users be able to sue Big Tech companies in some instances, but there will reportedly be consequences for Big Tech companies if they do not comply with Poland's law."

Sargent repeated her cheerleading for Poland in a Jan. 15 post:
Conservatives have faced a barrage of censorship in the last few weeks, but at least one European country is standing up against Big Tech.

Polish Prime Minister Mateusz Morawiecki expressed his desire for an open and free internet without censorship in a Facebook post.

For Morawiecki, the fight for free speech appears to be very personal. "For close to 50 years we lived in a country in which censorship was practiced, in which Big Brother told us how we are meant to live and what we are meant to feel, and what we are not allowed to think, say or write. That is why we are so concerned with any attempt to limit freedom," he said.

"We are now increasingly faced with practices we believed were left in the past. The censoring of free speech, once the domain of totalitarian and authoritarian regimes, is now back, but in a new form, run by corporations, who silence those who think differently," Morawiecki continued.

[...]

In recent months, Poland has stepped up in the fight against censorship online. In December, Polish Justice Minister Zbigniew Ziobro announced a legal initiative to allow users to file complaints if their posts were removed. The initiate would also create a specific court for the freedom of speech.
But in both posts, Sargent censored the fact that Poland's government does, in fact, embrace censorship of anyone critical of it or is otherwise independent of the government. In July, Reporters Without Borders detailed a planned "repolonization" law that would limit foreign investment in media outlets and limit the number of outlets a non-state owner can have, whose thinly veiled purpose is to censor and intimidate non-state-owned media. Meanwhile, the Polish state oil company purchased a top newspaper chain in the country, leading to fears of it becoming a propaganda outlet, while state-owned media are increasingly moving toward becoming mouthpieces for the same government that Sargent is lionizing.
The idea that a government official who's actively working to shut down speech he doesn't agree with in his own country is somehow a champion of "free speech" is laughable, but Sargent doesn't want you to know all the facts.
Hall gushed over Poland's authoritarian neighbor in a Feb. 3 post:
Yet another major European power has joined the growing alliance of nations against censorship by American Big Tech companies.

Hungary is joining Poland as one of the premier European powers taking on Big Tech. "After consulting with the heads of the involved state institutions, the Ministry of Justice will propose a law to the Parliament this spring about the regulation of the great tech companies' Hungarian [operation]," Hungarian Minister of Justice Varga Judit announced in a January 26 Facebook post.

In the same post, Varga explained that Hungary must act quickly if the European Union is too slow regulate Big Tech's unchecked power:

"We keep cooperating with the EU in the preparation of similar regulations but recent events have shown that we need to act faster to defend people. Today, everyone can be arbitrarily switched off from the online space without any official, transparent and fair proceeding and legal remedy.

"They can switch off bakers, hairdressers, pensioners, teachers, SMEs and state leaders as well."

[...]

Varga warned would-be censors that Hungarians will not tolerate technological tyranny from Big Tech: "The deliberate, ideological or business-motivated digital damaging can no longer happen without consequences in Hungary!" She added: "Freedom is never voluntarily given. Now we need to fight for digital freedom too!"

Varga has written other recent posts condemning political-correctness and the Big Tech establishment which enforces its doctrines.
Hall didn't note the irony of Vargas announcing this on social media, where it was apparently not censored. And he certainly didn't note that Hungary has had its own issues with imposing censorship on its citizens.
Orban has been cracking down on Hungary's free press for years, trying to squeeze out critics of his regime or even anyone who reports on it. Last year, Orban's government OK'd a law seeking to punish anyone issuing "disinformation" about the coronavirus pandemic -- which, in practice, amounts to criminalizing any criticism of how Orban has handled it. In August, Orban issued a decree that heavily restricts sales of LGBTQ-themed books. Orban is even trying to change pop music to make it less rebellious and more pro-government. The MRC's "news" division, CNSNews.com, has been gushing for years over Orban's repressive anti-LGBT and anti-immigrant policies.
Hall claims to oppose "technological tyranny," but he seems totally cool with actual tyranny from the likes of Orban.
Cheering Putin's attacks on "big tech"
Hall was bizarrely excited in a March 10 post:
Russia has decided to fight back against Silicon Valley, suing five companies to force removal of posts supporting anti-Putin protests. This is part of a tidal wave of opposition to Big Tech around the world.

Big Tech has allowed civil discord to run rampant if it targets entities liberals want destroyed. "Russian authorities are suing five social media platforms for allegedly failing to delete posts urging children to take part in illegal protests, the Interfax news agency cited a Moscow court as saying on Tuesday," Reuters reported March 9. "Twitter, Google, Facebook each have three cases against them, with each violation punishable by a fine of up to 4 million roubles (around $54,000), and cases have also been filed against Tiktok and Telegram, the report said."

The cases were reportedly launched "after protests nationwide over last month's jailing of Alexei Navalny, a prominent critic of President Vladimir Putin." Navalny and his sympathizers claim that his 30-month sentence, "for alleged parole violations related to an embezzlement case, was trumped up for political reasons, something the authorities deny," Reuters summarized.

President Vladimir Putin's Russia is one of many countries growing wary of Big Tech's unchecked power to control the flow of information based on the biases of its CEOs.
That's right -- Hall is cheering Russia taking on "Big Tech" in order to squelch dissent. Hall's problem here is not with Putin trying to censor political opposition, it's with "Big Tech" for not letting him censor it.
Hall cheered further:
In the weeks following Trump's censorship on Twitter, Hungary joined Poland as one of the premier European powers taking on Big Tech. Hungarian Minister of Justice Varga Judit announced in a January 26 Facebook post: "After consulting with the heads of the involved state institutions, the Ministry of Justice will propose a law to the Parliament this spring about the regulation of the great tech companies' Hungarian [operation]."

Judit warned would-be censors that Hungarians will not tolerate technological tyranny from Big Tech: "The deliberate, ideological or business-motivated digital damaging can no longer happen without consequences in Hungary!"
Hungary is ruled by Viktor Orban, a right-wing authoritarian currently bent on exploiting the coronavirus pandemic to make a power grab that would let him rule by decree. Like Putin, Orban is trying to suppress political dissent, and his attacks on social media can be seen as part of that. Poland is, again, led by right-wingers who, like Hungary, are spouting the MRC's bogus narrative that social media is exclusively "censoring" conservative points of view.
Cheering authoritarian censorship to own the libs -- er, "Big Tech"? That's quite the stance, Mr. Hall.
But in the MRC's world, "big tech" must always be the enemy, so a flip-flop on Putin was inevitable. Indeed, a Sept. 27 post by Catherine Salgado attacked Google and Apple for removing apps from its Russian stores designed to help opponents of Putin and supporters of Navalny, describing it as a "cave to the Russian government." Salgado did not mention her employer's previous praise of Putin for criticizing "big tech" over their alleged help for Navalny.
Cheering Bolsonaro
Hall took the side of another right-wing authoritarian leader in a July 22 post:
Big Tech platform YouTube has censored yet another head of state for the unforgivable: He dared to question the liberal narrative concerning COVID-19.

Brazilian President Jair Bolsonaro has reportedly been punished by YouTube for sharing his opinions as a head of state regarding COVID-19. "YouTube removed videos from President Jair Bolsonaro of Brazil on Wednesday for spreading misinformation about Covid-19, becoming the latest internet platform to act against a leader," The New York Times reported. The Times illustrated for readers that YouTube "played an important role in Mr. Bolsonaro's rise to power" and is reportedly "more widely watched in Brazil than all but one television channel."

[...]

Unfortunately for people under the grip of Big Tech, the question of which drugs are effective to treat COVID-19 has become extremely politicized, with only a narrow range of opinions allowed. YouTube, for example, is not the only platform to purge users for speculating over the viability of using hydroxychloroquine or Ivermectin as a treatment for COVID-19.
But YouTube is not the one that made those dubious treatments "extremely politicized" -- right-wingers like Trump and the MRC did. And Hall offered no credible scientific evidence that hydroxychloroquine or ivermectin are effective treatments for COVID. And all his partisan ranting aside, Hall also offered no evidence that YouTube is trying to do anything other than get reliable health information out there when there is so much unreliable information that may be getting people killed.
Related articles on ConWebWatch:
Bolsonaro's "censoring" was actually the lead item in Casey Ryan's list of the "WORST censorship" that month. Ryan went on to lament that "Social media platforms like YouTube have outright banned content that contradicts their COVID-19 narrative, and world leaders like Bolsonaro are no exception."

Neither Hall nor Ryan mentioned that the real censor here is Bolsonaro. In 2020, Bolsonaro enacted a law that effectively opens his critics to arrest under the guise of "national security." Since then Bolsonaro revived a law from the country's dictatorship era to arrest critics of his response to the coronavirus pandemic. Interestingly, last year Facebook suspended a network of accounts it said were run by employees of Bolsonaro and his family to spread divisive political messages, so it's clear Bolsonaro knows his way around misinformation.

Still, that didn't keep Gabriela Pariseau from nonsensically portraying Bolsonaro as a free-speech hero in a Sept. 9 post:
Brazil President Jair Bolsonaro made a bold move, marking one up for free speech in his nation. The embattled president signed a provisional measure that will make it illegal for Big Tech to arbitrarily remove legal social media content.

The Government of Brazil claimed in a tweet thread that the law was sparked by concerns of Big Tech's actions "that have been perceived as harmful to healthy debate and freedom of expression in Brazil." The provisional measure "forbids selective deplatforming" and "the removal of content that may result in any kind of 'censorship of political, ideological, scientific, artistic or religious order,'" according to the Twitter thread. The Brazilian government account said it "hope[s] [the law] will serve to help restore online political dialogue in the country."

The measure protects freedom of expression but excludes illegal content "such as nudity, drugs and violence, or if they encourage crime or violate copyrights," reported The New York Times. Tech companies also purportedly need a court order for permission to remove any other content, according to The Times.
Pariseau was grimly determined to make him a part of the MRC's bogus "victimhood" narrative:
The Brazilian president is up for reelection, and like former President Donald Trump, has been repeatedly censored by Big Tech. YouTube removed 15 of his videos for so-called COVID-19 misinformation in July, according to the BBC. The New York Times reported that "[l]ast year, Facebook removed statements by Mr. Bolsonaro after he promoted hydroxychloroquine as a cure for the virus. Around the same time, Twitter deleted posts from the far-right Brazilian president for pushing [allegedly] false remedies and calling for an end to social distancing."
Only at the MRC can a right-wing authoritarian infamous for squelching the free speech of critics be hailed as a hero and a victim.
The latest from