WND Still Dishonestly Presenting Promos For Employee's Book As 'News'
Topic: WorldNetDaily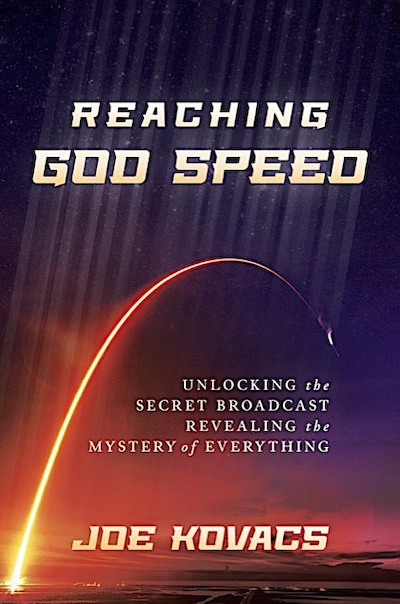 In February, we reported how WorldNetDaily has promoted employee Joe Kovacs' new book through weekly ads disguised as "news" articles and with no disclosure that Kovacs is a WND employee. Three months later, WND and Kovacs are still dishonestly promoting his book -- ironic, since it's about finding the Bible in pretty much anything and we're pretty sure that the Bible admonishes people not to engage in deception.
Here are the articles WND has published to promote Kovacs' book -- they carry no byline, but we can assume Kovacs himself wrote them, another little piece of deception -- since we last checked in:
WND even tried to tie Kovacs' book to recent events that occurred after the book's publication. A March 13 article used the Russian attack on Ukraine to shill for the book:
The events in the daily news can be catastrophic and unnerving at times, with huge numbers of lives lost and incredible suffering taking place, as is evident by the Russian invasion of Ukraine.

And sometimes, as is the case now, there seems to no good reason for the disturbing mayhem taking place.

"In Ukraine, rivers of blood and tears are flowing," said Pope Francis. "This is not just a military operation but a war which sows death, destruction and misery."

But is there something unseen at work amid the horror of this war? Is there a hidden cause for nightmarish disasters that people are forgetting or ignoring?

"The answer to these questions is an obvious yes," says author Joe Kovacs, who digs deeply into this subject in his brand-new best-seller, "Reaching God Speed: Unlocking the Secret Broadcast Revealing the Mystery of Everything."

"Catastrophes and disasters such as military conflict are not just happenstance. There is an underlying cause, and it's spelled out quite clearly in the Bible."

"The simple truth right out of Holy Scripture is that God Himself is causing disasters. Read it for yourself in your own Bible:"
But all this biblical pontificating ultimately comes off as Kovacs suggesting that Ukraine deserved to be destroyed and subjugated by Russia:
The "Reaching God Speed" author says "the bad news taking place in our world is not just some random, haphazard mayhem."

"The catastrophes, calamities, and disasters of all stripes are attention-getters, reminding people that we're all going to perish, to be dead forever, unless we get our act together and get with the program."

"The bottom line is that bad news can be likened to an attention-getting spanking that a parent gives his or her child. But God does not like spanking His kids."

"Why do you want more beatings? Why do you keep on rebelling?" (Isaiah 1:5 CSB).

"He creates the bad news with an intention: to prompt us all to do some inward reflection and make drastic changes to how we think and act, to put an end to our ludicrous, wicked ways and get on the path of everlasting life. And painless life without end is truly Good News."
WND also tried to shoehorn Kovacs into articles that more closely resemble "news." A Feb. 27 article (unblylined, of course) repeated a Jerusalem Post article that is also effectively a promotion for Kovacs' book and is keyed on an earlier WND promotion of it: "An apparent biblical 'dilemma' regarding the precise location where Jesus was crucified has caught the attention of a major newspaper in Israel." The article then evolved into the usual WND promo for the book.
An April 24 WND article on the vandalism of Joseph's Tomb in the West Bank was also used to promote Kovacs' book as well. The article even called on an old friend, Aaron Klein, who was described only as "WND's former Jerusalem bureau chief," with no mention of the fact he quit years ago to work for Breitbart, then as an adviser for corrupt former Israeli Prime Minister Benjamin Netanyahu.
WND also devoted an article to promoting the audiobook version of the book.
Despite all this shilling, however, Kovacs' book is not being sold through WND's online store. All links for the book in WND articles go to a website dedicated to the book (presumably set up by Kovacs himself), which in turn links to Amazon. WND's online store hasn't added new books or other significant things since its current downward spiral began a few years back. Kovacs may be deceitful, but he's not dumb, and he knows where to sell his books to make some money.
Posted by Terry K. at 6:37 PM EDT