MRC Can't Stop Complaining That Chappelle's Anti-Trans Humor Was Called Out
Topic: Media Research Center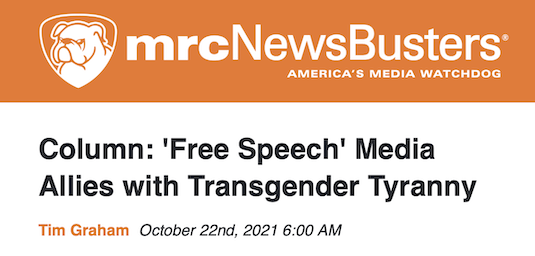 We've documented how the Media Research Center sided with Dave Chappelle over his transphobic humor, and it was nowhere near done doing so. Tim Graham whined in his Oct. 22 column:
The Left claims that their most urgent battle is to save democracy, but when it comes to any questioning of the LGBT lobby, they are the ones that sound like authoritarians. The overtones are unmistakable in the "news" coverage promoting "dozens" of employees walking out of Netflix in Los Angeles on October 20 in protest. The target? A popular Dave Chappelle comedy special titled The Closer.

Tens of thousands of pro-lifers can assemble against abortion and be ignored, but assemble two dozen transgender lobbyists, and NBC and PBS treat it as momentous.
If an anti-abortion protest occurs once a year every year for 40-plus years, it ceases to be news. Graham simply wants the "liberal media" to serve as propagandists for right-wing causes.
Graham went on to complain about a NBC report about the Netflx protest: "NBC's stilted story failed to offer one clip or quote or explanation of what Chappelle said that was offensive. We can guess it's because the comedian said 'gender is a fact' and 'Every human being on Earth had to pass through the legs of a woman to be on Earth. That is a fact.' Is that somehow too horrific for NBC to include?" Graham is cherry-picking a remark that conveniently echoes right-wing narratives; Chappelle said many other transphobic things.
Graham had right-wing movie critic Christian Toto on his Oct. 22 podcast to defend Chappelle some more. Toto fawned over Chappelle as "the most popular, most talented stand-up of his time" and complained that Chappelle's critics weren't quoting what Chappelle actually said -- though he didn't call out Graham for selectively quoting Chappelle in a way that advances right-wing narratives.Tot went on to grouse that non-famous people drew attention to Chappelle's transphobic humor: "Chappelle has millions of fans. People love the work he does. And you know, he's a liberal guy -- it's not like conservatives are rallying for a fellow conservative. But, you know, why should this small group of people have say and sway over what Dave Chappelle is able to do?"
The MRC is a pretty small group too; why should it have say and sway over anything? But Toto never asked Graham that.
Graham responded by arguing that only "fans of Chappelle" or "people who think comedians should have free speech" have the right to tell people why they find Chappelle offensive. He went on repeat his charry-picking, insisting that Chappelle wasn't "mocking transgenders" but his saying "things they can't stand to hear, which is gender is a fact, every one of us came out of a woman."
An Oct. 23 post by Toto rehashed another Chappelle-related thing he talked about in Graham's podcast, that the Associated Press and Variety "brazenly lie[d] about a Chappelle protest. He offered no evidence that the incorrect AP claims he called out were delibarate. Toto had to append an update admitting that the AP corrected its account of the protest.
On Oct. 27, Lydia Switzer unusually praised a CNN host for defending Chappelle:
On Tuesday's New Day, CNN's John Avlon surprisingly stood up for free speech: even speech he doesn't like. He was part of a discussion, along with fellow liberal Mara Schiavocampo, about Dave Chappelle's new comedy special The Closer, which has faced intense pushback and outrage from the cancel culture mob, especially from Netflix employees who claim that some of Chappelle's jokes were offensive and transphobic.

Netflix has refused to take down Chappelle's special, which has high audience ratings and has been extremely popular on the streaming service since its release.
That would seem to undercut the MRC's narrative of CNN as relentlessly "liberal," but Switzer didn't bring that up. Instead, she brought up how Schiavocampo said she thought Chappelle's special was "mean," adding, "Unfortunately for Schiavocampo, mean and even offensive language is still speech worth protecting." Funny, the MRC doesn't seem to think so when that "mean and even offensive language" is directed at conservative.
Posted by Terry K. at 9:32 PM EST