MRC Rushes To Defend DeSantis Over COVID -- Again, Part 2
Topic: Media Research Center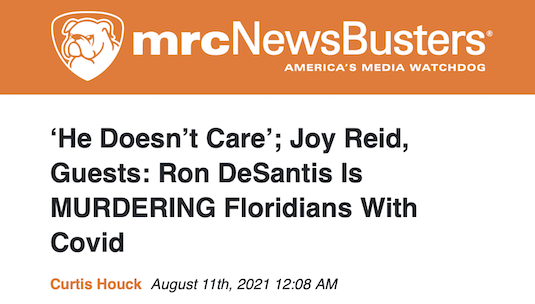 We've detailed how the Media Research Center once again rushed to the defense of Republican Florida Gov. Ron DeSantis over his lackluster response to spiking COVID cases in the state. There's much more where that came from.
Mark Finkelstein lost it on Aug. 6 when commenters on CNN pointed out the ultimate implication for DeSantis' inaction and attempt to punish anyone trying to do anything useful like making schoolchildren wear masks:
Appearing on CNN's New Day this morning, a Democrat [sic] strategist accused Republicans of wanting "to basically turn Florida into a morgue."

But in a mark of just how deep CNN and the Dems have dived into loony-left extremism, the guy, Michael Starr Hopkins, was brought on to represent the centrist wing of the party!

[...]

In attacking Florida Republicans, the real target for Hopkins, his fellow Democrats, and the liberal media, is, of course, Republican Governor Ron DeSantis, seen as a real threat to whoever the Dems nominate in 2024.
Jeffrey Lord played whataboutism in his Aug. 7 column, declaring thatcriticism of DeSantis by CNN's Chris Cuomo "can quickly be perceived as an attempt, yet again, to use his show to distract from his brother's Covid record by attacking DeSantis," adding:
To say the least, this isn't good for Chris and it isn't good for CNN. But the idea that his show would focus on attacking DeSantis - while being strangely silent not only on his brother's nursing home scandal or the rest of his mess - but being silent on President Biden's policy that has resulted in thousands of Covid-infected illegals swarming across the US border? All that does is increase the perception that Chris is really about liberal or Democratic Party activism as opposed to journalism.

The fact is that the surge in Covid cases in the illegal immigrant detention centers is also resulting in a rise in Covid cases around the country. Which is a direct result of Biden's policy of dispersing the migrants around the country.
Again, that's not true.But that didn't stop Krstine Marsh from complaining that CNN's Brianna Keilar "accused Florida Governor Ron DeSantis and Texas Senator Ted Cruz of perpetuating a 'dangerous trope' that illegal immigrants were spreading Covid," insisting that "this isn't a figment of Republicans' imaginations."
Finkelstein melted down again on Aug. 9 over "Morning Joe":
With Joe away, Mika jumped on his repetition hobby horse on today's Morning Joe. Her phrase: "death cult." In the opening segment, Mika used "death cult" no fewer than eight times to hammer DeSantis, Florida, and others over the Covid vaccine. In her melodramatic spiel, Mika veered from haranguing her audience to choking up.

She seethed, "And in Florida, we have a governor more interested in playing politics than saving lives: the DeSantis Variant. That's why nearly one-in-four new Covid cases are coming out of FLOR-I-DA!"

[...]

It's simply false to claim that, because the governor isn't in love with four-year-olds being forced to wear a mask all day, he's somehow a death cult-loving anti-vaxxer.
Kyle Drennen complained the same day:
After denouncing the Trump administration for banning travel from China in 2020, during the early days of the pandemic, on Monday, CNN's New Day actually promoted the notion of somehow imposing a travel ban on the state of Florida over a recent rise in COVID cases there. Without a sense of irony, the show hyped the notion that travel from the Sunshine State would have already been banned if it were a foreign country.

[...]

The leftist media obsession with trying to deflect blame away from President Biden and onto Republican governors is transparently partisan. For CNN to go so far as to hypocritically start throwing around talk of "banning travel" to certain states just brings it to a whole other level of shamelessness.
On Aug. 10, Gabriel Hays declared that actor Bill Burr "revealed his disdain for freedom" by committing the offense of criticizing DeSantis:
Bill Burr is the champion of waffling between good opinions and downright awful ones. On a good day he hates cancel culture or CNN, but on a bad day he targets Florida Republican Governor Ron DeSantis and calls him a "piece of shit" for blocking mask mandates.

So DeSantis is a POS for allowing more freedom? Kind of a stupid point to make, Mr. Burr.

[...]

So he became the useful idiot and slammed the media's new conservative bogeyman. "These fucking piece of shit politicians," he stated, adding, "[DeSantis] knows that that's what his fanbase wants him to do, so that's what the fuck he's gonna do. Unbelievable." Oh you mean DeSantis is representing the Republicans that put him in power? You don't say?

Well why would a lefty elite like Bill Burr understand that concept? His preferred politicians – those on the left – want to rule people, rather than represent them. Burr's whole anti-DeSantis diatribe boils down to him bleating like a sheep for government control over his life – excuse the cliché.

It's not like Governor Ron DeSantis is saying that no people in Florida can wear masks, he's making sure that people will not be forced to wear them.
It was then Curtis Houck's turn to lash out at criticism of DeSantis, thistime from MSNBC's Joy Reid: "On MSNBC's The ReidOut, host Joy Reid and lefty guests Tim Miller and Rick Wilson decided on Tuesday to go full Alan Grayson or the late Ed Schultz in proclaiming that not only does Governor Ron DeSantis (R-FL) not 'care' 'about the well-being of' Floridians, but he himself is 'rooting for' his 'strategy' of 'killing children in [his] own state.'"
Finkelstein returned to complain about "Morning Joe" again:
Joe, back this morning, bought into Mika's "death cult" trope. Scarborough was responding to a report from NBC's Kerry Sanders, who said that a Collier County [Naples area] mom who was sending her children to school without masks was doing so because "we believe our faith will protect us."

That set Scarborough off. Scarborough scratched his head at the idea that parents were relying on "Jesus" to protect their children. He also questioned whether Jesus wanted 600,000 people to die from Covid.

[...]

It is ugly for Scarborough to call people with deeply-held religious beliefs members of a "death cult." Would Scarborough have done so if the person sending her kids to school without masks was a devout Muslim? For that matter, Sanders didn't say that the mom in question was a Christian: Scarborough simply assumed it when "faith" came up.
Houck lashed out at Reid again on Aug. 12:
On Wednesday night's ReidOut, MSNBC's Joy Reid decided to double down on her poisonous narrative that not only are right-of-center Americans bad people, but they're murderous terrorists. Along with a series of like-minded guests, Reid insisted these conspiracy theory-laden savages want to overthrow the government while having their Covid-infected children flood schools.

This came after a deranged Tuesday episode that posited that Governors Greg Abbott (R-TX) and Ron DeSantis (R-FL) are purposefully killing their citizens with Covid.
Tim Graham rehashed much of this in his Aug. 13 column, huffing, "This was their 2020 playbook on Trump, that he was killing his own supporters." He then reignited his war on fact-checkers by complaining they weren't fact-checking any of this, despite not providing evidence that the statements that so offended him and the rest of the MRC are anything other than hyperbolic criticism not meant to be taken literally.
Posted by Terry K. at 10:20 PM EDT