WND's Magazine Doubles Down On Trump's Big Lie About The Election
Topic: WorldNetDaily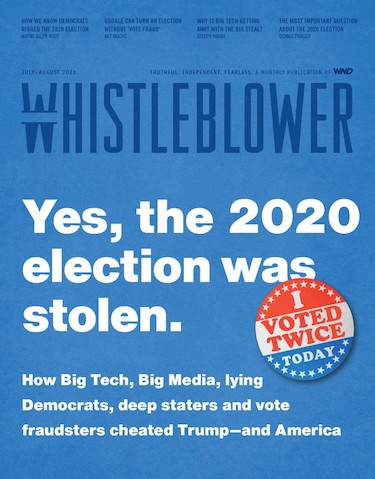 These days, WorldNetDaily is very much into dedicating its sparsely read Whistleblower magazine to amplifying the lies and misinformation that infest its main website. It did that with coronavirus, and now it's doing so with election fraud.
Doubling down on editor Joseph Farah's embrace of Trump's Big Lie, the July-August issue of Whistleblower is titled, "Yes, the 2020 election was stolen." The introductory promo taken from David Kupelian's essay touts how greatDonald Trump supposedly was and how terrible Joe Biden supposedly is, then asks: "In short, was the 2020 election truly fair? Or was it rigged?" Kupelian is then quoted:
"This Whistleblower issue," says bestselling author and Whistleblower Editor David Kupelian, "takes a 30,000-foot view and explores all of the components of what was in reality a rigged 2020 election – from actual conventional voter fraud, to Google's turning an estimated 6 million 'undecided' voters to Biden, to social media and major news organizations and the 'deep state' all working together to suppress damning information about Joe Biden just before the election, to encouraging voter fraud under cover of COVID, to the Democrat-Media Complex's underlying message that voter fraud is morally permissible because 'Trump is another Hitler' – and lays out an overwhelmingly convincing case that the 2020 election was the most corrupt in generations."
(Have we mentioned that WND repeatedly likened President Obama to Hitler and other Nazis, thus effectively pushing the underlying message that spreading lies about him -- such as its years-long birther obsession -- was morally permissible?)
The problem here, as it was in the COVID issue, is that many of the articles selected for the magazine were discredited at the time they were originally published on the WND website. They include:
"How we know Democrats rigged and stole the 2020 election: 10 questions Americans aren't allowed to ask, let alone answer" by Wayne Allyn Root
This first appeared as a May 10 column by Root that was turned into a "news" article the same day. We documented how seven of the questions have already been answered -- but they showed Root was repeating false claims.
"Audit team reports 74,000-ballot discrepancy in Arizona county's mail-in votes"
This appears to be a repeat of a July 15 article by Bob Unruh. As we've noted, fact-checkers have found that the claim from the folks running the highly dubious audit in Arizona because it "appears to have come from a lack of understanding of the data contained in early voting reports."
"Shocker: Vote recount in 1 county had 60% error rate"
This is from a July 14 article by Unruh that cited the highly unreliable Gateway Pundit and the right-wing voter rights group in the state run by a conspiracy theorist. As we noted, a fact-checker debunked the claim, pointing out that given how Georgia election ballots had been recounted three times, "there is no chance that a large number of ballots were double counted."
"Texas probing hundreds of election fraud cases"
This comes from a June 28 article by Unruh. As we noted when CNSNews.com repeated this same claim, as made by Texas Attorney General Ken Paxton, an actual news outlet reported that the Texas Attorney General's office did report 534 cases of voter fraud in which people were charged -- but they date back to 2004. By contrast, nearly 94 million votes were cast in Texas elections since 2004, making the 534 cases of voter fraud an infintesimal issue. While there were also 510 cases being investigated at the time of the report, only one involved the 2020 election.
"Google can turn an election without 'vote fraud'" by Art Moore, on top Google researcher Robert Epstein, a Democrat, who warns of Big Tech's dire "threat to democracy"
This appears to be from a July 6 interview Art Moore did with Epstein. As we've documented, his anti-Google reserarch is dubious at best. As for his star claim, as repeated by Kupelian, that Google "turn[ed] an estimated 6 million 'undecided' voters to Biden," the Washington Post's Philip Bump noted: "Of course, the idea that people primarily base their decisions on what they learn from Googling candidates — particularly at the presidential level — is dismissible on its face. President Biden got a record level of support from Democrats even as Trump earned near-universal support from Republicans. Which of them was influenced by his or her search results?"
But Kupelian and WND aren't into publishing facts -- they want to push a narrative, and they don't care that it has been repeatedly discredited. The fact that it's so wiliing and eager to publlish lies -- not any "big tech" conspiracy against it -- is the reason WND remains at death's door.
Posted by Terry K. at 1:21 AM EDT
Updated: Wednesday, September 22, 2021 11:21 PM EDT