CNS Echoes MRC's Meltdown Over (Allegedly) Cross-Dressing Muppet
Topic: CNSNews.com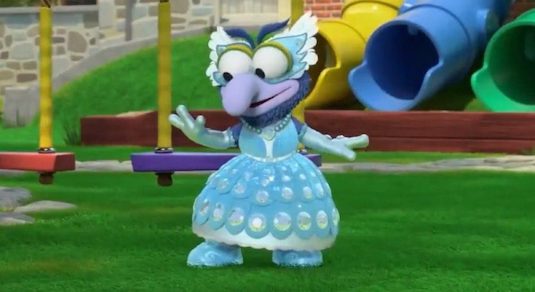 Following in the footsteps of its Media Research Center parent, CNSNews.com similarly melted down over the idea of a supposedly male Muppet wearing a dress.
Craig Bannister gave right-wing activist Candace Owens a platform to rant about it in an Aug. 2 article:
Conservative commentator Candace Owens says she's in disbelief that even the "Muppet Babies" childrens' cartoon is preaching transgender ideology to kids.

"This is sick and PERVERTED," Owens tweeted on Sunday, embedding a video clip of recent episode of the cartoon, in which the character Gonzo turns into a cross-dressing "Gonzorella." "You all expected me to look a certain way. I didn't want you to be upset with me," Gonzorella says following the transformation and revelation.

Everyone should be disturbed by the cartoon's predatory effort to inflict gender dysphoria on children, Owens writes:

"I can't believe I'm tweeting this but.. they are pushing the trans agenda on children via muppet babies. This is sick and PERVERTED. Everyone should be disturbed by predatory cartoons meant to usher children into gender dysphoria.

"Bring back manly muppets, anyone?"
Owens apparently provided no evidence of how she knows Gonzo is a "manly" Muppet who should remain that way. Bannister, meanwhile, was silent about how Owens got dragged in social media for her bizarre, hateful comment, where it was also pointed out that Gonzo has worn dresses for decades.
Meanwhile, LGBT-hating Bill Donohue got an entire Aug. 5 column to rant about it and invent a conspiracy theory:
Why would Disney, the alleged family-friendly entertainment giant, want to encourage kids to reject their sex? And why aren't the media covering this story?

The Muppet character, Gonzo, has "transitioned" to a girl, Gonzorella. That is why he is wearing a dress to the "royal ball." He does more than wear a dress—he instructs Miss Piggy and Summer that "doing things a little different can be fun."

The message to children is: a boy can be a girl, and vice versa. Making this choice, they are told, is not something abnormal, it's just "a little different." Moreover, it can be "fun" to reject your sex and pretend that you belong to the opposite sex.

This needs to be called out for what it is: child abuse. Anyone who is even remotely knowledgeable about what sex transitioning entails—the physical and psychological problems that boys and girls experience are multiple—knows how pernicious this process is. Seven in ten of those who transition are girls wanting to be boys, and the extent of their suffering is well documented.

So why is it that, aside from some gay and conservative news sources, this story is being ignored by the most influential newspapers, as well as the broadcast and cable news networks? Is it their insouciance that is driving their passivity? Or cowardice?
Donohue weirdly concluded: "This is not about treating everyone with respect—that is not the issue—it is about shielding our children from those who want to sexually engineer them." But Donohue has never respected LGBTQ people, so it clearly is an issue with him. He just doesn't what to be called out on it.
Posted by Terry K. at 12:02 AM EDT