MRC's Latest Transphobic Hate Targets: An Actor, A Model, A Muppet And More
Topic: Media Research Center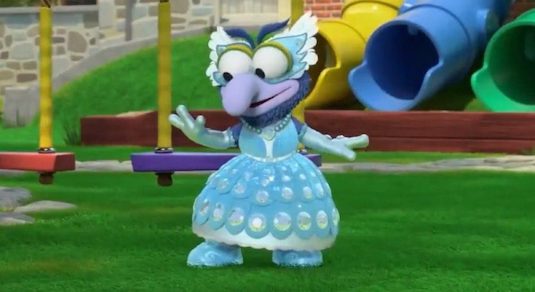 How has the Media Research Center been hating transgender people lately? Let us count the ways. Gabriel Hays -- a huge transphobe -- melted down on June 29 over the idea of the transgender woman winning a beauty pageant:
One of the world's premiere beauty pageants has fallen for the transgender craze and will be allowing a biological male to compete with the country's most beautiful women for the crown of Miss America.

A transgender woman – or anatomically speaking, a dude – just beat out 21 real women for the title of Miss Nevada giving 27 year-old Kataluna Enriquez the chance to be crowned Miss USA in the larger beauty competition. Our hearts go out to all the women who have so far been deemed less beautiful than a literal man.

And we thought models had to deal with intense pressure, before they had to compete with men.
On July 13, Streetman repeated her assertion that being anything other than heterosexual is a manifestation of mental illness. In complaining about a Courtney Cox-hosted series about non-traditional couples navigating having a baby -- a concept she insists is "grossing everybody out" -- Streetman huffed:
The series is currently on season three and in June it released an episode featuring a trans couple who swapped roles. Cox describes this couple's story as one of overcoming "trans discrimination." The woman in the relationship identifies as a man but is pregnant, and the man identifies as the mother and had implants in an attempt to breastfeed the baby. No, I am not making this up. Watch for yourself:

[...]

That poor child is now being raised in a household with two mentally ill parents who are supposed to help their kid through life but don't even know their own gender. God bless that baby.
And God help Streetman learn that people who are different from herself shouldn't be automatically hated or dismissed as mentally ill.
Hays served up more ranting in a July 14 post:
Ah, history is made yet again in our budding United States Socialist Republic. Hollywood has nominated its first ever biological male in a top Best Actress category.

And, no, this wasn't some third rate awards show, like the BAFTAs or BET Awards, or even the SAG Awards. 'Twas the primetime Emmys that pushed this gender-destroying, reality-bending boundary. On Tuesday July 13, The Hollywood Reporter wrote that actor Mj Rodriguez became the "first transgender performer to be nominated for a lead acting role in a primetime series" for the 73rd annual Emmy Awards.

Rodriguez was nominated for the "Best Lead Actress in a Drama" Emmy category. The awards ceremony is set to be held in September.

Rodriguez – a biological male – starred in the latest and final season of FX's LGBTQ centric series Pose, a show which featured ldquo;the largest cast of transgender actors in series regular roles, including Mj Rodriguez, Dominique Jackson, Indya Moore and Hailie Sahar."
Hays concluded by sneering, "Yeah, it's one small step for trans kind, and one giant, disastrous leap backwards for literally everyone else.
On July 20, Abigail Streetman had a similar meltdown over a transgender woman becoming a Sports Illustrated swimsult model, under the hateful headline "Your Model's A Man, Baby!":
Sports Illustrated has gone completely anti-truth and released a new cover which features Leyna Bloom, who is a biological male. Despite what Bloom's Twitter bio said, he is not helping to make the world or this country a better place.

Sports IllustratedSwimsuit posted an announcement for the new swimsuit cover model's on Twitter. As always the magazine releases three different covers for each edition, but Bloom was the first and only man to ever be promoted as a woman.

[...]

Sports Illustrated also wrote an article on Bloom on June 17, titled "Leyna Bloom Is On A Mission." Yeah, a mission to distort the truth and deny reality.

[...]

Bloom further stated: "This is a huge milestone. When I was crying in MJ and Tyra [Banks'] arms, I was like, 'This magazine is going to change the world.'"

Maybe, but it definitely isn't for the better.
Hays returned on Aug. 2 to spew hate on the idea of a transgender (or even cross-dressing) Muppet:
Disney continues to corrupt everything it touches. Since it now owns the rights to Jim Henson's The Muppets that means The Muppets gets ruined, and by extension our children's opportunity for quality entertainment. Recently the Disney Muppets spin off TV show, Muppet Babies made beloved character Gonzo into a trans woman, because anyone can be any gender these days.

Pop culture outlet Vulture reported on Gonzo's new transgender iteration recently, praising the fact that the show for "3 to 8" year-olds is making such a pro-LGBTQ statement. Though this is disturbing propaganda that insists that parents trying to raise boys and girls normally aren't doing it right.

Not to mention it's super confusing for impressionable children.

This gender-subversive TV episode features the boy alien/thing (we're pretty sure Gonzo has been a guy throughout Muppets' history) donning a dress and becoming "Princess Gonzarella." Apparently that's the height of freedom and expression for Gonzo, who usually has to suffer through wearing boys' overalls, t-shirts and sneakers out on the playground.
Hays further whined, "This is Disney propaganda so none of the Muppets found it weird. In fact they all loved it." Hays, of course, would be waiting outside the school to beat up this (completely fictional) character for being a little too swishy for his comfort. It must be such a sad existence Hays leads, being so consumed with people for people (real and fictional) who are different from him.
Posted by Terry K. at 9:49 PM EDT
Updated: Monday, August 30, 2021 10:28 PM EDT