CNS Hypes Tara Reade -- But It Censored Rape Accusation Against Trump
Topic: CNSNews.com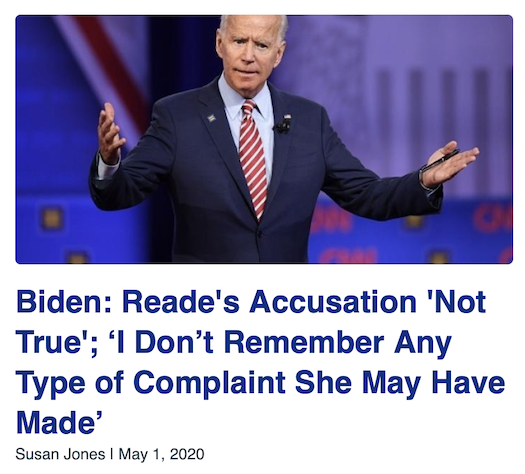 We've documented how the Media Research Center has hypocritically promoted the sexual assault allegations Tara Reade made against Joe Biden, though it trashed E. Jean Carroll, the woman who made sexual assault allegations against Donald Trump. The contrast is even more stark at the MRC's "news" division, CNSNews.com.
As of this writing, CNS has published 25 "news" articles referencing Reade, with headlines like "Washington Post Calls on Biden to Answer Tara Reade's Sexual Assault Claim," "Report: Tara Reade Willing to Testify Under Oath About Biden's Alleged Sexual Assault" and "Tara Reade Alleges on Joe Biden: 'He Said: "I Want to F**k You"'." Managing editor Michael W. Chapman devoted an article to how he "repeatedly contacted" the offices of 11 members of Congress "who vigorously support the #MeToo movement and who defended Christine Blasey Ford's allegations against Brett Kavanaugh" asking if they believed Reade and didn't get a response -- a point of view that got echoed in "news" articles like "McConnell: People Outraged Over Kavanaugh Allegations 'Seem to Have Little or No Interest' in Biden's Accuser."
CNS also served as a conduit for its parent's obsession with Reade. It touted MRC chief Brent Bozell's accusation that CNN is "colluding" with Biden to suppress coverage of Reade and his claim (on his buddy Mark Levin's show, natch) that the media is "refusing to investigate" Reade's claims. It also published two columns by Tim Graham repeating the MRC narrative.
CNS and the MRC want you to believe that the comparison on media coverage is with Christine Blasey Ford, who leveled sexual misconduct claims against Supreme Court nominee Brett Kavanaugh. But ther more accurate and direct comparison is with Carroll -- and that's where CNS' bias is most blatant.
CNS completely censored Carroll's claims, devoting absoultely no news articles to it. The only reference to Carroll at the time her claim was made public in mid-2019 was a column by Graham and Bozell attacking her claim: "Carroll's allegation, made after roughly 24 years of silence, comes with no photos or videotapes. There is no date for the encounter. No one could say whether Trump was in New York on whatever day that was. She says that at the time, she told two unnamed girlfriends in TV news about being assaulted. It would be nice if someone among them could find an actual date of this alleged attack."
As is the case with the MRC, CNS doesn't give a damn about Tara Reade -- she's only a tool to harm Biden. If CNS actually cared about reporting news instead of trying to be a pro-Trump propaganda operation, it would have treated Carroll the same way it's treating Reade.
Posted by Terry K. at 1:21 PM EDT