CNS Unemployment Coverage Distortion Watch, Vacation Edition
Topic: CNSNews.com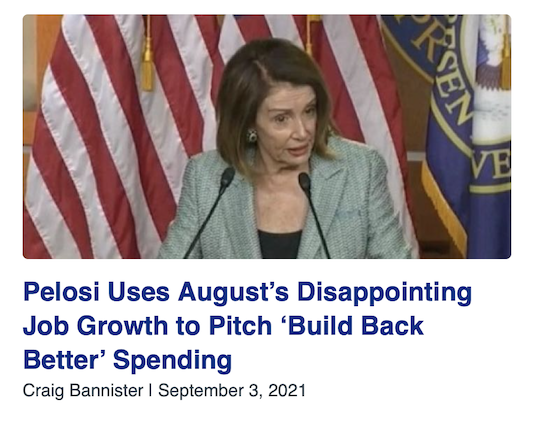 CNSNews.com did not serve up a summary of federal employment numbers for August because Susan Jones -- the biased CNS reporter in charge of that monthly duty -- was off that week. (You'd think that a "news" organization would have someone else write that story, given how it's "news" and all, and how it is a predictable staple of CNS coverage.) Instead, the only article was the usual sidebar from editor Terry Jeffrey on government jobs, complaining that "The federal government added 3,000 civilian employees in August."
Instead, Craig Bannister stepped into the breach with an article accusing Nancy Pelosi of spinning the "disappointing" numbers to push federal spending:
"Today's job report is further evidence of the need to Build Back Better for our economy," House Speaker Nancy Pelosi (D-Calif.) said Friday, reacting to August's steep drop in job growth from its year-long trend reported by the U.S. Bureau of Labor Statistics (BLS).

As the BLS reported in its monthly Employment Situation Summary, August's 235,000 job growth was less than half the average monthly job gain recorded so far this year, coming in at just 235,000. To-date in 2021, the U.S. economy has added an average of 586,000 per month:
Bannister didn't mention that the lower numbers were driven by the Delta variant harming restaurant and hospitality jobs.
Posted by Terry K. at 3:24 PM EDT