MRC Seeks Revenge On Fact-Checker That Called Out A Dubious MRC Graphic
Topic: Media Research Center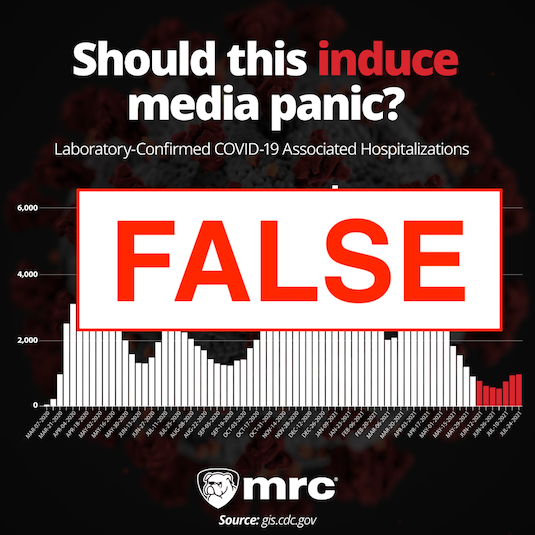 We've documented how the Media Research Center is completely unable to handle criticism, lashing out whenever it work is examined by fact-checkers. Now it's taking those tantrums to the next level. First, Alexander Hall grumbled in an Aug. 9 post:
Facebook's approved fact-checker PolitiFact rated a graphic from the Media Research Center as "FALSE," even though the image merely shared a chart from the Center for Disease Control.

Facebook's trusted flagger PolitiFact came after the Media Research Center (MRC) for citing a graphic first released by the CDC. "A conservative group that focuses on exposing what it describes as leftist bias in the news media misled its Facebook audience by claiming that fewer than 2,000 people are currently hospitalized in the United States with COVID-19," Politifact reported.

PolitiFact executive director Aaron Sharockman informed the Media Research Center: "We will soon be publishing a fact-check of this image." The Facebook fact-checking partner acknowledged that "[t]he image cites the CDC, and we were able to locate the same data," but claimed that it did not have appropriate context:

"However, the data represents just 10% of the population and does not include places like Texas and Florida. Those two states alone have nearly 20,000 current COVID hospitalizations, according to HHS and state data. These disclaimers were attached to the CDC data but not to your graphic. Florida is experiencing record hospitalizations, according to state data."

MRC spokesperson Iris Miller explained to PolitiFact that "This is the same chart that is on the CDC's website, found at: https://gis.cdc.gov/grasp/covidnet/COVID19_5.html," and quipped, "If you disagree with the data or the chart, you should fact-check the CDC."

PolitiFact acknowledged that "while the Media Research Center copied the CDC data accurately, it failed to include a very important CDC-issued disclaimer." Claiming to need a five-paragraph disclaimer for merely citing a graphic from a major institution is the new rule now apparently. PolitiFact tried to combine three fact-check categories into one. It failed to note its issue as one of context, and chose to instead label the entire graphic as "FALSE," but called it "partly false information" on Facebook.
Hall omitted the fact that it was using the incomplete CDC data to push the right-wing narrative that the Delta variant wasn't that bad and didn't warrant any special attention or directiveds to keep the variant from spreading, and "the media" was making much ado about nothing. Because the graphic's data lacks the context that it's only a tiny number of the total amount of cases, the graphic's message is false.
Having been caught red-handed peddling misinformation, Hall then tried to play victim and attack PolitiFact -- and, irrelevantly, the Poynter Institute because PolitiFact's editor in chief wrote a piece published at Poynter calling for further crackdowns on misinformation, a commonsense idea that Hall felt the need to maliciously interpret as "more censorship." Hall did not explain why he thinks lies and misinformation are "free speech."
But the MRC's tantrum didn't stop there-- it's now lashing out at PolitiFact for busting it. An Aug. 25 post went into full victimhood mode, declaring that "Media Research Center President Brent Bozell, in conjunction with the Free Speech Alliance, joined 10 other conservative leaders in demanding the International Fact-Checking Network remove PolitiFact as a fact-checker for violating IFCN's Code of Principles. More than 40 conservative leaders have signed on to the open letter led by the Free Speech Alliance and MRC's Bozell."
The letter rehashed Hall's complaint -- and his omission that the incomplete data the MRC used was done so in order to forward a false agenda, huffing that "This is an egregious, unmerited and overtly biased action against a viewpoint the liberal PolitiFact disagrees with." The letter provides no evidence that PolitiFact "disagrees" with the MRC graphic's message because it's "liberal."
The letter never explicitly claimed that PolitiFact's fact-check of the MRC violated the IFCN's principles -- instead, it hauled out other grievances against PolitiFact to list the priniciples it claimed were violated, then went on an unsubstantiated partisan tirade:
PolitiFact's crusade against conservatives is especially troubling given the ubiquitous censorship of conservatives on social media. The backdrop of this controversy is a huge push by the federal government to censor online content. The White House disturbingly announced that it was colluding with social media companies to censor so-called "disinformation" regarding COVID-19. This coordination has overwhelmingly harmed conservatives who are naturally more skeptical of Big Government mandates.

This Orwellian behavior on the part of the federal government is, in its own right, potentially fatal to the health of a free society and fascistic. But together with the behavior of organizations like PolitiFact and the censorship of conservatives by Big Tech, the current situation poses an existential threat to our free and open society.

If dissenting viewpoints are dropped down the memory hole, if only those voices that are acceptable to the state and Big Tech are allowed, our civil and political society are in jeopardy.
Yes, the MRC is once again trying to justify lies and misinformation by conservatives as "free speech." The IFCN should be able to easily see through the MRC's partisan ranting and see their complaint has no basis in reality.
Posted by Terry K. at 10:36 PM EDT