WND Promotes False Conspiracy Theory About 'Fake' Biden Photo
Topic: WorldNetDaily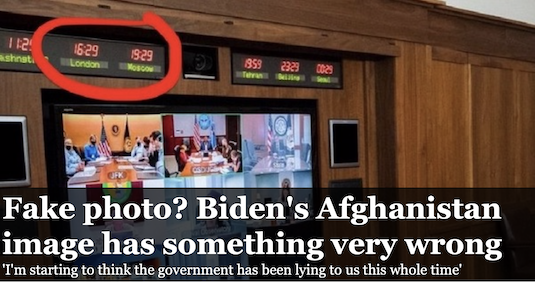 Bob Unruh wrote in an Aug. 16 WorldNetDaily article:
An online posting that looks closely at a recent image released by the White House – of Joe Biden in a situation room, sitting alone at a large table, with a series of screen images on the monitor on the wall, is raising questions about photoshopping.

You know, that computer trick where you can insert the image of a person in a room where he actually isn't. Or you can remove someone from a picture of an event where he actually was.

And other assorted tricks.

It is Citizen Free Press that has posted several images, and pointed out that there is a problem.

Under the headline, "Did the White House use photoshop in Biden image?" the commentary openly wonders how much about the image is accurate.

Because the image shows London time at 16:29, and Moscow time as 19:29.

Of course the two cities are not in the same time zone.

Nor are they three hours apart, the Citizen Free Press explained.

"Moscow will not be three hours different than London until November 7, 2021," the report explained.
Citizen Free Press, by the way, is a far-right Drudge-esque news aggregator run by an anonymous person, so it hasn't really earned the right to be trusted. And it can't be trusted on this either.
Because Unruh has put WND's hate-Biden agenda before the truth, he dismissed the most obvious possibility: one of the clocks was wrong. As a fact-checker pointed out:
Moscow is sometimes three hours ahead of London. However, the United Kingdom is currently on British Summer Time, a period when the clocks are turned ahead an hour so that there's more daylight in the evenings and less in the mornings.

We found no evidence the photo was staged, and claims that say so ignore a more likely scenario – that the clock was not updated for British Summer Time.
But Unruh -- and WND as a whole -- clearly despise Biden so much, they'd rather embrace a conspiracy than report the truth.
Posted by Terry K. at 6:42 PM EDT
Updated: Tuesday, September 14, 2021 9:12 PM EDT